We're happy to announce the release of WC Vendors Tax. Our tax solution will be included in all WC Vendor's Pro subscriptions. Accurate, automated tax calculations have been one of our most requested features. After more than two years of development and testing, we're ready to release it to the world. This has been developed to work fully with both WC Vendors Marketplace and WC Vendors Pro.
It will start as a separate plugin until it is integrated into the core of WC Vendors Pro. It is available to all existing subscribers from your download account and will be an included download for all new subscriptions.
WC Vendors Tax provides your marketplace with automatic sales tax calculations using either TaxJar or Avalara tax calculation services. No more manually entering tax tables. This plugin allows the marketplace or the vendor to be the seller of record. This ensures that you have accurate sales tax calculations between your vendors and your customers.
Features
Save time by using automatic tax calculation services without having to manually enter the various sales taxes for your states or country.
Uploading orders and refunds to cloud tax services for reporting and filing.
Switching between marketplace and vendor as the seller of record.
Support both WC Vendors Marketplace and WC Vendors Pro.
Support TaxJar Nexus addresses.
Cache calculation results to save API calls.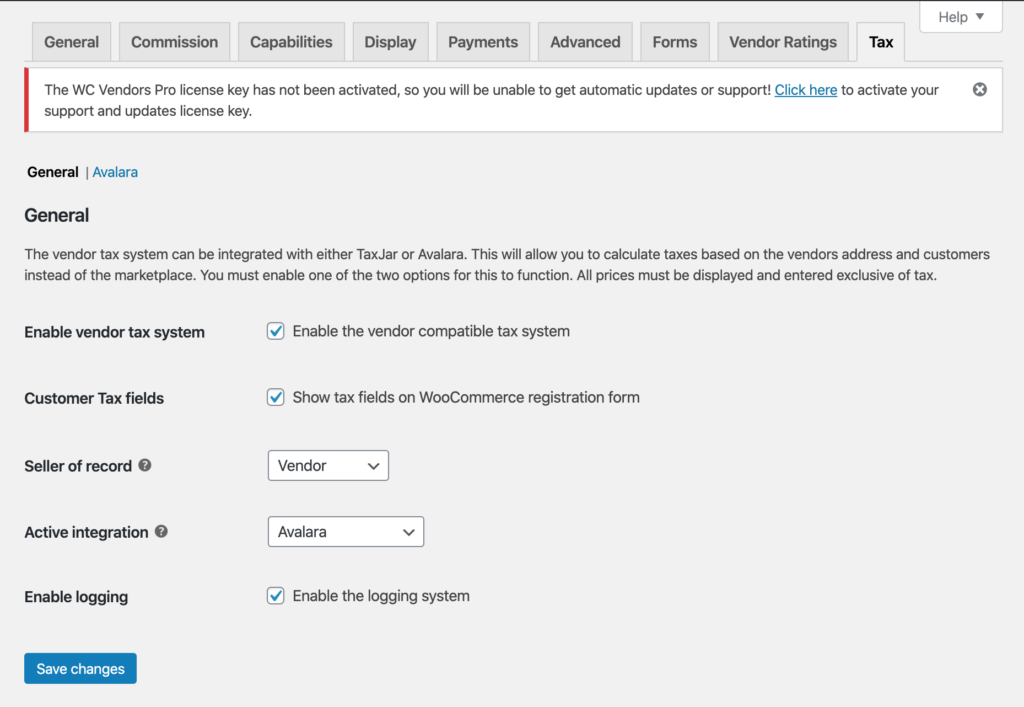 Why cloud-based tax services?
In the initial release, we have built support for two of the most popular hosted tax solutions currently available. We have chosen to use external services in our first release so that you as marketplace admins can quickly start using accurate tax rates. These rates can be defined between your vendors and customers.
You will need to decide which of the two solutions best suits your particular needs. To help you decide, we've created a little overview of the two services. Our plans are to include the ability for vendors to add manual tax tables in a future release.
TaxJar
TaxJar provides automated sales tax calculations in more than 30 countries including the US, Canada, Australia, and the EU. We utilise the sales tax calculator SmartCalcs as the core feature. Vendors and the marketplace admin can choose to upload your marketplace orders to TaxJar to assist with your tax reporting. We have also implemented Nexus addresses, allowing vendors to have multiple tax nexus' configured to get accurate tax rates. Tax jar provides affordable plans that make it easy to choose the plan that's right for you.
Avalara
Avalara is another popular tax service that they provide various services and are focused on complex tax requirements. They provide tax services for various regions including the US, Australia, Europe and Brazil. We are utilising the Taxes API for automatic tax calculations between the vendors and customers. Vendors and the marketplace admin can choose to upload their orders to Avalara. To get an idea of pricing for Avalara, you will need to contact them and book an appointment so that they can tailor a solution for your needs.
Requirements
This plugin requires the following products to function. Please note that this plugin works with WC Vendors Marketplace or WC Vendors Pro.
Documentation
As always, we have created a getting started guide, which you can follow over on our documentation site.
Questions
If you have any questions about this new product, please feel free to reach out and ask our team.