We are proud to announce the release of version 2 of our Stripe Commissions & Gateway plugin. This gateway is powered by Stripe's Connect platform. This is a complete re-write from the ground up. We have modernised the internals and focused on security and ease of updates. We are now using the latest versions of the Stripe API that will allow us to add new features to the system on a more regular basis. With the new payment requirements it will be easier for your marketplace to stay up to date with the latest Stripe Connect changes.
This update will continue to work with WC Vendors Marketplace and WC Vendors Pro. So if you aren't a Pro user (why not?) you can still use this plugin. Refunds is only supported for WC Vendors Pro users.
Features
SCA Ready
Vendors can connect their standard stripe accounts to the platform
Direct and Separate charges are supported
Admins can configure the payment gateway for test and live transactions
Admins can require vendors to connect their accounts before the vendors are allowed to add or edit products
Payments are processed instantly and cannot be scheduled at this stage.
WooCommerce Subscriptions support has been added.
Requirements
WooCommerce 3.6 and above
WC Vendors 2.1.x and above
WC Vendors Pro 1.6.4 and above (if you are using Pro)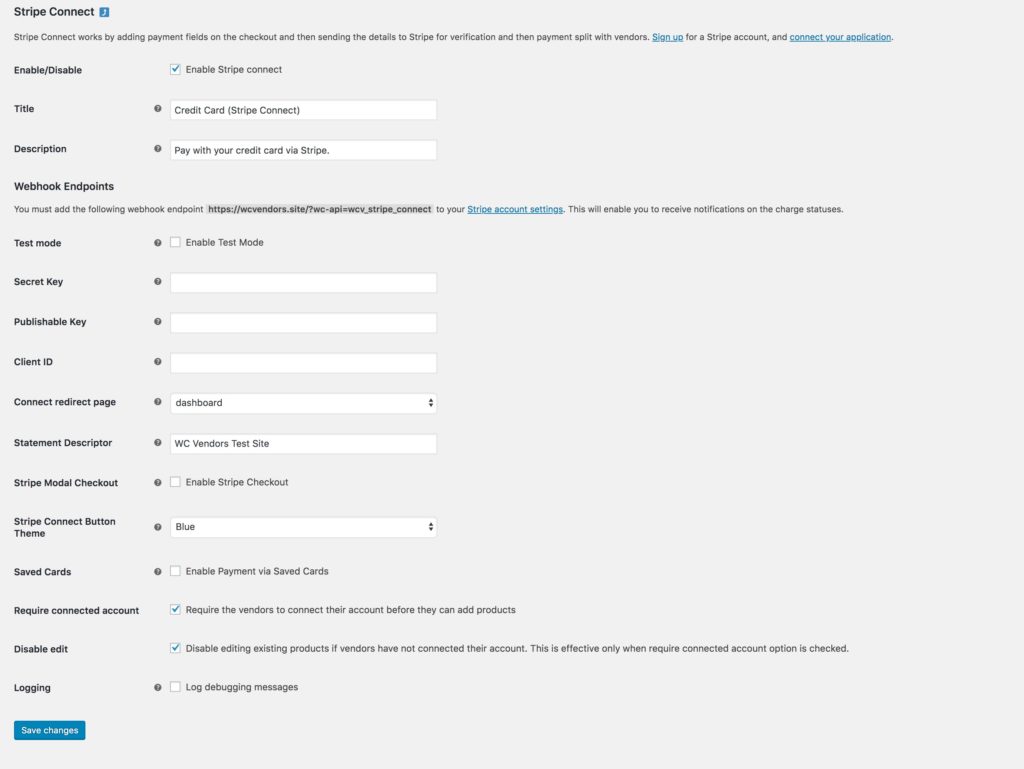 Whats new ?
We've added the features you've been asking for. Including refund support, subscriptions support and more.
Refund support
This is only available for WC Vendors Pro users 
Refunds are now supported from the vendor and marketplace admin side. The refunds are triggered from the vendors dashboard and then the marketplace admin can approve or deny the refund request. If the request is approved then refund is processed directly through the WordPress admin area and triggers the refund in Stripe.

You can read the documentation on how refunds work in our docs site here.
https://docs.wcvendors.com/knowledge-base/refund-requests/
WooCommerce Subscriptions Support
This has been one of the most requested features for our Stripe plugin and we're proud to announce that you can now use WooCommerce Subscriptions with our Stripe Commissions & Gateway plugin. This works not only for general subscriptions but also with our soon to be released vendor subscriptions plugin. Once WooCommerce Subscriptions is active, payments can be processed through Stripe Connect without any further configuration required. If you want to allow vendors to create subscriptions products you will need to purchase our soon to be released subscription plugin.
Redirect URI Support
In the first version of our plugin you had to set your redirect URI to be the WooCommerce My-Account page. This is no longer the case. You can set the redirect URI to any page on your site and use that url in your redirect URI for your stripe settings.

Require connected account
You can now require your vendors to have their account connected before they can add or edit existing products. They will get a notice that will tell them they need to connect before they can add any products or edit existing ones.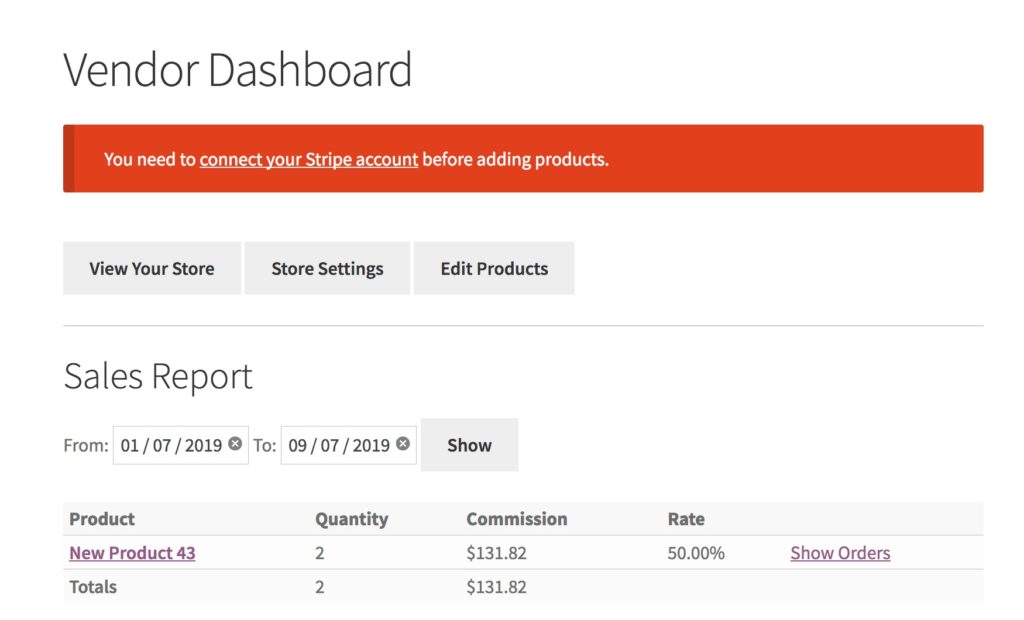 Direct & Separate Charge Support
In version one of the plugin, we only supported direct charges for connected accounts. That meant that the charge was completed directly on the connected account with an application fee (commission) being given to the marketplace account.
We have introduced separate charges and transfers in version 2.0 of the plugin which enables more advanced payment features including 3D Secure Card. This also ensures that the plugin is SCA ready. To enable separate charges, you need to check this box in your Stripe settings.

Automatic Software updates
Starting with version 2.0 you will now need to add your license key for the product and then automatic software updates will start to work. This will however only happen after you update the plugin to the new 2.0 version.
Updating
Although we have done extensive testing there is a chance that we have missed something. You should never install plugins on your live site without testing. Please test this on your staging server before attempting to run this on your live site.
You will need to have a valid license key to download the latest version which you can find on your my-account downloads page. If you haven't got a valid license key or it has expired you will need to purchase a new one. This will be a manual update as our license server was not integrated into our old system.
To update you will need to do the following.
Download the latest version of the plugin from My-Accounts/Downloads
Login to your WP-Admin and go to the plugins page
Deactivate the existing version
Delete the existing version
Click Add New on the plugins page
Click Upload plugin
Upload the new zip file
Activate the new version
Check your settings to make sure that all existing keys have been added
If not please me sure to check our documentation
Get 20% off your renewal
Has your license expired? We offer 20% off the renewal of your license. This offer works for any of our license types. Renew today and save time and money!
Questions
If you have any questions or issues be sure to send in a ticket or ask a pre sales question here
---