We're happy to announce the release of the next version of WC Vendors Marketplace 2.1.10, this release addresses a couple of issues that were discovered as well as added a couple of recently requested features.
What's New ?
We have added a couple of utility features to the WordPress admin to make things easier for managing your store. This includes a user interface update and a new commission action.
Show Vendor Store in WordPress Admin
We have had this request several times to update the backend references to vendors to display their vendor store instead of their user names or display name. So we have listened and now, depending on what you set your Display Name to in your Settings > Display > General to – Vendor display name, Shop Name, Vendor username or vendor email. This setting is what will be used to determine how the vendor is referenced within the admin area.

By default this is set to Shop name which will result in all your vendor references in the backend showing the shop name, making it easier to make the connection between your vendors stores and your vendors in the admin area.
We have also added a new Vendor store column to the vendor users page to help with making the connection. Clicking on the vendor store on the users page will result in opening a new window to the vendors store page on the front end.
Mark all commissions paid
We have had quite a few requests from our users that manually pay their vendors for a button that will mark all due commissions paid, without having to use the bulk actions on a per page basis. We have added a new button with confirmation, that will mark all commissions currently due as paid.


When you click this button you will be prompted to confirm you want to mark all commissions paid, then they will all be marked paid with a single action.

Set primary role to vendor
This new option was added to address our major fix for this release which is outlined below. In short, new vendors were not getting the vendor role as their default role and as such, some parts of the interface was causing confusion. Our fix now sets the default role to vendor. However you may have existing users that have their roles in different orders. This bulk action will allow you to set the vendor role as the primary role while preserving existing roles.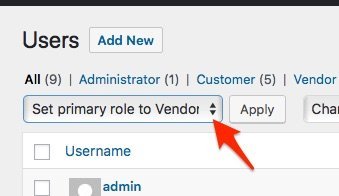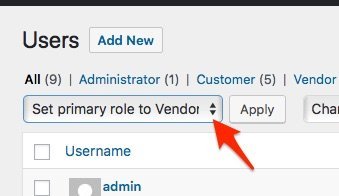 Option to disable vendor stock emails
If you have inventory enabled there was no way for you to disable emails for vendor notifications for low, no stock and backorder emails. Now these emails can be disabled on a per feature basis. As these were enabled by default this is the default setting. You can enable or disable these on the WooCommerce > Settings > Products > Inventory settings page.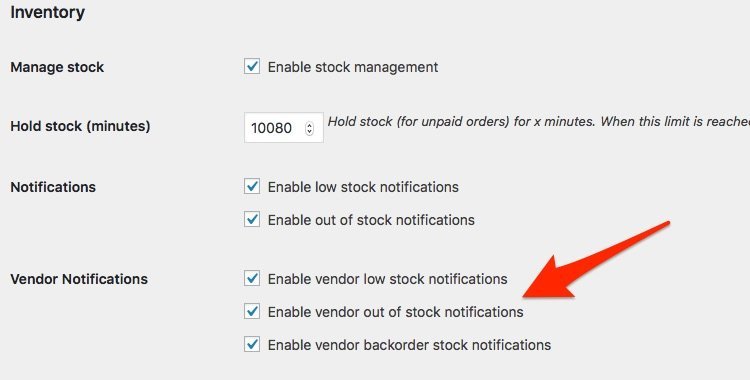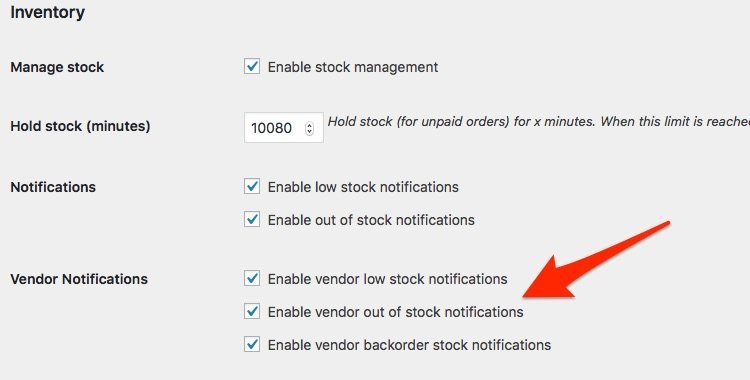 Fixes
The major fix for this release addresses an issue we had with multiple user roles. The existing user role was being set as the default instead of the Vendor role for approved vendors. We have now fixed this so that new vendors will have the default role set to vendor while retaining any existing roles.
Fixed: Multi role issue – customer role still the primary role after vendor approval #563
Fixed: Bank account number not saving #568
Fixed: Npm tar vulnerability (#562)
Fixed: Email Issues #559 (#561)
Fixed: Use role slug rather than role name thanks dvrcthewrld
Changelog
 Added: Vendor Store column to user vendor role page
 Added: Use Vendor display name for vendor columns in admin #547
 Added: Bulk action to users screen to make vendor the primary role
 Added: Option to disable inventory emails for vendors #566
 Updated: Tested to latest version of WordPress and WooCommerce
 Updated: Translation strings
 Fixed: Multi role issue - customer role still the primary role after vendor approval #563
 Fixed: Bank account number not saving #568
 Fixed: Npm tar vulnerability (#562)
 Fixed: Email Issues #559 (#561)
 Fixed: Use role slug rather than role name thanks dvrcthewrld 
Updates
The update will show up in your plugins updates within the next 24 hours from WordPress.org
Questions
If you have any issues or questions be sure to post them to our support forums on wordpress.org