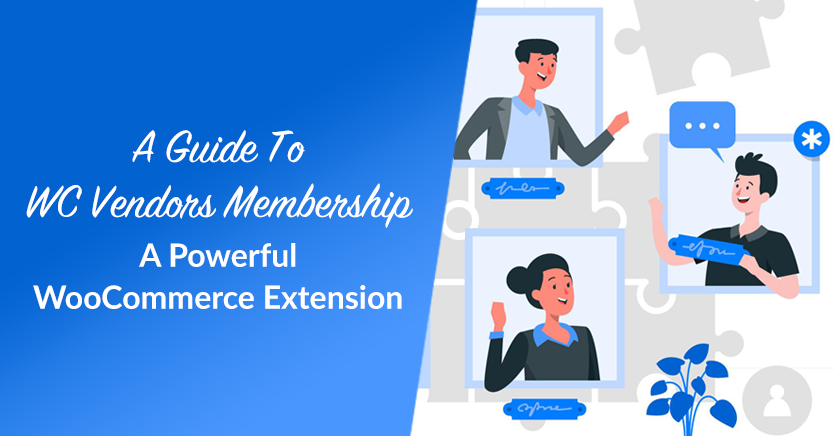 If you're looking for a powerful and easy-to-use WooCommerce extension that allows you to earn guaranteed income from your vendors, then we invite you to give WC Vendors Membership a shot.
Want to charge your vendors to list products on your marketplace? How about modify the commissions a vendor receives based on their subscription? WC Vendors Membership allows you to create and sell membership plans to your vendors, ensuring significant gains for your online shopping hub.
On top of that, both WC Vendors Marketplace Free Plugin and WC Vendors Pro support this feature. So if you're already using either of these plugins, you're in for a treat!
In this article, we explore the best things about our WC Vendors Membership WooCommerce extension. So let's get started!
What Is WC Vendors Membership?
WC Vendors Membership is a potent and versatile WooCommerce extension for your online multi-vendor marketplace. Basically, it lets you design membership plans, then sell them to your vendors.
But that's not all. This WooCommerce extension boasts versatile features that grant you many membership customization options. As a result, you can set various limits on your vendors' selling abilities.
For example, it gives you control over the number of products vendors can publish with and without a subscription. You can even determine which product categories they're allowed to sell. Moreover, you can create as many different membership plans as you like to meet your specific needs.
When used in combination with fellow WooCommerce extension WooCommerce Subscriptions, WC Vendors Membership also lets you create your own membership-based marketplace. This means you can establish different membership levels that your vendors can subscribe to for a monthly fee.
All in all, WC Vendors Membership can help you build up consistent revenue that you can use to expand your business. Not bad, if your goal is to establish the top multi-vendor marketplace in the industry!
Start your membership marketplace today
Features
WC Vendors Membership is loaded with features that you can use to boost your online marketplace's performance. Let's look at some of the things you can do with them!
1. Create different membership plans
WC Vendors Membership allows you to customize all aspects of a membership plan. So why settle for one plan when you can have two, three, or more?
In other words, you can create as many different membership plans as you like. Here's an example:
2. Configure plans based on commissions
You can set different commission rates for each of your plans. Therefore, you can create plans with varying reward systems, allowing you to offer something for every vendor.
And thanks to WC Vendors Pro, you can use any of the following commission types:
Fixed
Fixed and fee
Percentage
Percentage and fee
Sales by Vendor
Sales by Product
Product Price
All this allows you to create one of the most advanced commission systems for any marketplace plugin available today.
3. Set various limits
With every plan, you can set limits on a range of options, including how many products and what product types a vendor can publish for that plan.
For example, the plan below allows vendors to publish a maximum of 100 products on their online store. In addition, it lets them sell accessories, hoodies, and t-shirts only.
As you can see, the plan above also lets vendors upload no more than 2,000 files and use up to 1,000 MB of disk space.
This means WC Vendors Membership also allows you to set different file and storage limits for each plan. Therefore, it can encourage vendors to only upload relevant media, which will keep your hosting clean and in order.
Our WooCommerce extension lets you set the following limits:
Subscription price
Subscription expiry
Signup fee
Product limit
Commission type
Disk usage limit
File count limit
Allowed categories
4. Offer vendors and owners easy-to-use subscriptions
WC Vendors Membership makes it easy for marketplace owners to create subscriptions. However, vendors will also find these subscriptions easy to use.
For starters, a vendor can select their preferred plan during sign-up or from the settings page. Then, once they've already subscribed to a plan, they can see when it will be renewed or if it has been canceled. Furthermore, they can upgrade, downgrade, or cancel their plans at any time.
Our WooCommerce extension also allows marketplace owners to enjoy a good degree of automation. For example, when a vendor exceeds their product limit, the system will automatically disable their ability to create new products.
Membership plans are only available to vendors; they aren't visible to customers.
Start your membership marketplace today
Requirements
Our WC Vendors Membership plugin requires the following products to function:
More WC Vendors Membership Guides
To learn more about our WC Vendors Membership WooCommerce extension, please be sure to check out our documentation available via this link.
Furthermore, we've prepared a detailed tutorial on how to create your own vendor membership subscriptions:
Conclusion
WC Vendors Membership is a powerful and user-friendly WooCommerce extension that allows you to create various membership plans for your vendors. This way, it helps guarantee consistent profits from your vendors.
To summarize, this plugin allows you to:
Would you like to know more about our WC Vendors Membership WooCommerce extension? If so, feel free to contact us if you have any further questions.