After months of planning and many months of development I am happy to announce that WC Vendors 2.0 is almost ready for release. This is a major update that may cause some issues for some of our users. This is due to some fundamental changes inside of the plugin that needed to be updated. Hard decisions needed to be made to ensure the longevity of the plugin. So what does that mean? In short, WC Vendors Pro and any integration written for WC Vendors and or WC Vendors Pro will require updates to their code.
WC Vendors 2.0 is NOT compatible with WC Vendors Pro 1.4.x. You will need to upgrade to WC Vendors Pro 1.5 to be able to continue using the two plugins together.
What's New?
Setup Wizard
WC Vendors 2.0 now includes a setup wizard. This has been introduced to make it easier for new users to get their marketplaces up and running and ensuring that they have their settings correctly configured. It helps you configure basic settings regarding vendor access, vendor commissions and ensures your pages are set correctly.
New Emails and templates
The email templates used in WC Vendors have not really seen any attention since I first released the plugin. A lot has changed in the WooCommerce email system and starting with WC Vendors 2.0 all emails for the system have been completely replaced. All new templates for both HTML and plain text. They are a lot easier to modify and hide customer information from your vendors based on the capability settings. This is due to how WooCommerce changed how customer information is retrieved.
I have also introduced some new email templates. The email templates available now are as follows:
Customer Vendor Shipping – Notify customers that a vendor has shipped (updated)
Admin notify vendor shipped – Notify admins when the vendor has shipped (updated)
Admin new vendor product – Notify admins of vendor products pending approval (updated)
Vendor notify application – Notify the vendor that their application has been received (new)
Vendor notify approved – Notify the vendor that their application has been approved (new)
Vendor notify denied – Notify the vendor that their application has been approved (new)
Vendor notify order – Notify the vendor they have received an order (updated)
All existing email templates are still included to give you time to migrate to the new system for existing users. For new users these old emails will be disabled and the new ones enabled.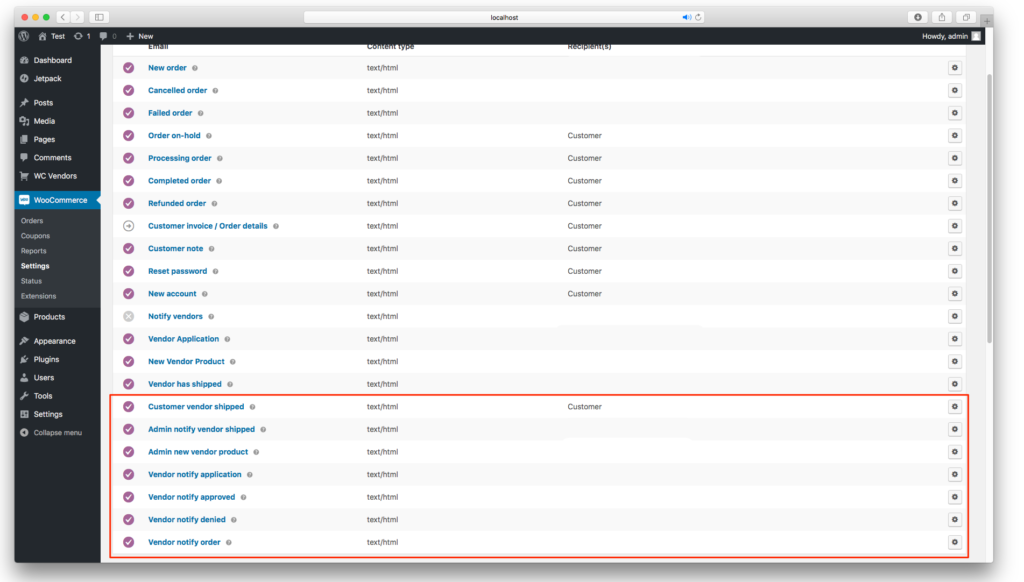 Payment details
When WC Vendors was first released the only way to easily pay vendors was with the included PayPal adaptive payments gateway or via our Stripe Gateway. Last year Paypal depreciated this system which has made it difficult for new users to easily pay their vendors. In WC Vendors 1.9.14 I introduced the ability for you to easily export the commissions via CSV. This provides you with a way to manually pay your vendors off the platform. This however meant that you would also need to have to add a bunch of custom code to get bank information from your vendors.
Bank Details
Vendors can now add their bank account details to the profile on both the free dashboard and via the wp-admin. This makes it easier for the marketplace owners to pay their vendors via bank transfers.

WC Vendors Settings
The settings system for WC Vendors has been completely re-written. This is the major change that will break any existing integration's that reference or hook into the settings system currently. I have made the system detect if you are running an old version of WC Vendors Pro and will disable it instead of causing errors. This will require that you update WC Vendors Pro to 1.5.0. I have also added code that will log a warning that the call to the old settings system is disabled and that you should be using the new settings system.
The new system makes it much easier for extensions to hook into the settings and make a more streamlined interface. This new system also removes a lot of the duplication in settings between Pro and Free. Now the two settings systems are merged into the relevant sections.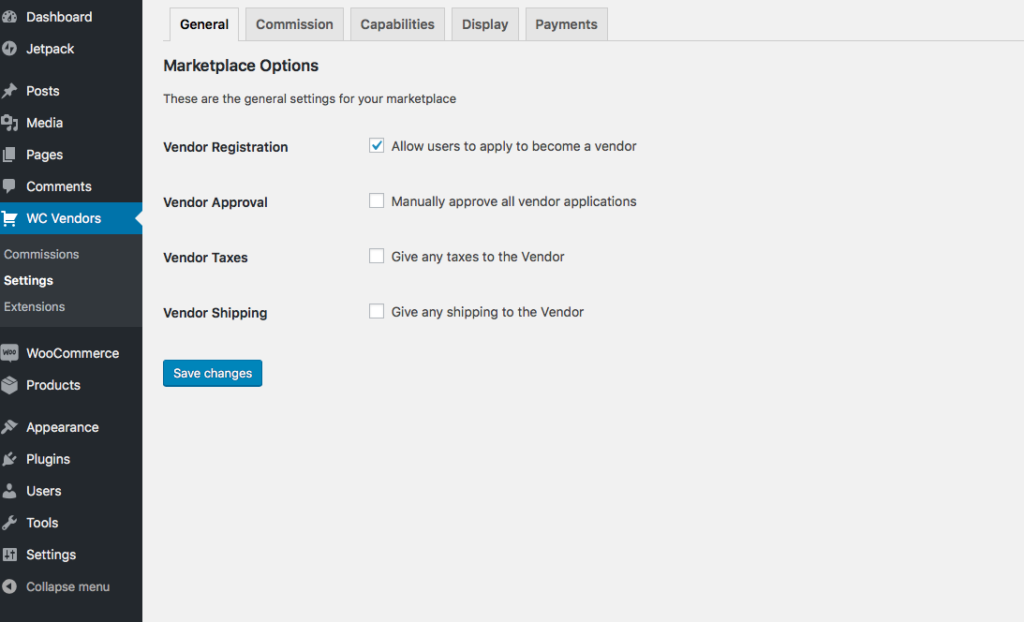 WC Vendors Menu
Starting with WC Vendors 2.0 WC Vendors gets its own primary menu in the WordPress dashboard. All WC Vendors related pages have been moved under this new menu. This will help make it easier for users to know where the WC Vendors related pages are without having to look inside the WooCommerce menu.
Translations
It was recently brought to my attention that wordpress.org was reporting that my plugin could not be translated. Although I include several translations provided by community members as the plugin is translatable, it wasn't in the correct format. This required that I had to update the translation text domain and fix how the plugin reports the text domain.
Now that this has been fixed all existing translations will need to be updated to use this new base file. If you are a translator I would recommend you load the translations and update the and send them in as pull requests to out github.
When is the release date ?
WC Vendors 2.0 has not been released to WordPress.org just yet as I continue testing and working on getting WC Vendors Pro updated and all our existing extensions. If you would like to test the release on your staging servers before the official release you can download the master from github.
Download and test the pre-release here. 
I am aiming to have WC Vendors 2.0 out with WC Vendors Pro 1.5.0 in the first weeks of April.
Changelog
Here is the full changelog for WC Vendors 2.0
Version 2.0.0
* Added: New WC Vendors Admin menu
* Added: Bank details fields for vendors
* Added: New all new email system and templates
* Added: New contextual help menus on settings pages
* Added: New settings system and admin notice system
* Added: Setup Wizard
* Added: Support for PHP 7.1+
* Updated: styles and script build script
* Updated: language file cleanup
* Updated: Brazilian Portuguese translation thanks CasperBraske
* Fixed: Terms & Conditions Checkbox for Vendor Registration does not show #392
* Fixed: Depreciated calls on orders screen
* Fixed: Vendor role capabilities updated when new settings updated.
* Fixed: Vendors can delete media they uploaded
* Fixed: Added check for woocommerce shipping tax class setting
* Fixed: Tax classes not being used in shipping tax calculations
* Fixed: Make compatible with translate.wordpress.org #396
* Fixed: undefined index notice for reports that have been removed
* Fixed: Removed focus from select on vendor drop down on product edit screen
Templates Added:
templates/emails/plain/admin-notify-product.php
templates/emails/plain/admin-notify-shipped.php
templates/emails/plain/customer-notify-shipped.php
templates/emails/plain/vendor-notify-application.php
templates/emails/plain/vendor-notify-approved.php
templates/emails/plain/vendor-notify-denied.php
templates/emails/plain/vendor-notify-order.php
templates/emails/plain/vendor-order-details.php
templates/emails/plain/vendor-order-items.php
templates/emails/admin-notify-product.php
templates/emails/admin-notify-shipped.php
templates/emails/customer-notify-shipped.php
templates/emails/vendor-notify-application.php
templates/emails/vendor-notify-approved.php
templates/emails/vendor-notify-denied.php
templates/emails/vendor-notify-order.php
templates/emails/vendor-order-details.php
templates/emails/vendor-order-items.php
Templates Updated:
templates/dashboard/settings/settings.php
templates/order/table-body.php