---
WC Vendors – The #1 Free Multi-Vendor WooCommerce Plugin
Create your own marketplace and allow vendors to sell just like etsy, Envato, eBay, or Amazon type sites! This allows other sellers/vendors to sell tangible products, virtual products, or downloads on your site. With this plugin, your vendors receive commissions you set on products they sell from your store.
This plugin has been around since 2011 and remains still the #1 multi vendor plugin on the market. It is the most feature packed free plugin available for operating a multi vendor store. Many have tried to imitate, only to put all the useful features in their paid versions. Don't fall for that trick! Our support is top notch, check out our free Support Forums and notice that when you ask a question, it doesn't take a week to reply, we offer our support incredibly fast. We are an American (@Ben Ben, @fervous Anna) and Australian (@digitalchild Jamie) based team of developers. Give it a try! After all, the price is right and you know you can count on the #1 most actively used marketplace plugin for WooCommerce.
---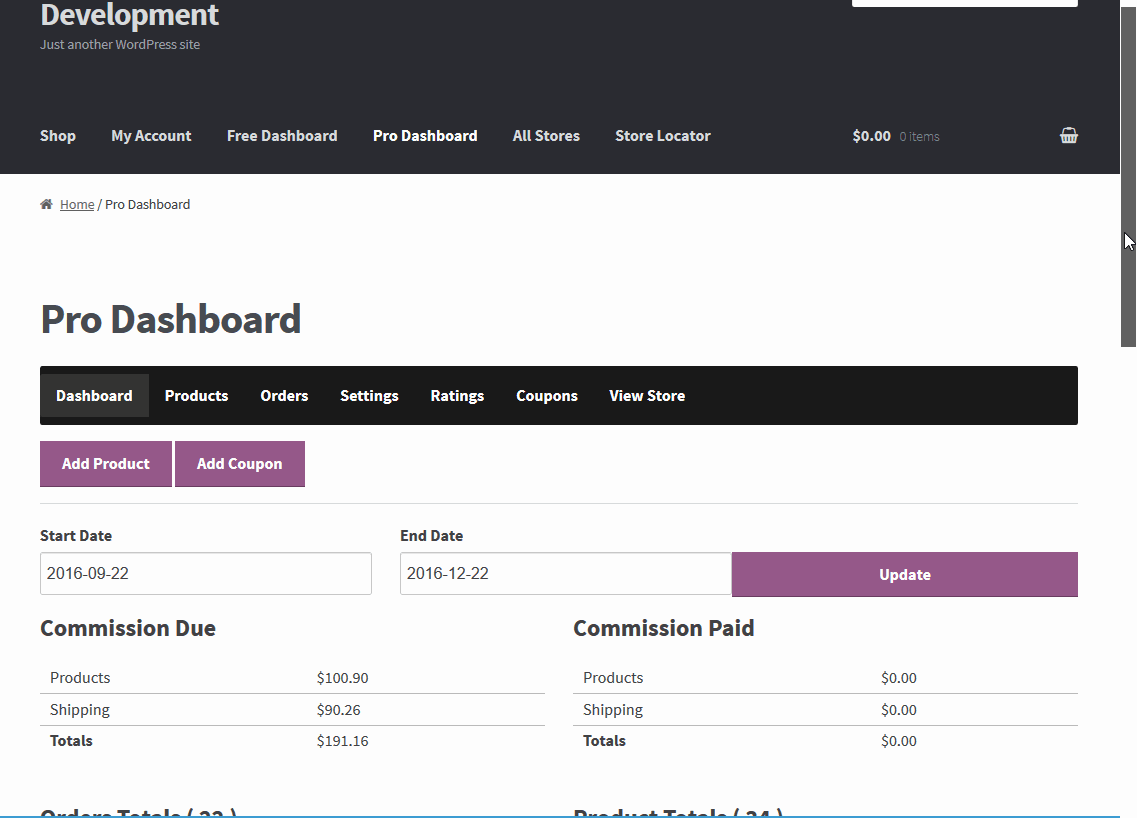 We're pleased to present to you: WC Vendors Pro. Continually updated, with more features being added all the time. For a true marketplace with maximum flexibility, Pro is for you! The first release took 13 months of development to bring you all the coolest features. Purchasing WC Vendors Pro brings you 12 months of support, and 12 months of free updates all for the low price of $149.
Pro Dashboard making your vendors sales reports a piece of cake
Fully featured front-end product add/edit capabilities
Full Support for all product types, Simple, Grouped, Downloadable – even Variable products are all built into the front end dashboard
Pro Shipping Module so vendors can add per product shipping prices, as well as a country table rate system Documentation<
eBay style feedback system for Vendor Ratings
Shipment Tracking for Vendors to enter tracking numbers
Multiple commission types such as percentage, percentage + fee, fixed fee, and even fixed fee + fee.
Vendor-Only coupons that vendors can create to make their own coupons for only their products
Vendor store banners, avatars/icons and extra information fully customizable
Social module for adding facebook/twitter/google+ and many more
Extended Order Notes
Insanely customizable template system to configure, tweak and style your store and dashboard any way you see fit.
MUCH MORE TO COME including WooThemes Bookings support, integration with even more Woo plugins, and good features that you, the customer, ask us to code! Pro will always be continually updated with new features, just as you have grown to expect from WC Vendors Free


---

One of the most requested gateways for WC Vendors, is Stripe Connect. This gateway is specifically designed to work with WC Vendors. Other Stripe gateways will work, however they will not allow you to pay commissions. Only this version of Stripe Connect will allow commissions to be paid. In our version of Stripe, you can:

Use Stripe on your checkout page as a payment gateway to accept credit card payments
Vendors can connect to Stripe to instantly receive commissions on their Pro Vendor Dashboard Shop Settings
Commissions are instantly paid to vendors who have connected their account to Stripe
Securely stores customer credit card tokens for future purchases, and allows them to manage cards from their My Account page (PCI Compliant)
Supports all currencies that Stripe offers support for (full list here)
Configuration only takes a few minutes, is not complex, and quite simple. Connecting your Vendors to Stripe is also incredibly easy with the simple one click button on the Pro Vendor Dashboard Shop Settings page.

---