[ Pro Setup Guide | Using Pro as a Vendor Guide ]

WC Vendors Pro: 1 Year License (12 months of updates & Pro support)
We're pleased to present to you, WC Vendors Pro. Continually updated, more features being added all the time. For a true marketplace with the maximum flexibility, Pro is for you! The first release took 13 months of development to bring you all the coolest features.
Purchasing WC Vendors Pro brings you 12 months of support, and 12 months of free updates. We continually update Pro to bring in new features. The screenshots on this page are a little old, as we've further improved how things work all the time, and for that we apologize. Be sure to try out the WC Vendors Pro Demo to see all the latest of how Pro works. We'll be updating this page shortly with better screenshots. Problem is, we update Pro so often, there's always new stuff to add! 🙂
Pro Dashboard making your vendors sales reports a piece of cake
Fully featured front-end product add/edit capabilities
Full Support for all product types, Simple, Grouped, Downloadable, even Variable products are all built into the front end dashboard
Pro Shipping Module so vendors can add per product shipping prices, as well as a country table rate system Documentation
eBay style feedback system for Vendor Ratings
Shipment Tracking for Vendors to enter tracking numbers
Multiple commission types such as percentage, percentage + fee, fixed fee, and even fixed fee + fee.
Vendor-Only coupons that vendors can create to make their own coupons for only their products
Vendor store banners, avatars/icons and extra information fully customizable
Social module for adding facebook/twitter/google+ and many more
Extended Order Notes
Insanely customizable template system to configure, tweak and style your store and dashboard any way you see fit.
MUCH MORE TO COME including integration with even more Woo plugins and good features that you, the customer, ask us to code! Pro will always be continually updated with new features, just as you have grown to expect from WC Vendors Free
PRO SUPPORT : OPEN A SUPPORT TICKET
A new beautiful Pro Dashboard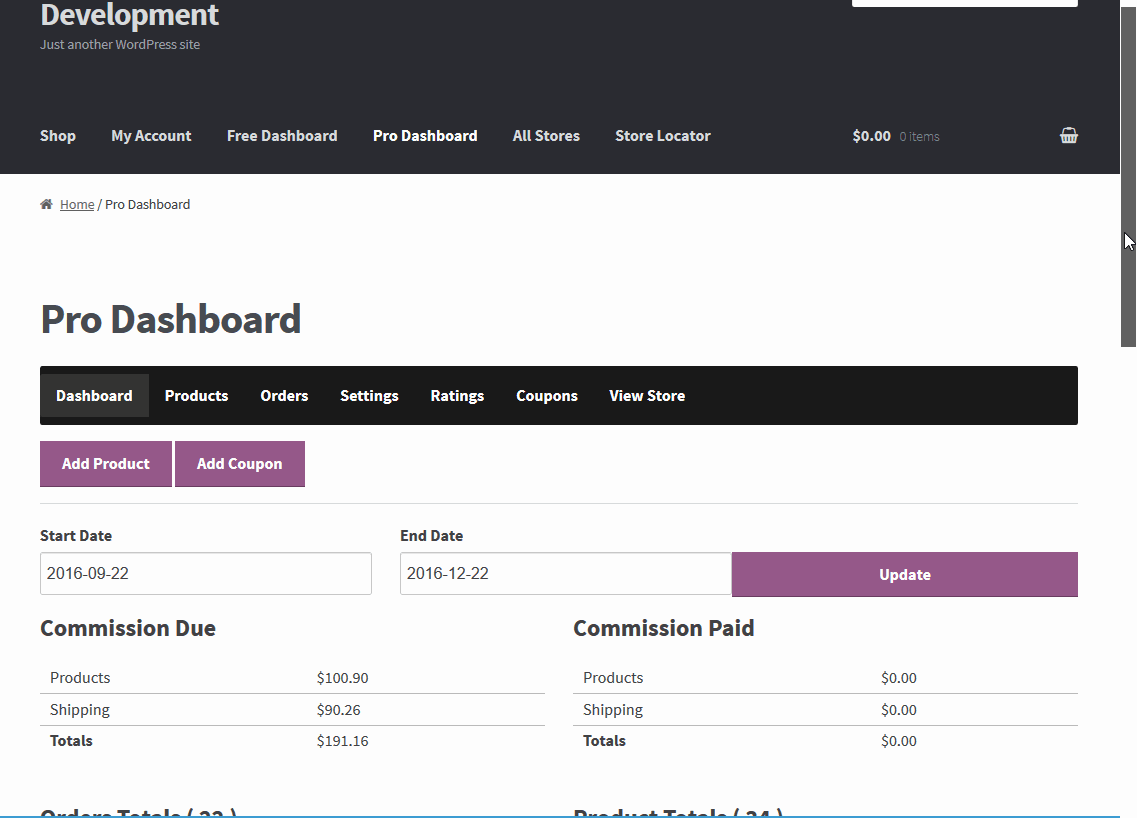 ---
Vendor Settings Page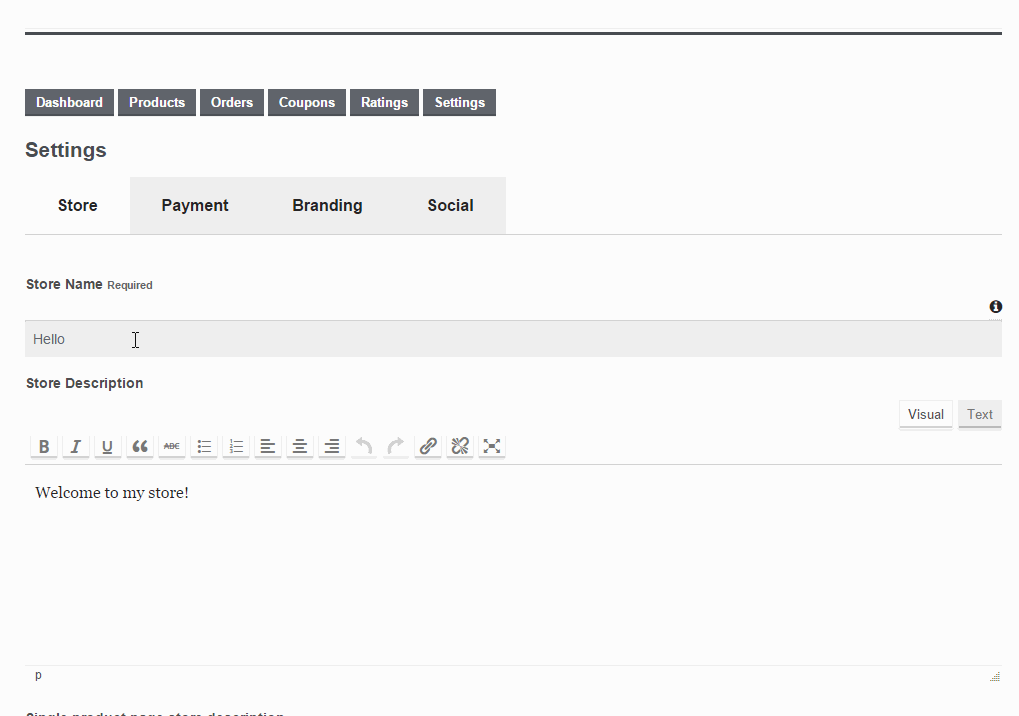 ---
Front End Vendor Product Adder/Editor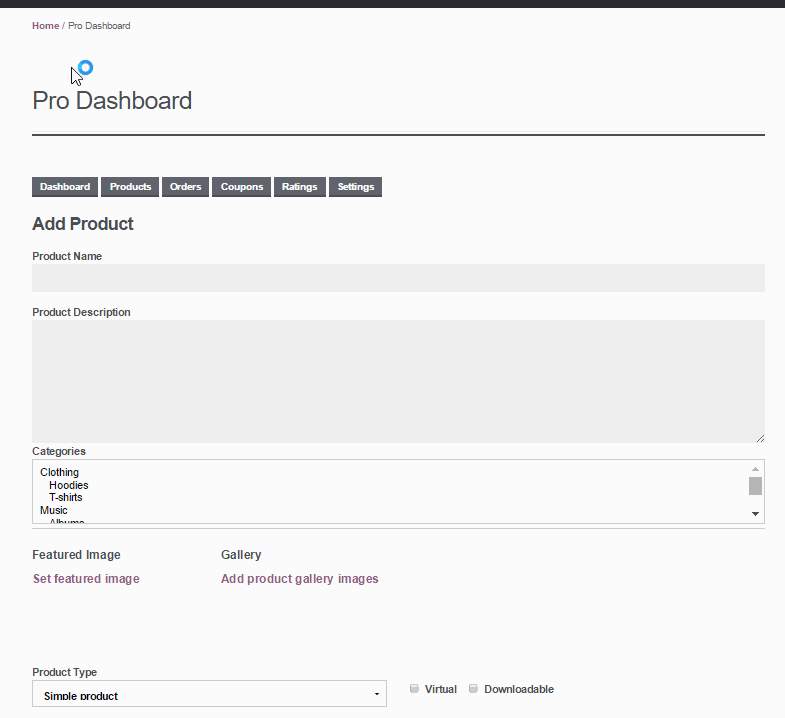 ---
Vendor Order Management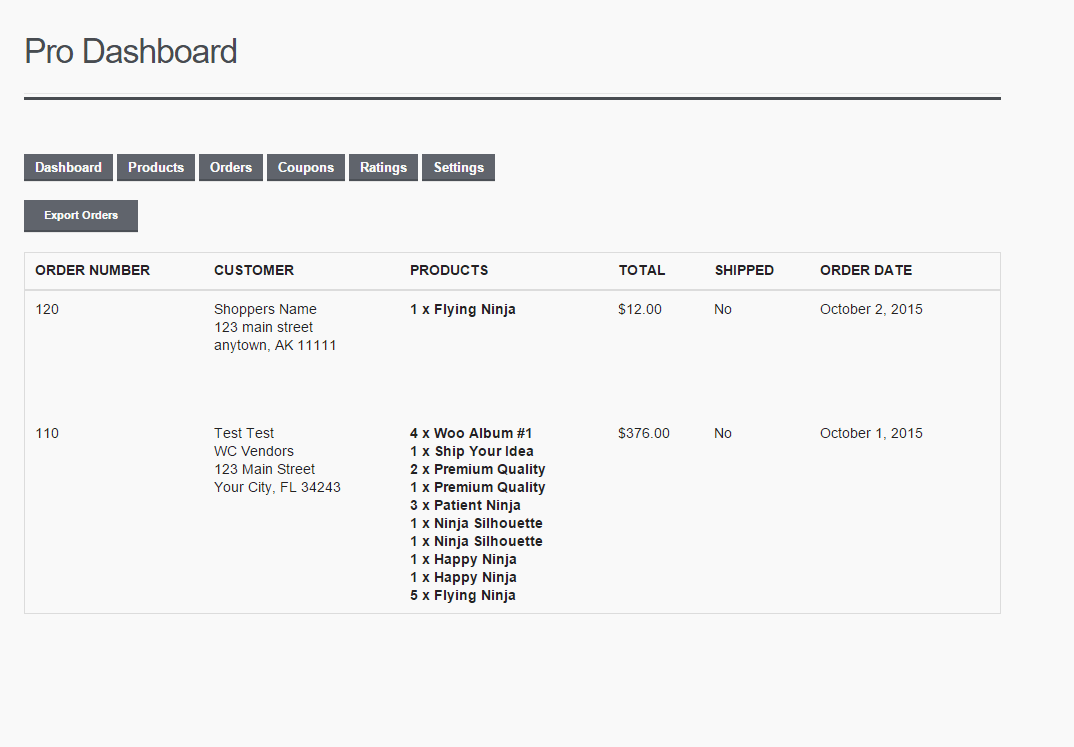 ---
All New Vendor-Specific Coupons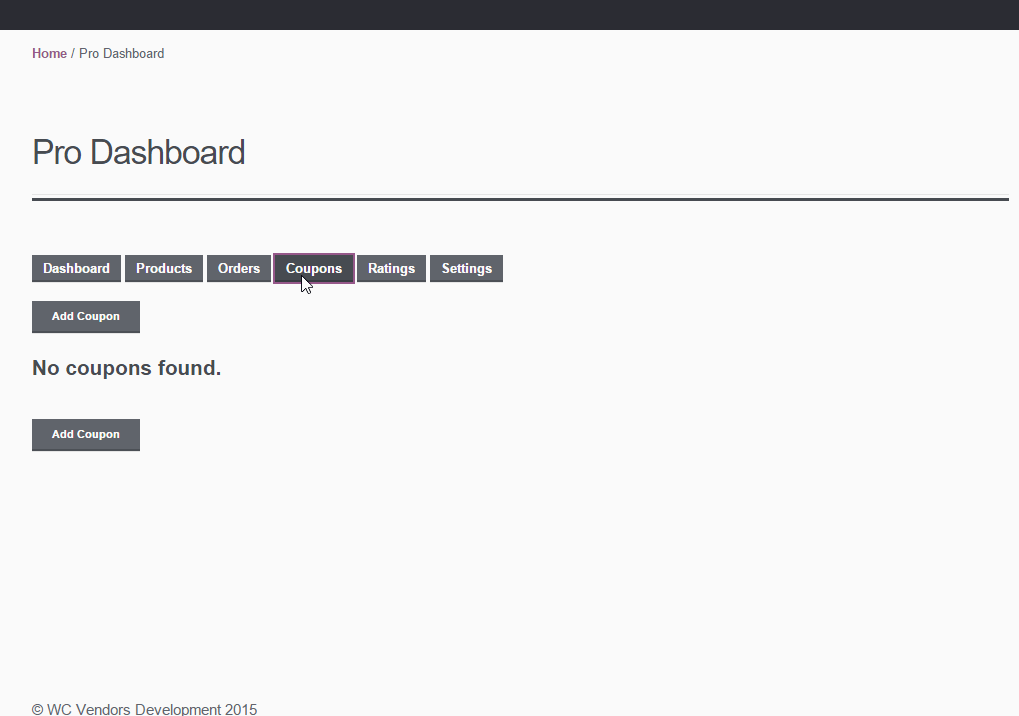 ---
eBay Style Vendor Feedback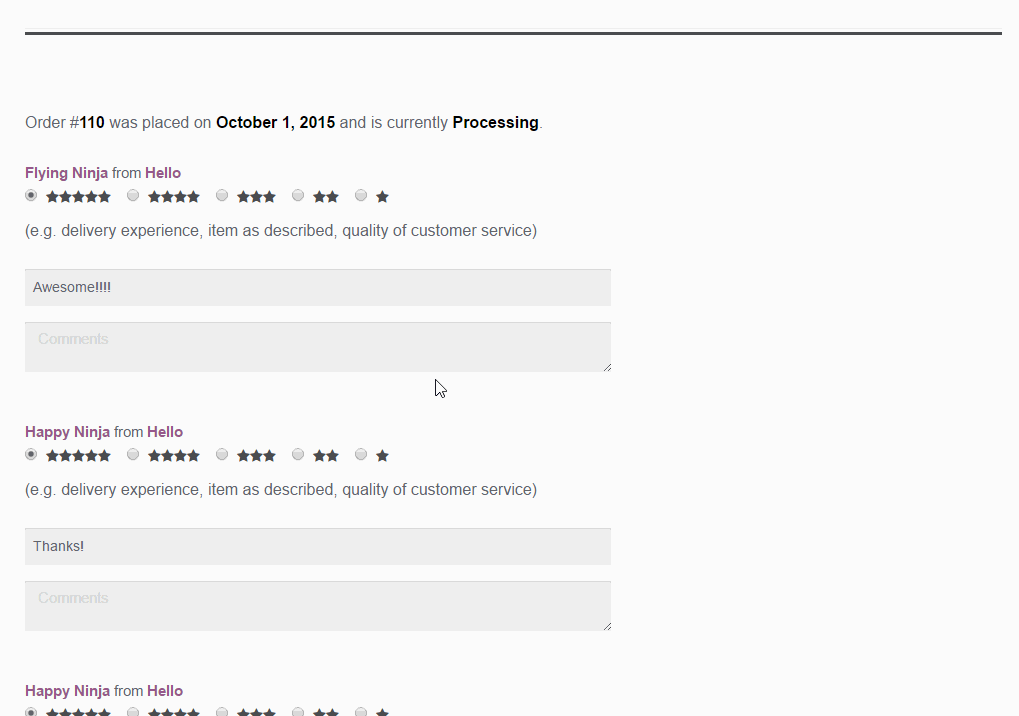 ---
Front End Product Management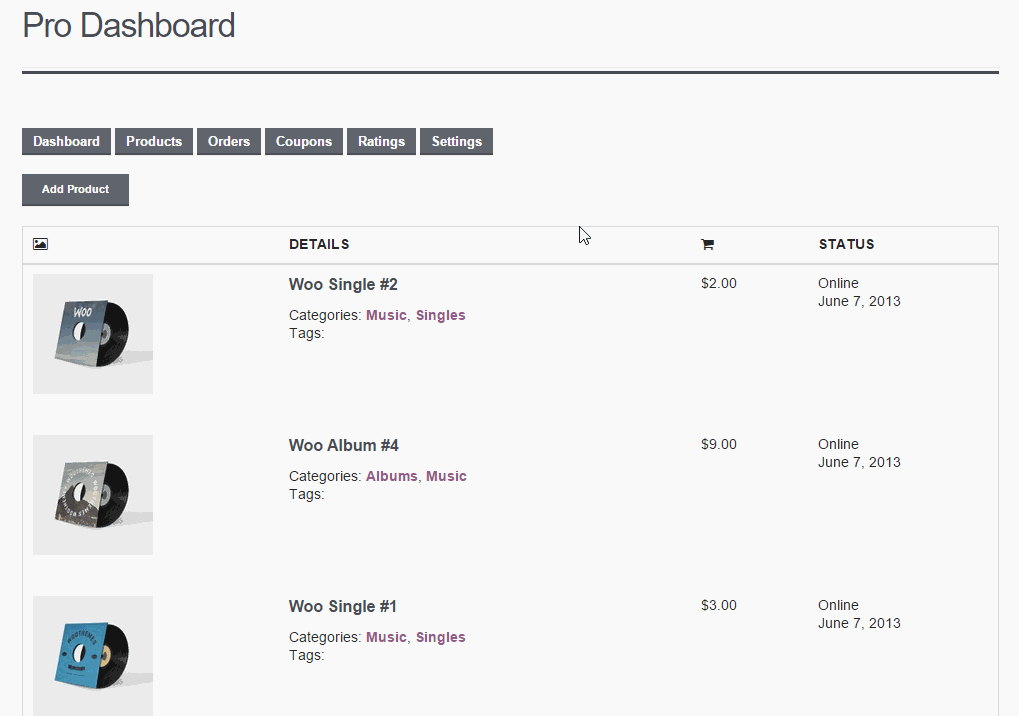 ---
The license is for one domain on one site. We do not offer multiple domain packages, or unlimited usage plans. To buy for 3 sites, use the quantity 3 when adding to cart, and to buy for one million sites, please ask for wire transfer information, and thank you for the early retirement!
Changelog for WC Vendors Pro
Version 1.4.6 – 16th October 2017
* Added: New Canada providers thanks Derek.
* Added: Daily option to reports and orders date pickers
* Added: Action in commission controller
* Fixed: Check store name before submission #639
* Fixed: Admin Default Shipping Settings- Free over $x is being ignored #638
* Fixed: Product Search pagination broken #637
* Fixed: Coupon Expiry Displayed Incorrectly #636
* Fixed: Postcode ranges not working in shipping rates
* Fixed: QTY override not functioning correctly
* Fixed: WC Vendors Store Categories Widget displays all vendors' categories when "Show as dropdown" #612
* Fixed: Vendor store search breaking menus in all themes #631
* Fixed: Undefined index when using built in woocommerce search
* Fixed: Wildcard postcodes not working in shipping #632
* Fixed: Export csv not working
* Fixed: Deleted Variation results in an error message on the Pro dashboard #627
* Fixed: Change fixed_product to Product Discount on Pro Dashboard > Coupons #628
* Templates Updated:
templates/dashboard/store-settings.php
templates/front/vendor-signup-form.php
Version 1.4.5 – 1st September, 2017
Added: Prefix support to logging to make tracking logs easier
Added: Allow admin to create coupons for a vendor store #605
Added: Vacation Mode to User Edit screen #537
Added: Unique Ids to submit buttons for different forms
Added: New actions for before and after forms
Added: Give each save button a unique ID.
Added: Scroll erroring field into view when form validation fails thanks bporcelli.
Fixed: If "Max shipping" threshold is reached, taxes are still collected for 0 shipping amount. #625
Fixed: Admin User address fields : Illegal string warnings #621
Fixed: Coupon Usage Restriction Check boxes are not functioning #620
Fixed: Some Shipping fields are not displaying on the vendor sign up form #619
Fixed: Product Form Gallery Showing All Site Images #618
Fixed: Upsells, Cross Sells labels are not showing on Product add/edit form #622
Fixed: Tag label is not showing in product add/edit form #617
Fixed: Disabled debuggin in shipping gateway
Fixed: Maximum shipping charged (per vendor) in admin is not working/applied #609
Fixed: Incorrect product id reference
Fixed: Only show store category widget on woocommerce pages
Fixed: Store Category Widget now works in single product page
Fixed: Translation is not applying to some strings #614
Fixed: Free Shipping Product Level Override shows default rate on product page #610
Fixed: QTY checkbox selection for Country Table Rate does not save #606
Fixed: Removed license localhost disable due to hosting issues with managed hosts #601
Fixed: If "Charge Once" is checked, Free Shipping settings ignored (multiple of the same product) #598
Fixed: Shipping address illegal offset problem
Fixed: FedEx tracking is not formatting correctly for emails #597
Fixed: Admin options Product Form- Variations hide SKU results in variations not being saved #595
Fixed: Submit Feedback form page order status is showing date/time of order #604
Templates Updated:
templates/dashboard/settings.php
templates/dashboard/product-edit.php
templates/dashboard/product-download.php
templates/dashboard/product-simple.php
Version 1.4.4 – 1st July 2017
* Added: More actions to product edit forms for extensions to hook into as requested
* Added: Store category widget
* Added: Support for text area in form generator
* Added: Product template meta box to wp-admin product edit screen
* Added: Template to filter arguments to allow filtering by template loaded
* Added: Actions before and after every form field #403
* Added: Vendor Store Search Widget #10
* Added: Sanitize value method to form builder
* Added: Show descriptions on check boxes for form generator
* Added: Ability to debug license issues
* Updated: Use new class logger
* Updated: Updated license client file library
* Fixed: Update output for details
* Fixed: Incorrect field definitions
* Fixed: Store Shipping Address in admin is not saving entries #594
* Fixed: Admin Store Settings: New 1.4 Shipping Options Not Hidden When Checked #589
* Fixed: Custom taxonomies in product controller saving incorrectly
* Fixed: Price tooltip number formatting
* Fixed: Tax totals showing incorrectly in order details
* Fixed: Free shipping product override for international flat rate not working
* Fixed: Max qty per product bug on international flat rate
* Fixed: Id references for new actions in form helper
* Fixed: QTY selection in Country Table Rate moves after Save #585
* Fixed: File reference in internal logging system
* Fixed: index error on front and admin area
* Fixed: Show taxes on dashboard if give tax enabled thanks Daman
* Fixed: Order Details has Incorrect display of commission if Variable Product(s) in the order #583
* Fixed: Admin cannot change & update vendor phone number (Store Address) #579
* Fixed: Lock new products for vendor bugs
* Fixed: Double slash in custom product edit templates on product page
* Fixed: Form helper unix time validator
* Fixed: License localhost detection issue on some servers
* Fixed: Fatal error on wp-admin product page for shipping
* Fixed: Fatal Error on single product page #577
* Fixed: Pro Dashboard Add Product Quick Link Has Double // #575
* Fixed: Private Listing Selection is not functioning #574
* Fixed: Shipping Funds Allocated to the Admin Instead of the Vendor #571
* Fixed: Fatal error on wp-admin product page for ratings
* Fixed: Warnings on custom meta keys
* Fixed: Added extra checks for deleted orders and incorrect commission status
* Fixed: Stop showing label for hidden form fields
* Templates Updated:
templates/dashboard/orders/order_details.php
templates/dashboard/reports/overview.php
* Templates Added:
templates/front/vendor-searchform.php
Version 1.4.3 – 27th April 2017
Fixed: Duplicate Product "save changes" button does not work for Variable Product #573
Fixed: Shipping Funds Allocated to the Admin Instead of the Vendor #571 (requires wc vendors free update also)
Fixed: Older Variable Products Shipping is incorrect; Cart shows Admin as Vendor #567
Fixed: Shipping info display on single product page
Fixed: External products don't save #569
Fixed: Non functioning required field code for shipping tab
Fixed: Checkout Fatal Error #568
Version 1.4.2 – 19th April 2017
* Fixed: CSV upload date range is not applying. #544
* Fixed: Shipping Shows No Methods Available #564
* Fixed: Order Export: fatal error #565
* Fixed: Order Status Strings are not translatable
* Fixed: Modified vendor controller to allow views plugin to work
* Fixed: Incorrect version number constant
* Fixed: Orders & Coupons Page (Pro Dashboard) Blank if Vendor has Orders #563
* Fixed: Vendor Coupons are showing error; not functioning #560
Version 1.4.1 – 10th April 2017
* Fixed: Duplicate Product is not working #559
* Fixed: Add Product, Save Draft, Save Changed, Save Draft Buttons are not working #558
Version 1.4.0 – 3rd April 2017
* Added: Action to intercept tracking details entered by vendor #556
* Added: WooCommerce 3.0 compatible
* Added: Auto save of custom taxonomies on product forms
* Added: Template base_dir filter
* Added: Ability to parse arguments to custom templates
* Added: Custom page route capability for dashboard
* Added: Filter for vendor arguments #540
* Added: Check for variation before displaying on front end
* Added: Country Table Rate Defaults in wp-admin #364
* Added: Country rate overrides on wp-admin product page #474
* Added: Global country rate shipping options
* Added: Filter for button class on orders page
* Added: Postcode field to country rate shipping
* Added: Search to products table #413
* Added: Order level shipping commission splits
* Added: Can select multiple images for product gallery
* Added: Vendor shipping display now split at cart and checkout
* Added: Calculated shipping data now stored in packages
* Added: Actions to variations #376
* Added: Show / Hide Variations options #381
* Added: Lock Vendor from Editing or Creating New Product #383
* Added: Limit category selection for select and checklist via option #394
* Added: Support for instance settings to vendor shipping
* Added: Option for different default product edit forms
* Added: Multiple Product Add/Edit template support #285
* Added: Change shipping label in cart and checkout to 'free shipping' if method cost is $0
* Updated: Main class logger
* Fixed: Allow multiple image selection in product gallery #525
* Fixed: Javascript date format issue
* Fixed: Undefined variable class in order actions partial #542
* Fixed: Undefined variables in file downloads for variations
* Fixed: Hide flat rate options when country rate selected globally
* Fixed: Updated variations to use new download file code
* Fixed: Text capitalisation inconsistencies
* Fixed: Parse error with short tags turned off
* Fixed: References to depreciated function calls
* Fixed: Coupon 'apply to all products' including all future products
* Fixed: Free shipping coupons #424
* Fixed: Allow Shop Manager Role /wp-admin/ access #296
* Fixed: Free shipping over for order and product #474
* Fixed: Double edit in url on default template
* Fixed: Allow shipping classes #304
* Removed: Debug code from template #541
* Templates Updated:
templates/dashboard/store-settings.php
templates/dashboard/dashboard-notice.php
templates/dashboard/product-edit.php
templates/dashboard/orders/order_details.php
templates/dashboard/reports/overview.php
* Templates Added:
templates/dashboard/product-simple.php
templates/dashboard/product-download.php
Version 1.3.9 – 24th January 2017
* Added: Indicate if a product is out of stock on pro dashboard #500
* Added: Error message to store name #509
* Added: Action hook 'wcv_before_product_type' in product-edit form
* Added: New filters for product row labels categories and tags #502
* Updated: License notice for dev/staging sites #522
* Fixed: Fatal errors when activating pro if WC Vendors not found
* Fixed: Updated variations to use new download file code
* Fixed: Installer activation code not running #526
* Fixed: A Product's Featured "status" is removed after editing in Pro Dashboard #523
* Fixed: Downloadable files and attachment ID sync issues #518
* Fixed: Possible XSS from Vendors #527
* Fixed: Duplicate wp-admin menu item #513
* Fixed: Pinterest link is missing a double-quote #521
* Fixed: Tooltip with no tip #514
* Fixed: Attributes not selected for variations showing in variations #519
* Fixed: Filter Typo #520
* Fixed: Multi Select limited for tags: when this method is used, tags are not saved to the product #505
* Fixed: Product level override is not working if store default is set to: Int'l Disabled. #499
* Fixed: Add plugin page is full of errors and unusable. #508
Version 1.3.8 – 16th November 2016
* Added: wcv_dashboard_nav_class filter to add a css class to dashboard nav
* Added: Show order status to vendors and removed order actions on refunded or cancelled orders #490
* Added: New license and update system
* Added: Action Hook(s) for product-edit Media Uploader area #487
* Added: Admin css class names for shipping fields
* Added: Filter for button class on orders page
* Fixed: Puerto Rico does not show up on the front end #498
* Fixed: Missing double quote in store form #497
* Fixed: References to depreciated function calls
* Fixed: Refresh Page; Feedback / Rating is submitted again. #488
* Fixed: Coupon checkbox selection after edit/save #489
* Fixed: Typo in tracking providers #485
* Fixed: Address info still showing despite permissions selection #480
* Fixed: Undefined variable reference on new template store settings template
* Fixed: Commission fee product override not saving value #477
* Fixed: License url ending slash
Version 1.3.7 – 29th September 2016
* Added: Jquery datetimepicker ui to front end
* Added: Placeholders for the product description and short description
* Added: Filters to all file include paths for non template overrides by developers #400
* Updated: Replaced date picker with jquery-ui-datepicker fixing #466 #459
* Updated: Portuguese translations thanks Elsa!
* Fixed: Commission fee product override not saving value #477
* Fixed: Country rate shipping commission only giving 1 #472
* Fixed: Hide "export order to CSV" on dashboard/orders now obeys free capability #469
* Fixed: Can't edit draft if edit live product is disabled #463
* Fixed: Move shipping fields into template #456
* Fixed: Vendor terms incorrect link on application page #452
* Fixed: Incorrect text domain for some inputs
* Fixed: Use WordPress date format for date picker on dashboard
* Fixed: Report issue with reversed commissions.
* Fixed: Errors saving products with grouped products disabled on the form.
* Fixed: Remove font family from main style sheet
* Fixed: Method get_orders2 in class WCVendors_Pro_Vendor_Controller produces an invalid SQL
* Templates Updated:
templates/dashboard/store-settings.php
Version 1.3.6 – 20th August 2016
* Added: Price breakdown on dashboard recent orders
* Added: Orders page options to disable table data and actions #359
* Added: Vendor tools on single product page #334
* Added: Multi Word Tags support via options #163
* Added: Tool to import commission overrides for vendors and products
* Added: GPL notice and support information
* Fixed: Dashboard reports incorrect price breakdown #450
* Fixed: Default for attribute capability not loading
* Fixed: Options defaults don't load on initial plugin install #448
* Fixed: Check if terms page is set when processing application on new installs
* Fixed: Save fields for pending vendors also
* Fixed: Shop header: phone number in wrong spot #449
* Fixed: Sass not compiling
* Fixed: Dashboard permalink flushed correctly on activation
* Fixed: Remove debug code from template #446
* Fixed: International shipping settings issues #445
* Fixed: Trusted Vendor, Verified, etc. selections in admin are not saving #444
* Fixed: Fall back to free commission overrides for products and vendors if not imported into pro yet #440
* Fixed: Activation error if post type doesn't exist.
* Fixed: Undefined value warning on dashboard
* Fixed: Shipping checkboxes not loading values in admin area
* Templates Updated:
templates/store/store-header.php
Version 1.3.5 – 14th August 2016
* Fixed: Store defaults not applied if no product override #442
* Fixed: Shipping checkboxes not loading values in admin area
* Fixed: Missing translated strings
* Added: New dashboard page nav filters for overriding the navigation
Version 1.3.4 – 5th August 2016
* Added: wcv_delete_post action to allow hooking into deleted products
* Added: Duplicate product #427
* Added: Body css classes to set pro pages #420
* Added: Class main logger to Pro class
* Added: Order number to orders row filter
* Added: 100% Complete French translations thanks Nicolas !
* Added: Auto mark as shipped if tracking info added
* Added: Shop coupon table filters wcv_shop_coupon_table_rows, wcv_shop_coupon_table_columns
* Updated: License language to stop confusion with activation issues
* Fixed: Don't show orders that have been reversed in reports
* Fixed: Shipping calculation breaks in WC2.6 for some installs
* Fixed: Dashboard Recent Orders table product display #438
* Fixed: Default pages being set during plugin activation
* Fixed: Disabled national shipping bug
* Fixed: Sale price on variable products doesnt work #434
* Fixed: PHP Warnings Order Controller L371 #433
* Fixed: Country Table Rate QTY not calculating #430
* Fixed: 'Charge once per product' fields reset after product approval #429
* Fixed: Snapchat integration incomplete #423
* Fixed: Mark Shipped gives customers (2) emails #422
* Fixed: Sprintf error when feedback page accessed directly
* Fixed: shipping panel problems in the dashboard for admin
* Fixed: Storing non-english characters correctly in the database.
* Fixed: Updated strings to be translated in ratings controller
* Fixed: Commission bug when using variations and overrides
* Templates Updated:
templates/store/store-header.php
Version 1.3.3 – 9th July 2016
* Added: Shortcode to show Dashboard Menu on Other Pages #233
* Added: Vendor Shipping to Product edit screen in WordPress Dashboard
* Added: Social SnapChat for vendors #384
* Added: Complete shipping interface to user screen and product edit in wp-admin
* Added: New filter wcv_custom_attribute_default_label for attribute placeholder
* Added: URL redirect filters for vendor registraron
* Added: Verified Vendors Badge #3
* Added: Option to disable select2 from loading
* Added: Option to disable markup from inputs on pro forms #355
* Updated: Font awesome to latest release 4.6.3
* Updated: Attribute text to remove confusion
* Updated: German Pro Translations for v1.3.2 Thanks Andy!
* Fixed: Vendors can't edit existing coupons #418
* Fixed: Shipping from – backend not saving #416
* Fixed: Missing argument
* Fixed: Show variation on dashboard orders page and on popup #377
* Fixed: wp-admin vendor feedback star ratings #406
* Fixed: Invalid Non Integer error when using coupons with Stripe gateway
* Templates Updated:
templates/dashboard/order/order_details.php
templates/dashboard/store-settings.php
templates/store/store-header.php
Version 1.3.2 – 17th June 2016
* Added: wcv_countries_list filter to the form helper
* Added: If My Account page ID is missing, then….. #351
* Added: Filter for feedback string wcv_feedback_page_error_msg #395
* Added: Filters for chart colors
* Updated: License Key verbage
* Fixed: Bug in select option values
* Fixed: Uncaught ReferenceError: attachment_image_url is not defined #398
* Fixed: Admin reference to file url in media uploader
* Fixed: Image URL reference error
* Fixed: Variable Products Download URL Bug #393
* Fixed: If coupon code already exists, dont add it. #391
* Fixed: Qty errors
* Fixed: Hardcoded sold by label reference
* Fixed: Style bug in variation thumbnails
* Fixed: In case commission goes below zero
* Fixed: Coupon Before/After Issue #379
* Fixed: Edit coupon values loading
* Fixed: Sale on Product Bug #378
* Fixed: Orders Page – View Orders Details Bug #373
* Fixed: Variable Free Shipping bug #374
* Fixed: Edit live products bug #371
* Fixed: PHP version check is too low, when is not. #387
* Fixed: Coupon Validation #380
* Fixed: Support for variations in csv export
* Fixed: Missing div in coupon actions table thanks Melissa
* Fixed: Translation issues and updated Taiwanese Translations
* Fixed: Dashboard style adding larger font widths
* Added: Vendor Terms & Conditions #358
* Fixed: Text input attributes for variations #360
* Fixed: Translation issue in product edit template
* Fixed: Sale price not saving if Vendors amend their product #367
* Fixed: Trusted Vendors publish own products when saving as Draft #362
* Fixed: Settings dashboard post action typo #369
* Fixed: Removed script debug checking in wp-admin
Version 1.3.1 – 3rd May 2016
* Added: Variations UI expand icon for easier UI
* Fixed: wcv_pro_vendorslist broken in v1.3.0 #357
* Updated: German Pro Translations for v1.3.0 Thanks Andy!
* Fixed: Variations media upload permission problem
Version 1.3.0 – 1st May 2016
* Added: Variations Support
* Added: Downloadable file URL hider option
* Added: Storing more file data in database for downloadable files
* Added: Filters and actions to hook into the orders table
* Added: New filters for dashboard and feedback from pull request #356 thanks Sven77
* Added: Vacation Mode #1
* Updated: Base language files
* Fixed: Grouped products not saving
* Fixed: Shipping System & Currency Symbols #353
* Fixed: Vendor Shipping ignores admin default rates flat rate #352
* Fixed: Country Rate any any shipping bug #348
* Fixed: Undefined variable error in product controller
* Fixed: Download files styling
* Fixed: Featured image url error on some WordPress installs
* Fixed: SQL statements to be safe queries
* Fixed: Product override country rate calculation
* Fixed: Added support for form validation on store settings inputs
* Fixed: Renamed product form actions to not conflict with other plugins
* Fixed: Filter collision for front end products
* Templates Updated:
templates/dashboard/product-edit.php
templates/dashboard/store-settings.php
templates/store/store-header.php
* Templates Added:
templates/store/store-vacation-message.php
Version 1.2.5 – 11th April 2016
* Added: Full attribute support
* Added: Link back to store from view all ratings page #313
* Added: Vendor filter drop down on admin products page #335
* Added: Filters for add/edit product helper text #333
* Added: Limited dropdown to defined tags for product tags #307
* Added: Vendor feedback shortcode [wcv_feedback vendor="user_login"] #286
* Added: Option to disable file url in downloadable products #284
* Added: Admin defaults for shipping & return policies #217
* Added: Portuguese Translation ( Thanks Elsa! )
* Fixed: Vendor feedback url rewrites for WPML support
* Fixed: Commission Calculation Error #343
* Fixed: Delete confirmation window #342
* Fixed: Sale prices not saving #340
* Fixed: Default Store Banners not showing up in some areas #339
* Fixed: Media upload style issue on product edit template
* Fixed: Free shipping coupon checkbox Bug #337
* Fixed: Product management option bug #336
* Fixed: CTR vs Flat Rate conflict when overriding by user #332
* Fixed: Sequential order numbering plugins on some pages #331
* Fixed: Shipping array/string warning #328
* Fixed: Translation strings for dashboard quick links
* Fixed: Vendors able to publish live products that are pending by editing #326
* Fixed: Commission + fee issues
* Fixed: Shipping display on vendor shipping override
* Fixed: Disable tax calculations in vendor shipping when disabled at store level
* Fixed: Button layout issues on pro dashboard
* Updated: How store address is output in template #322
* Updated: Auto Vendor Approval, Redirect Link #329
* Updated: German translations thanks Andy!
* Templates Updated:
templates/dashboard/dashboard.php
templates/dashboard/order/order_details.php
templates/dashboard/product-edit.php
templates/dashboard/reports/reports.php
templates/dashboard/store-settings.php
templates/front/ratings/feedback-form.php
templates/front/shipping/shipping-panel.php
templates/store/store-header.php
templates/store/store-ratings.php
Version 1.2.4 – 20th March 2016
* Templates: No templates were updated this release.
* Added: Pagination to products and shop coupons, default options available in admin #320
* Added: filters for wcv_pro_vendorslist styles and layout
* Added: pagination arguments to new filter for wcvendors list
* Fixed: Illegal string offset for shipping class
* Fixed: wcv_pagination for pro vendorslist #327
* Fixed: Order Date Range Bug #325
* Fixed: wcv_my_account_msg translation string #321
* Merged: Added css orders class (merged pull req from BuddyBoss)
Version 1.2.3 – 14th March 2016
* Added: Default date ranges and date picker for order and dashboard screens
* Added: before/after branding actions #293
* Added: System Status: woocommerce.php #282
* Added: Default store banner option
* Added: Filter for url on ratings link
* Added: wcv_pro_vendorslist shortcode and template
* Added: Quick Navigation Links (Add Filter) #289
* Added: Remove shipping for external/affiliate products #281
* Added: Trusted/Untrusted vendor user level publishing rules #283
* Added: Link to Pro Dashboard on my account page #221
* Added: Show shipping in commission display #196
* Fixed: Added support for extra $qty field in commission calculations
* Fixed: Orders page date picker defaults
* Fixed: When International Shipping is Disabled, Checkout Still Works #312
* Fixed: store_name and store_phone using same filter #315
* Fixed: Store description and seller info issue when disabled #311
* Fixed: PHP error #314
* Fixed: Order modal issues #310
* Fixed: Order Detail on Dashboard #82 #196
* Fixed: New products going live if edit approved enabled
* Fixed: Qty override for vendor shipping
* Added: Hide Social panel if no social links active #305
* Fixed: Coupon Fields Not Saving #302
* Fixed: Grouped Products Broken still #290
* Fixed: Misleading text when auto approve vendors is on #298
* Fixed: Ratings All Page funky text #294
* Fixed: Shipping rates for free at store wide level
* Fixed: Pending Vendor Email fires Twice #288
* Fixed: Product name max length limit added to validation
* Fixed: Shipping Label not pulling vendors address #292
* Fixed: Show extra fields on user page for both vendor and pending vendor roles #291
* Fixed: Button style issue #235
* Fixed: Dashboard showing orders when reversed #280
* Fixed: Added post id to the product edit actions
* Fixed: Store Address doesn't show on user meta #277
* Fixed: Layout issues when no store icon available
Version 1.2.2 – 3rd February 2016
* Added: Allow vendors to publish revisions live #275
* Added: Ability to have hidden or shown custom meta on store settings
* Added: Notices for signup form for branding #263
* Updated: Rewrote the migration script for stores to users
* Updated: Changed Default Store Header to: Pro #264
* Updated: Cleaned up helper text for options
* Updated: Language files
* Fixed: Title and From on Feedback Form (Translations) #276
* Fixed: Featured Image cant be changed #274
* Fixed: Customers Email on Pro Dashboard / Orders #273
* Fixed: Grouped Products Don't work #272
* Fixed: Fatal error when updating Free #271
* Fixed: Shop Header for Store Title goes to wrong URL #269
* Fixed: Country table rate shipping calculation issues #267
* Fixed: PHP issues prior to version 5.5
* Fixed: Vendor commission override
Version 1.2.1 – 27th January 2016
* Fixed: Vendor Signup Form doubles Header Text #262
* Fixed: Unable to activate plugin on some sites #261
* Fixed: Store Description and Seller Info not saving #259
Version 1.2.0 – 26th January 2016
* Added: Enable/Disable Shop/Single Product Headers #257
* Added: Message when feedback form accessed directly #254
* Added: Option to disable store settings #244
* Added: Settings and Signup Form configuration #238
* Added: Form validation on product page #115
* Added: Confirm delete of product prompt #98
* Added: Categories as select2 or checkbox #93
* Added: Actions to hook into different sections of the product form
* Added: Missing Handling fee option for product form
* Added: Option to hide categories and attributes
* Added: Template Version detection #73
* Added: Support for both hidden and visible product meta keys
* Added: Coupon Product Id display #42
* Added: Filter for product meta tabs
* Added: Support for hidden and visible custom meta keys on product form
* Added: Vendor application and pending notices #37
* Updated: Removed Vendor Stores Post Type
* Updated: Cleaned up feedback form page #258
* Updated: Ratings display for new release
* Updated: System check for permalink to remove vendor store
* Updated: Changed how prices are output in the product form
* Fixed: Illegal string offset in single store page
* Fixed: Stock status if not managed #255
* Fixed: Edit Product Page doesn't indicate if product is hidden. #245
* Fixed: Spacing issue for ratings form #240
* Fixed: Pay button for order vanishes when using Pro #238
* Fixed: Index issue with signup settings
* Fixed: Shipping Format #234
* Fixed: Ratings on Superstore #232
* Fixed: Total shipping cannot be null #231
* Fixed: Check for sale price before saving
* Fixed: Variable definition issue
* Fixed: Product Form Checkboxes #229
* Fixed: Product $ Discount Coupons work on all products #225
* Fixed: Order of attribute options #220
* Fixed: 'Mark Shipped' Translation Fails causing link to disappear #222
* Fixed: Attributes show as slug instead of name #213
* Fixed: Loading when thousands of orders #209
* Fixed: Pending product text when submitting product #192
* Fixed: Translation issues #188
Version 1.1.5 – 27th December 2015
* Added: New product form options to reduce need to edit templates
* Added: Option to disable deleting products #135
* Added: Changed feedback button on my account if feed back exists #157
* Added: Option to disable view your store #162
* Added: Disable feedback on single product pages #172
* Added: Dashboard quick links #169
* Added: Vendor dashboard notice #170
* Added: Disable Variable Products from Front End Dashboard #173
* Added: Filters for shipping notices #164
* Added: Private listing option for products #202
* Updated: Default shipping options #186
* Fixed: Pro pages not set on activation #185
* Fixed: Select style theme conflicts
* Fixed: Auto updater issue
* Fixed: missing indexes in shipping controller
* Fixed: wp_redirect caching with W3 Total Cache #211
* Removed: Unused logging feature
Version 1.1.4 – 19th December 2015
* Fixed: Critical: All Categories Not Showing #207
Version 1.1.3 – 18th December 2015
* Added: Active class on dashboard menu
* Added: Company / Blog url to settings #167
* Added: Free and disabled check boxes for flat rate shipping
* Added: French translations thanks Marie
* Added: Pinterest URL to social settings #179
* Added: Ratings sort order option #199
* Added: Reset fields when disabled or free shipping checked
* Added: Updated German translations
* Added: Vendor ratings label option for single product page
* Added: Vendor store display actions
* Added: Vendor store display actions v2
* Added: Vendor total ratings on ratings tab #204
* Added: WC Vendors Pro Version constant
* Fixed: Increased API Timeout #177
* Fixed: Missing translation strings #181
* Fixed: Only display shipping panels for vendors on vendor products
* Fixed: Product category drop down manual sorting display
* Fixed: Removed character restriction on rating comments #198
* Fixed: Removed hard coded page styles from the store
* Fixed: Spacing and display issues on vendor ratings panel
* Fixed: Translation issue in form helper #188
* Fixed: Update API for automatic plugin updates
* Fixed: Vendor Shipping disabled still shows panel #205
* Fixed: incorrect reference in template
* Fixed: tooltip display for textarea in form helper
* Updated template versions
* Updated: Page Title to be Translateable
* Updated: Shipping calculations for free and disabled shipping
* Updated: Sold by label references
Version 1.1.2 – 25th November 2015
* Fixed: Removed hard coded page styles from the store
* Added: German Translations thanks Biowomo
* Added: New filter for product meta types
* Fixed: Check to make sure vendor has set shipping details before display on single product page
Version 1.1.1 – 24th November 2015
* Added: Store admins can now create coupons
* Fixed: Custom product meta save thanks Stephen
* Fixed: Store Controller user action #161
* Fixed: Coupons & Commission Rates #110
* Added: Hide Shipping "Classes" on product form #159
* Fixed: Saving shipping class
* Fixed: template path checks
* Added: Per product qty multiplier override for shipping calculations #146
* Fixed: Delete unused shipping meta
* Fixed: Simplified store shipping settings display
* Fixed: Array key issue with store shipping settings
* Fixed: Allow $0 for country rate shipping
* Fixed: Disable shipping completely #154
* Updated: No Permission message in template
* Fixed: Shipment Tracking provider list is displaying incorrectly #153
* Fixed: Critical security error with product permissions #150
* Fixed: Shipping Calculation issue
* Fixed: Rewrite rules bug
* Fixed: Template path error #149
* Added: Filter to override select2 args
* Fixed: select2 styling
* Fixed: custom meta key prefix
* Fixed: Select2 styles a bit broken
* Fixed: Renamed main column class to stop foundation clashes #134 #94
* Fixed: Filters that weren't working #143
* Fixed: Translate dashboard navigation #141
* Updated: Updated header style class
* Added: Shipping and Return policies to product page #142
* Fixed: Commission panel Missing #136
Version 1.1.0 – 17th November 2015
* Added: Flat Rate / Country Rate Per Product Shipping Module
* Added: Option check to auto flush permalinks on pro settings page
* Added: User edits sync to vendor stores #116
* Fixed: Fatal error on update #121
* Fixed: Changed how dashboard navigation is generated allowing to be translated #126
* Fixed: Overview and reports template calls #124
* Fixed: Loading custom translations #113
* Fixed: Incorrect value used for display thanks ontiuk
* Added: Filters to override product table display
* Fixed: "Stars" not showing on Vendor Ratings for individual products #119
* Added: Spanish Translations (thanks Vincent!)
* Fixed: Sold by in cart item meta
* Fixed: Would still show other admins in sold by
* Fixed: Custom fields code for products and settings
* Added: Shipping Rate table to product
* Fixed: Incorrect filter names on product form
* Fixed: Check if order exists before looping #111
* Fixed: Unable to delete gallery images
* Fixed: Edit product even if disabled #103
* Fixed: Submit draft product live #101
* Added: Ability to edit drafts when can't submit live products
* Fixed: Theme override for archive and single store pages #100
* Fixed: Simple product as default #106
* Fixed: is_woocommerce filter
Version 1.0.5 – October 31st 2015
* Added: Product gallery upload limit via filter
* Fixed: Cannot redeclare function for is_shop
* Fixed: layout issues in several themes for store fronts
* Added: Filter to override ink style
Version 1.0.4 – October 28th 2015
* Fixed: Fatal error updating WooCommerce #88
* Added: Place holder for featured image on product edit #85
* Fixed: Shipping address on shipping label #87
* Fixed: Allow textarea resize vertical #86
* Fixed: Select2 moved to includes #91
* Fixed: Missing wcvendors-pro-admin.min.js #89
* Update: Removed html buttons and replaced with button class
* Fixed: typography styling issues
Version 1.0.3 – October 26th 2015
* Fixed: Missing div wrapper for product edit form
* Fixed: Sale date schedule incorrect #83
* Added: Filter to change default vendor store name
* Fixed: Dashboard wrapper on sign up form
* Fixed: New Vendor Notification Email not sending #77
* Added: Product short description #76
* Fixed: Ability to use remove_action
* Updated: All templates to include version numbers and information
* Added: Ability to disable view store in pro dashboard #79
* Fixed: Boxed sizing grid issue for some themes
* Added: New system status checks
* Fixed: Plugin URI #81
* Fixed: City town placeholder #78
* Fixed: Add tax to product template #80
* Added: Product Add settings now respected from free
* Fixed: Modal class names
* Update: Order note styles in modal
* Fixed: CSS class name collision #74
* Removed: Datatables from source
* Updated: Missing strings for translations
* Added: More detail to notice when submitting product #65
* Fixed: changed filter priority for redirect #49
* Updated: Language file
* Added: Filter for login redirect #62
* Added: Actions for save product and meta #68
* Fixed: Missing select2 asset #51
* Fixed: removed source maps
* Added: filter to change ratings tab name
* Fixed: translated strings
* Fixed: Added sky to product edit/add page #71
* Updated: All templates now translatable
* Fixed: incorrect filter name for sold by
* Updated: Added ability to use hidden fields for product type
Version 1.0.2 – October 18th 2015
* Added: Filter to override vendor store url
* Fixed: Ratings link incorrect #64
* Fixed: Commission showing for non admins #70
* Updated: Language file
* Fixed: Minified assets now loading
* Updated: New gallery and image layout designs for dashboard
* Updated: Moved all product form data into its own class
* Fixed: Dashboard tables adapted to new grid
* Fixed: Stop loading modals in every column
* Updated: Replaced grid system and front end styles framework
* Added: Ability to override front end css styles
* Fixed: Retrieve vendor paypal if store paypal isn't set.
* Fixed: Create store when manually changing role
* Added: Vendor dropdown on Vendor Store Page
* Fixed: Redirect to Pro dashboard if applying for vendor
* Fixed: Edit/Delete/View text on
* Fixed: Saving Youtube & Google plus social links
* Fixed: Row action styling in pro dashboard
* Added: Add product url filter
* Fixed: Integrated stores layout into woo commerce layouts
* Fixed: If no store on settings page, create it
* Fixed: Only published stores should be counted
* Added: View my store link in dashboard
* Fixed: PayPal Email Updates, but does not display
* Fixed: Missing images in css
* Fixed: Remove use of php short tags
* Fixed: Util path issue
* Updated: Text for admins viewing dashboard
* Added: Notice for license help
* Fixed: Deactivate license key when deactivating plugin
* Fixed: Fatal activation error due to using shorttags
Version 1.0.1 – 6th October 2015
* Added: Links to help for license issues
* Fixed: Deactivate license key when deactivating plugin
* Fixed: Fatal activation error file not found thanks Jordan!
* Fixed: Missing argument for ratings controller
* Added: Ability to disable entire Pro features
* Removed: data tables front end system
* Fixed: Parse error in ratings admin table
* Fixed: Coupon activation and hooks
* Added: Link to product edit on recent products table
* Fixed: Fatal error if activating before WooCommerce or WC Vendors
* Fixed: Updated labels on up and cross sells
* Added: Note about using existing dashboard page
* Fixed: remove email from description
* Fixed: javascript bug in charts
* Fixed: asset paths for license manager
Version 1.0.0 – 1st October 2015
* First Release