Our WooCommerce Bookings integration has been updated to version 1.2.0 with some fixes and a new settings screen to disable capabilities.
Whats New ?
You can now disable certain aspects of the Vendor dashboard to disable things such as resources and the calendar. Also if vendors have had their product access disabled, this will also remove the add product button on the bookings dashboard pages.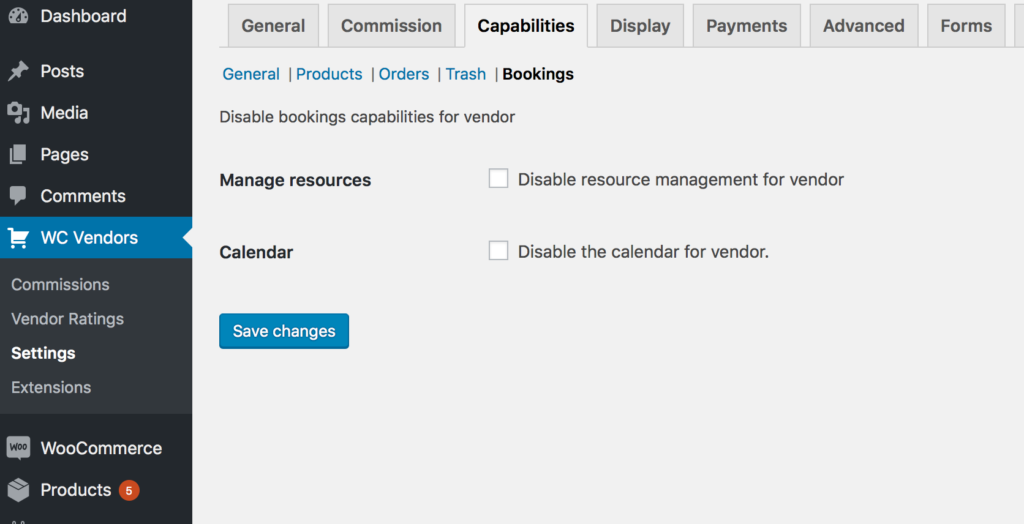 Fixes
We had a few issues pointed out to us which we have since resolved including
Time formats
Calendar scroll
Tax fields not showing
Whats Next?
In our next major update we'll be releasing support for the free WooCommerce Booking Accommodation plugin allowing your vendors to start selling accommodation, just like AirBNB. We are aiming to have that out at the end of January.
Changelog
Version 1.2.0 - 24th December 2018

* Added: New settings capabilities to disable bookings capabilities
* Fixed: Tax fields not showing on product edit form
* Fixed: Time formats on calendars to reflect WordPress settings
* Fixed: Add product disabled on bookings screen if capability disabled
* Fixed: Scroll on day view for calendar
* Fixed: Subject Pending and Pending header not working for vendor email #42
Update
This update should show up in your plugins updates however if it doesn't you can download it from your my-account/downloads page.
Questions
If you have any questions or issues be sure to send in a ticket.