WC Vendors Pro v1.5.8 is now available for download. We have addressed a few bugs in this release as well as introduced a few new features.
Whats New ?
We have added a few new great features with this release.
Vacation Mode : Remove Add to Cart Option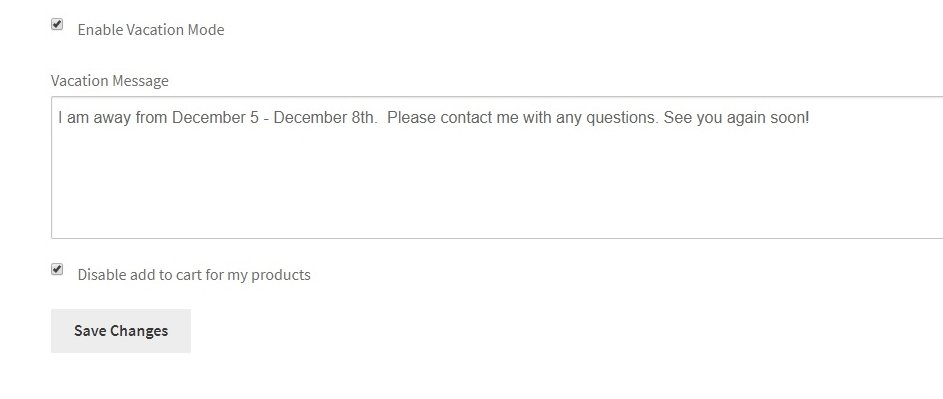 First, the vendors now have the option to disable "add to cart" for their products if they have vacation mode activated. The option for this is shown to the vendors if / when they activate vacation mode (pro dashboard > settings > store).
New Widget: Vendor Store Total Sales
In addition, we have added the Total Sales public display for vendors.  This will display the total sales a vendor has had while selling on your marketplace.  Admin can choose how to label this field (i.e. total sales, my sales, items sold) in wp admin > wc vendors > settings > display > labels.    This will appear in the store banner for the vendors, and can be also used in the new widget available in wp admin > appearance > widgets : WC Vendors Pro Store Total Sales.
And More…
Additional features added are: the ability for media to be added to seller description and seller info, SEO option for products that a vendor can use (new tab shown on the product listing form), a low stock threshold field on the vendor product form, and Stock QTY added to the vendor's product list view in pro dashboard > products.
To use the vendor's option to add media to the store description and seller info forms in their front end dashboard settings, There are two setting you will need to have selected/checked in admin.
1. wp admin > wc vendors > settings> display: general: Shop HTML (checked)
2. wp admin > wc vendors > settings > forms> general: Allow media uploads (checked)
Fixes…

We've taken care of some bugs with this release- seen below in the changelog.
To add these features and provide the fixes, there were template updates.
Please be sure that if you are overriding these templates in your child theme, you re-copy and apply your changes to the new templates so that they will remain current:
templates/dashboard/product-edit.php
templates/store/store-header.php
The Changelog for v1.5.8
* Added: Showing number of sold items publicly #838
* Added: Allow media uploads in shop description and seller info
* Added: SEO on product level #829
* Added: Vacation Mode - Disable cart option #777
* Added: Ability to hook into variations save code to save other variable product types
* Added: Low stock threshold field to products
* Added: Stock QTY amount to pro dashboard > products list. #624
* Updated: Vendor Contact Widget Updates #755
* Updated: Stock status field behaviour
* Fixed: Show minimum shipping with tax #840
* Fixed: WC Vendors Store Categories Widget doesn't work when Yoast plugin is activated #648
* Fixed: Errors output on coupon screen if vendor is not the owner.
* Fixed: Setup wizard menu item is not hidden #841
* Fixed: undefined variable and calling member on non object (#836)

* Templates Updated:
	templates/dashboard/product-edit.php
	templates/store/store-header.php
Update
This update should show up in your plugins updates however if it doesn't you can download it from your my-account/downloads page.
Questions
If you have any questions or issues be sure to send in a ticket.