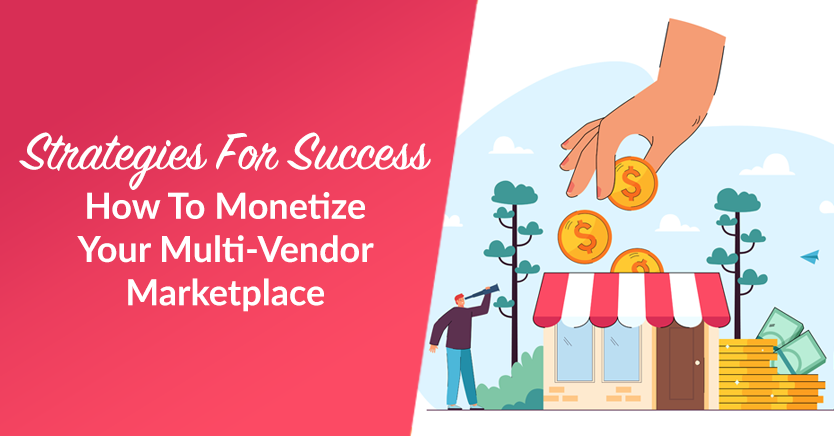 If you're running an online multi-vendor marketplace, you're likely wondering how to monetize it effectively. This is where strategies for success come in.
Monetization strategies are key to the flourishing of your e-commerce venture. From implementing smart commission structures to exploring advertising opportunities, the right plan of action can transform a fledgling platform into an income-generating powerhouse.
In this article, we'll delve into various strategies that will help your multi-vendor marketplace earn the big bucks. So let's dive in and discover the key to unlocking your business' full revenue potential!
5 Strategies For Success That Can Ensure A Profitable Multi-Vendor Marketplace
You'll need the best revenue-boosting strategies for success to become a reality for your online marketplace. For this reason, we've compiled a list of the five best plans of action you can implement:
1. Optimize commission structures
One of the most common and effective ways to monetize a multi-vendor marketplace is through commission fees. As vendors use your platform to sell their products or services, you can charge a percentage of each transaction as a commission.
However, to maximize revenue without discouraging vendors, it's essential to strike a balance. Therefore, consider implementing a tiered commission system where the percentage charged goes down as vendors make more sales or achieve certain milestones. This approach encourages vendors to grow their businesses on your platform, leading to increased sales volume. As a result, you get to enjoy higher overall revenue for your marketplace.
If you're using WC Vendors as the foundation for your online shopping hub, you're in luck. This powerful WooCommerce extension offers a complete and versatile commission system whose robust options can meet a wide range of marketplace needs.
WC Vendors allows you to set commissions at various levels. For example, you can opt for a global commission rate, or set commissions per vendor, product category, or product. In addition, this plugin lets you use a broad array of commission types, including fixed, percentage, and more.
On top of that, WC Vendors' Stripe Connect integration provides you with a convenient and secure way to pay your vendors.
For an in-depth guide on how to implement a commission structure using WC Vendors, read our article "How To Charge Vendors In Your Marketplace: A WooCommerce Commissions Guide."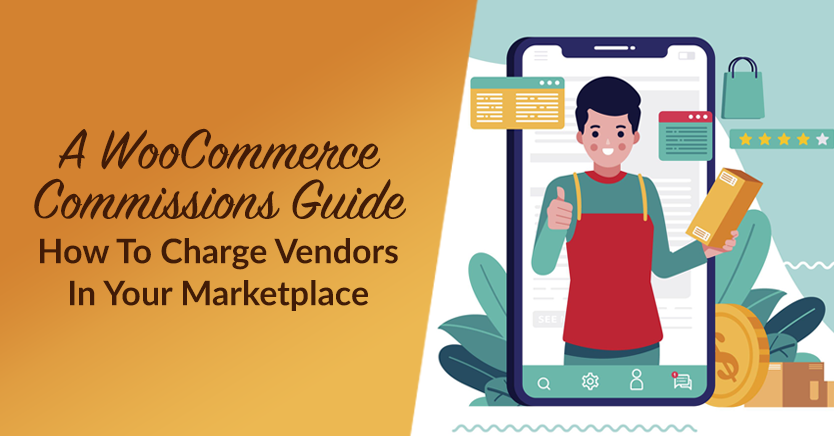 2. Embrace targeted advertising
Active monetization involves leveraging advertising opportunities within your multi-vendor marketplace. Therefore, make sure to use strategically placed ads that are relevant to your audience.
For example, if your marketplace focuses on fashion, then your customer base is mostly comprised of people who are interested in purchasing clothes and accessories. Thus, one of the best strategies for success is to create ads revolving around clothing – not products your shoppers aren't looking for, such as toys for toddlers.
Consider offering sponsored listings or featured products to vendors who are willing to pay a premium for increased visibility. Additionally, you can collaborate with relevant businesses and provide them with advertising space on your platform.
When advertising, make generous use of social media platforms such as Facebook, Twitter, and Instagram. According to studies, 76% of consumers in the U.S. bought a product they discovered in a brand's social media post. Meanwhile, 65% stated that the link within a social media post directed them to a product that they initially didn't plan on buying.
It's also crucial to make those advertisements mobile-friendly. In one study, more than 82% of respondents discovered products on social media that they subsequently bought using their mobile devices.
As powerful as this type of promotion is, avoid overwhelming users with excessive advertisements. Moreover, ensure that your ads align with the interests of your target audience.
3. Implement subscription fees
One of the most potent strategies for success is to monetize your multi-vendor marketplace through subscription fees.
Offer your vendors premium subscription plans that provide additional benefits, such as improved product visibility, advanced analytics, or priority customer support. These added perks will entice vendors to opt for higher-tier subscriptions, increasing your recurring revenue stream.
Moreover, consider introducing a subscription-based model for customers. Give subscribers exclusive access to premium content, special deals, or faster shipping. By providing added value to customers through subscriptions, you can secure a stable income while fostering customer loyalty.
The subscription model is another area where WC Vendors excel.
With the WC Vendors Membership tool, you can create membership plans that your vendors can subscribe to for a monthly fee. Furthermore, you can come up with different membership levels so that you can establish distinct restrictions for your vendors regarding the products they're allowed to sell. And with WC Vendors WooCommerce Subscriptions, you can charge recurring subscriptions for your memberships, building up consistent revenue.
Speaking of WC Vendors WooCommerce Subscriptions, this plugin lets your vendors create and sell their own subscription products.
With such tools, WC Vendors helps you turn your marketplace into a subscription box service, enabling you to capture more revenue with recurring payments and recurring commissions.
For a comprehensive tutorial on how to implement membership subscriptions using WC Vendors, read our article "How To Charge Vendors In Your Marketplace: A Membership Subscriptions Guide."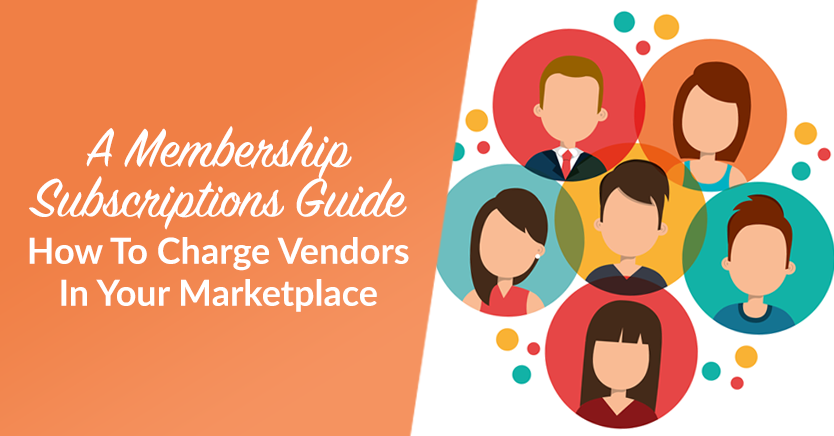 4. Provide value-added services
In addition to commissions, advertising, and subscriptions, explore opportunities to offer value-added services to vendors and customers alike.
We highly recommend supplying your vendors with marketing support, analytics tools, and training programs to help them optimize their performance on your platform. For example, you can train vendors by hosting webinars and granting them access to self-paced learning materials such as video tutorials and text-based step-by-step guides.
These will not only familiarize them with your online shopping center's functionalities but also educate them on how to make the best use of promotional tools, product listings, and analytics to boost their sales. And by assisting vendors in improving their sales, you can justify charging fees for your value-added services.
For customers, consider providing add-ons such as gift wrapping, extended warranties, or expedited shipping options for a fee. These extras cater to different customer needs while bolstering your revenue streams.
Furthermore, you can create loyalty programs and give away coupons to reward customers for patronizing your shopping hub. These and similar promotions can increase customer loyalty by encouraging repeat purchases and, therefore, consistent income. Moreover, satisfied customers are more likely to sing your praises to their friends and family. This word-of-mouth advertising is an inexpensive yet effective way to bring new customers to your doorstep.
5. Leverage data insights
Data is a goldmine when it comes to monetizing a multi-vendor marketplace. After all, the right information can help you gain valuable insights into what you can do to boost your revenue.
Therefore, among the best strategies for success is to analyze user behavior, purchasing patterns, and vendor performance. You can then use the data you gather to personalize advertising, recommend products to customers, and optimize your platform's user interface for better conversions.
Moreover, you can offer vendors access to relevant data and analytics for a fee. Vendors can use this information to refine their strategies and improve their sales, making it a win-win situation for both parties.
Conclusion: Emply Powerful Strategies For Success To Be Yours
Monetizing an online multi-vendor marketplace requires a well-thought-out approach that benefits everyone involved in your business. Thankfully, you can use various strategies for success to become yours, allowing you to turn your e-commerce venture into a profit-making machine.
Therefore, make sure to:
By using such powerful strategies, you can create a robust revenue model that ensures the sustained growth and success of your platform. Remember that with the right approach, your multi-vendor marketplace can thrive and become a profitable endeavor in the ever-expanding world of e-commerce.
Do you have any questions about strategies for success? How about WC Vendors, the powerful WooCommerce plugin that can help you take advantage of such strategies? Let us know in the comments section below!