WC Vendors Pro v1.5.6 is now available for download. We have addressed a few bugs in this release as well as introduced a few new features- including a Vendor search widget, a maps selector for the vendor settings and more.
Whats New ?
The Vendor Search Widget
We have been getting requests from our users to include more vendor information in the form of widgets to allow for more control over the design of the vendor store fronts. We have now include the vendor search widget.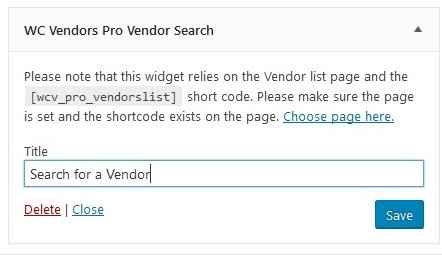 This widget provides a search bar which will allow visitors to the site to search for a specific vendor.
You need to have the WC Vendors Pro vendor list page set in order to use this widget, so please ensure that you have a page created on your site  with this shortcode [wcv_pro_vendorlist] .
The search results will be displayed using the same style as the WC Vendors Pro vendor list.
Maps Selector
Another new feature in WC Vendors Pro v1.5.6 is the Maps Selector.  This will allow the vendors to enter their address with longitude and latitude to be used with the WC Vendors Vendor Store Map widget, and also with other third party plugins or applications which would need to use longitude and latitude for vendor store location.
There are new options in admin for you to use to enter your Google Maps API Key, as well as choose a few other options for this feature.
The settings are available in wp admin > wc vendors > settings > general : Google Maps API (shown below)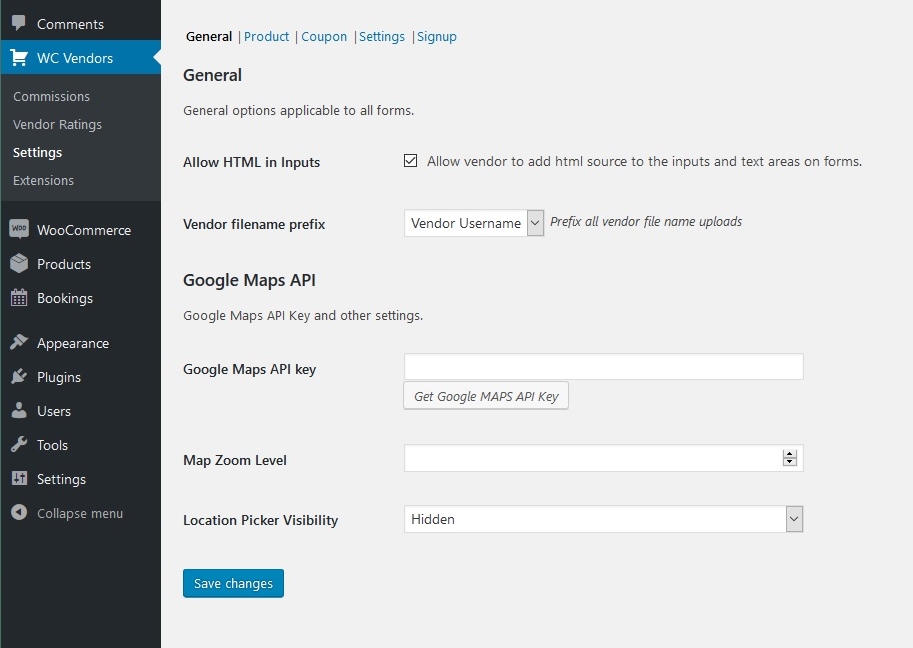 The vendors will then have options to add their store address latitude and longitude in their vendor dashboard settings Pro Vendors Dashboard > Settings > Store ( shown below )

Actions Added to Simple Product Form
The final new feature added in this release are Actions added to the Simple Product Form.  This will enable customization, more fields or functions to be added to that form if you wish to do so while customizing, and reduce or negate the need to modify the template to make many types of changes to the Simple Product form.
---
To add these features and provide the fixes, there were two templates that were updated.
Please be sure that if you are overriding these templates in your child theme, you re-copy and apply your changes to these new templates so that they will remain current:
templates/front/vendor-signup-form.php
templates/dashboard/product-simple.php
The Changelog for v1.5.6
* Added: Vendor search widget
* Added: Add maps chooser for address on store settings #711
* Added: Actions before and after fields for simple product edit form
* Fixed: Updates to Download file from vendor revokes download permissions for customer #792
* Fixed: Required field file downloads not functioning #811
* Fixed: Get user locale when loading translations
* Fixed: Required field tags is not functioning #797
* Fixed: Display correct shipping override price #793
* Fixed: File Display on Product form not working #799
* Fixed: Max Gallery Images – limitation does not work if ctrl is used #790
* Fixed: Tag Separator option is not functioning properly #807
* Fixed: Do not show the inventory tab if manage stock is disabled at the WooCommerce level
* Fixed: Incorrect update method name in updater scipts
* Fixed: Unable to filter tracking providers when only shipping to UK or US
* Fixed: Undefined property notice in ratings controller
* Fixed: Redirect loop when dashboard page isn't set thanks to Lance
* Fixed: Trying to get property 'post_name' of non-object from new install
Templates Updated:
templates/front/vendor-signup-form.php
templates/dashboard/product-simple.php
Update
This update should show up in your plugins updates however if it doesn't you can download it from your my-account/downloads page.
Questions
If you have any questions or issues be sure to send in a ticket.