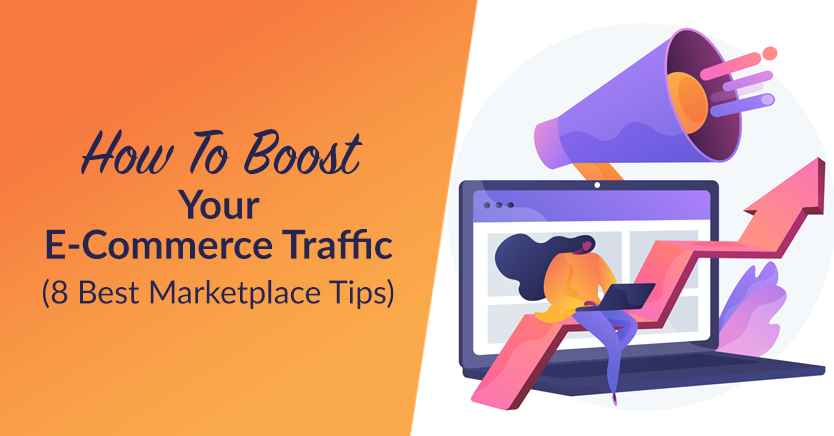 With more and more people doing their shopping via the Internet, creating an online multi-vendor marketplace has become an appealing business venture. However, building a successful online-selling platform goes beyond just launching it. To ensure its growth and profitability, you have to take steps to ensure it can attract a steady stream of e-commerce traffic.
For this reason, today's article will explore the various ways to boost your e-commerce traffic. By using these strategies, you can significantly raise your online marketplace's chances of succeeding.
So let's jump right into it!
What Is E-Commerce Traffic?
Basically, e-commerce traffic is the flow of users who navigate to and interact with an e-commerce website such as an online marketplace. It encompasses the volume of people accessing the platform, browsing through products, making purchases, and engaging with the website's various elements.
E-commerce traffic can originate from different sources, including organic search results, social media platforms, referral links, email marketing campaigns, paid advertising, and other promotional channels.
So, why is it important to attract e-commerce traffic? The answer is simple: to drive relevant and interested visitors to your online marketplace, which can increase the potential for sales, conversions, and overall business growth.
8 Best Strategies To Attract More E-Commerce Traffic To Your Multi-Vendor Marketplace
We've established that your business' success is largely influenced by your ability to drive traffic to your online marketplace. But how, exactly, do you draw more potential customers to your platform?
Below, we discuss the eight best strategies you can you to boost your multi-vendor marketplace's e-commerce traffic.
1. Optimize your marketplace for search engines
Search engine optimization (SEO) is the practice of enhancing your website to enhance its visibility in search engines like Google and Microsoft Bing. Effective SEO significantly enhances the likelihood of your marketplace being seen by more consumers, which can result in more sales.
As you can imagine, SEO plays a crucial role in driving e-commerce traffic to your store.
Among the most powerful SEO strategies is the use of keywords and keyphrases in your content. Thus, conduct thorough keyword research, then incorporate relevant keywords into your product descriptions, titles, metadata, and blog posts. This can enhance your chances of ranking higher in search engine results, attracting more organic traffic.
For more SEO tips, read the following articles:
2. Leverage social media
Social media platforms have transformed the way we connect and interact online. And in the right hands, such platforms can serve as potent tools for attracting e-commerce traffic to your marketplace.
Thus, establish a strong social media presence by creating business profiles across popular platforms such as Facebook, Instagram, Twitter, and LinkedIn. Then, use these platforms to share engaging content, promote your vendors, and interact with your audience.
The consistent use of social media will not only boost your e-commerce traffic; it can also keep your existing vendors and consumers focused on your marketplace, leading to brand loyalty.
3. Develop engaging content
As mentioned above, sharing engaging content is a useful strategy for boosting e-commerce traffic.
Here's the good news: content marketing is a powerful way to captivate your target audience and encourage them to visit your online marketplace.
The even better news? You've got plenty of content marketing techniques at your disposal. For example, you can create and share high-quality blog posts that are informative and relevant. You can even make videos and provide tutorials to vendors and consumers alike. Don't forget to include links to your marketplace within the content to drive traffic directly!
By providing valuable content, you establish yourself as an industry authority. This will then attract visitors who are interested in your niche.
4. Implement influencer marketing
Love them or hate them, influencers hold an inordinate amount of power over consumers, affecting everything from how they feel about certain products to their purchasing decisions. Small wonder influencer marketing has gained considerable traction in recent years!
Therefore, if you want an edge over your competitors, consider collaborating with influencers who have a substantial following within your target market. These can be vloggers, bloggers, social media celebrities, and the like.
Influencers can create and then share engaging content about your platform with their loyal audience, enhancing your reach and credibility. For example, they can even review one or more of your vendors or even your entire marketplace. Alternatively, you could directly reach out to their followers by appearing in their videos or serving as a guest writer on their blog.
5. Offer incentives and referral programs
Everyone loves a good deal. This explains why approximately 93% of consumers use coupons or discount codes throughout the year, and over 64% of online shoppers wait for items to go on sale before buying them.
Therefore, one great way to attract potential customers to your marketplace is to provide special offers, discounts, or exclusive deals. Furthermore, consider implementing a referral program where customers earn rewards for referring others to your platform. By incentivizing both vendors and customers, you create a win-win situation that stimulates e-commerce traffic growth.
Do you want to use special offers to reward those doing business with you? Then we recommend using the WooCommerce plugin Advanced Coupons. This lets you create coupons, loyalty programs, gift cards, and other deals that both vendors and consumers will love.
6. Focus on user experience
A seamless user experience is critical for the success of any online marketplace. After all, if your website is confusing to navigate or takes forever to load, your customers aren't going to enjoy using it.
For this reason, take steps to optimize your platform's speed and responsiveness For one thing, this involves ensuring that it's easy to navigate. For another, it means providing customers with convenient checkout processes and the ability to easily search for vendors and products.
Moreover, with so many consumers using mobile devices to shop online these days, we highly recommend making your marketplace mobile-friendly.
A positive user experience not only encourages visitors to stay longer but also increases the likelihood of repeat visits and recommendations.
7. Invest in paid advertising
While organic methods are crucial, paid advertising can give your marketplace an instant visibility boost.
Thus, invest in platforms like Google Ads, Facebook Ads, or native advertising to reach a broader audience. Use highly targeted ad campaigns to ensure your message reaches the right people.
In addition, keep on monitoring and optimizing your advertising efforts to maximize your return on investment (ROI). Such a proactive approach will allow you to fine-tune your ads, improve their effectiveness, and make the most of your advertising budget.
Remember: by investing in paid advertising, you can accelerate your marketplace's growth and attract a significant influx of e-commerce traffic.
8. Provide exceptional customer service
Last but not least, do everything you can to make both vendors and consumers feel valued.
Therefore, ensure your marketplace offers exceptional customer service. You can do this by promptly responding to inquiries, resolving issues, and addressing customer feedback. Also, it helps to offer your customers an easy way to contact you whenever they need help. Therefore, provide them with a contact form and other ways they can reach you.
By providing a positive experience, you increase the likelihood of customers recommending your marketplace to others, leading to increased traffic. In fact, this word-of-mouth advertising can be a compelling yet inexpensive driver of e-commerce traffic.
Conclusion
For an online multi-vendor marketplace to succeed, it needs to continuously attract e-commerce traffic. After all, vendors and consumers are the lifeblood of such an online selling platform; without them, your business won't grow or profit.
Thankfully, there are many strategies that you can employ to enhance the e-commerce traffic for your multi-vendor marketplace. In today's post, we discussed eight of them:
Do you have any questions about how to boost your online marketplace's e-commerce traffic? Let us know in the comments section below!