Want to diversify your products on your eCommerce store? Now is the perfect time to set up a multi-vendor marketplace and expand your store. To set up a complete WooCommerce multi-vendor marketplace, all you need is a prominent WooCommerce multi-vendor plugin like WC Vendors. There are a lot of challenges when building a multi-vendor marketplace and one of those is shipping.
What is WC Vendors Pro?
WC Vendors Pro is a robust multi-vendor marketplace solution. Some of the features that make WC Vendors a popular choice include:
A quick setup and configuration guide is provided that makes it easy to set up and get started.
Complete frontend dashboard that integrates with your theme providing seamless user experience. Vendors can easily manage the vendor store in a hassle-free manner.
Advanced Commission options help to set commission for individual vendors, products, sales, tiers and more. Marketplace owners can also choose the kind of commission they want to obtain, whether fixed or percentage or a combination.
A complete flat rate and table rate shipping solution is built into WC Vendors Pro.
Although WC Vendors provides a comprehensive shipping system, it doesn't integrate with shipping carriers to provide real-time rates. This can make it difficult for your vendors to provide accurate rates to your customers. There are a number of shipping plugins available that provide integrated shipping rates with WC Vendors and today we will focus on the solutions provided by Elex.
Real-Time shipping rates in your multi-vendor store
When you are managing a normal WooCommerce store, it's easy to integrate it with DHL or FedEx. There are numerous plugins available for this both free and paid solutions. When you have a multi-vendor store this becomes more of a challenge.
Shipping system challenges include:
The shipping origins are different for every vendor
Needs to support the commissions' system to give the shipping to the vendors
Shipping calculations are on a per vendor basis
Shipping needs to be displayed on the frontend
Provide tools for vendors to effectively ship including labels.
WooCommerce Multi-Vendor Add-On for ELEX Shipping Plugins
Elex provides a range of shipping plugins for WooCommerce that get real-time rates from various carriers. They have created an add-on that allows you to easily integrate these various plugins with WC Vendors. The ELEX WooCommerce DHL Shipping Plugin with Print Label combined with their WooCommerce Multi-Vendor Support for ELEX Shipping plugins is one of the solutions to provide real-time rates. It will quickly fetch real-time shipping rates from DHL Express worldwide and make them available to your multi-vendor marketplace.
To get real-time rates from DHL Express working with WC Vendors you will need to the following two plugins
The WooCommerce Multi-Vendor Add-On for ELEX Shipping Plugin will make your shipping hassle-free for marketplace created using WC Vendors Pro.
The major advantage of using the plugin is:
Provides robust, powerful options that make shipping easier.
Fetches realtime shipping rates to be displayed on the order page individually for vendors.
Allows each vendor to manage and sell products via a centralized shopping catalogue.
Customers can purchase from multiple vendors in a single order with various rates.
An Example
Consider a customer who visits the vendor store to purchase a product. Upon purchasing the product, the shipping details are fetched based on the location of the customer. Since shipping to any location incurs charges, the live shipping rates from the shipping carriers must be provided to the customer so that they can choose the cost-effective one.
Suppose the customer is purchasing one product from a vendor and another product from another vendor, the shipping carriers must display different shipping rates options based on vendor location.
The following screenshots will show the options available to the admin, the customer and the vendor. Setting the options to split the shipping for the vendors splits the shipping within the order as shown in the shopping cart below.
The admin can choose how the shipping costs are displayed on the front end to the customers.
This splits the shipping in the same way that WC Vendors Shipping system does.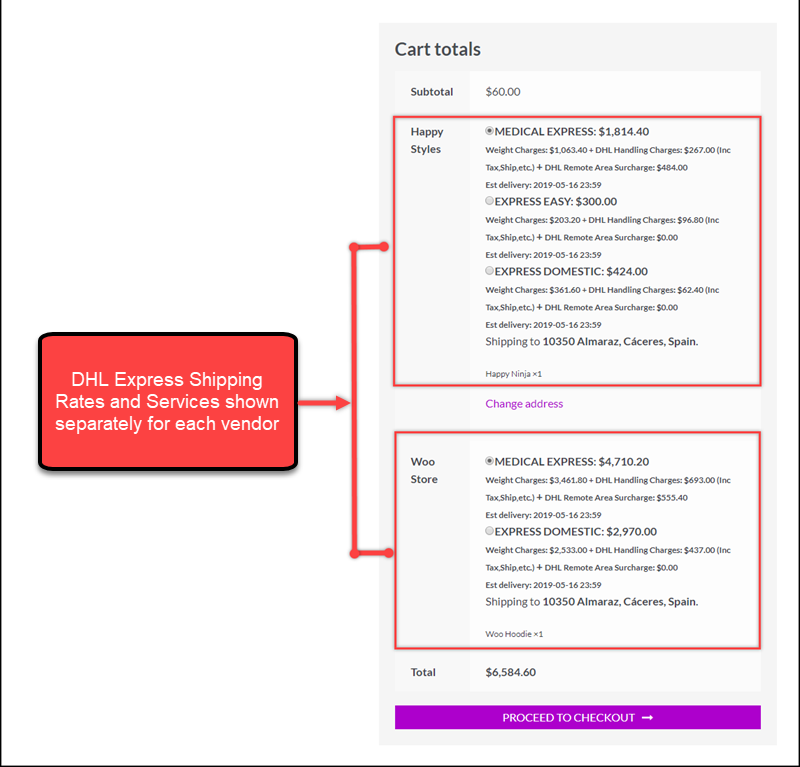 This provides accurate real-time rates for the customer to choose the options they would like to use. Once the order is processed the admins can see the tracking data on the backend the marketplace admin gets a clear outline of the shipping available for the different vendors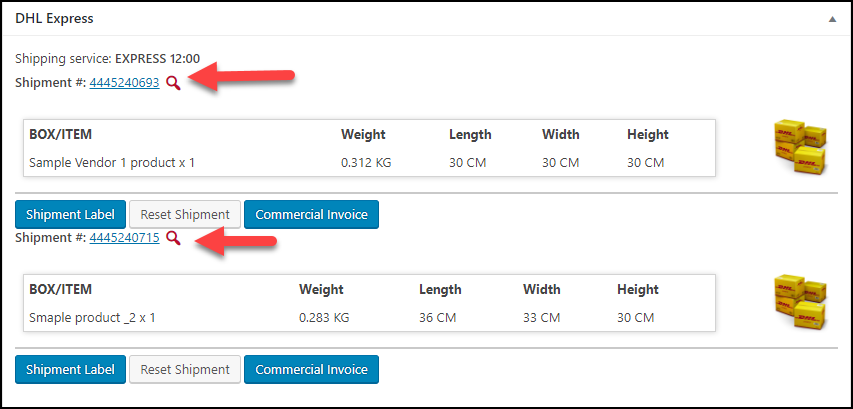 Vendors are then provided with shipping labels that clearly show their addresses on the label ready to easily attach them to their packages and send to the customers' addresses.
Conclusion
Handling complex real-time shipping rates with WC Vendors Pro is easier with the help of ELEX WooCommerce DHL Shipping Plugin and WooCommerce Multi-Vendor Add-On for ELEX Shipping Plugin.
There are several other shipping plugins available for WC Vendors that can provide real-time rates and integrate cleanly with your multi-vendor marketplace.