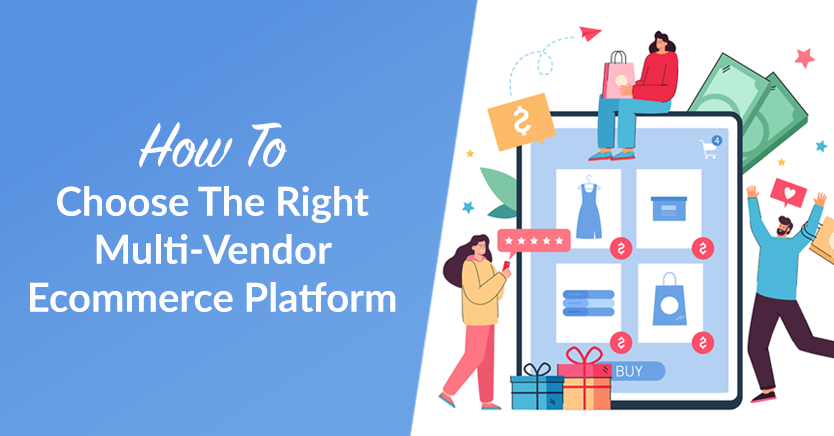 Imagine selling other people's products and leveraging the promotional power of a team of vendors. Do such advantages sound fantastic? Sure. But they are, in fact, what the multi-vendor ecommerce business model is all about.
Popularized by ecommerce giants like Amazon and eBay, the online multi-seller marketplace is a website where multiple vendors can showcase their products. With all the benefits this type of business can produce, it's no surprise many are eager to start their own online shopping hub. If you're considering diving into the world of multi-vendor ecommerce, however, it's important to remember one thing: It's crucial to choose the right platform to support your venture.
Thus, today's article will guide you through the essential considerations for selecting the perfect multi-vendor ecommerce platform. Furthermore, we'll explain why WC Vendors is among the best platforms that can help you achieve your marketplace goals.
So let's jump right into it!
What Is A Multi-Vendor Ecommerce Marketplace?
Before we discuss what to look for when choosing the right multi-vendor ecommerce platform, we must first understand what an online multi-vendor marketplace is (feel free to jump ahead if you're already familiar with the concept).
An online multi-vendor marketplace is an online platform where multiple independent sellers can list and sell their products or services to customers. Unlike a traditional e-commerce store where a single entity sells its products, a multi-vendor marketplace allows various third-party vendors to create their own accounts, manage their inventory, set prices, and handle their sales within the same platform.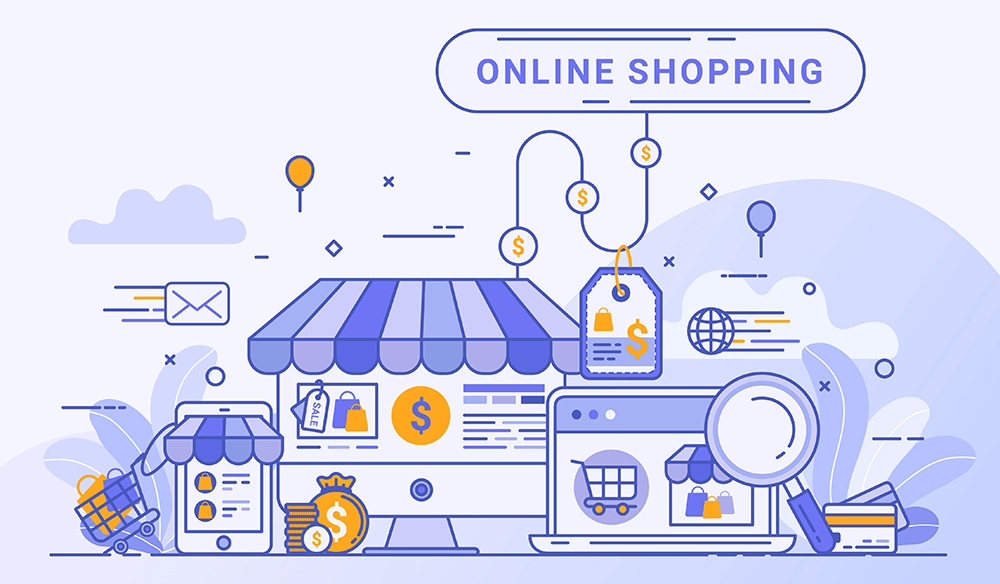 The key features of a multi-vendor ecommerce marketplace
The multi-vendor marketplace boasts various features that set it apart from the traditional retail model. Some of these include:
Multiple vendors: The platform hosts a variety of sellers who offer a wide range of products or services. Each seller has their own virtual storefront within the marketplace.
Individual storefronts: Vendors can customize their storefronts with their branding, logos, banners, and descriptions. This gives them a certain degree of autonomy and the ability to differentiate themselves.
Product management: Vendors can manage their product listings, including adding images, descriptions, prices, and quantities. They can also update product availability and stock levels.
Order processing: When customers purchase products from different vendors, the marketplace system manages the orders, collects payment, and distributes the order details to the respective vendors for fulfillment.
Commission and fees: Marketplace owners usually charge a commission or fee for facilitating the transactions. This revenue model is how marketplace operators earn their income.
The advantages of a multi-vendor ecommerce marketplace
A multi-vendor marketplace offers marketplace operators several advantages. Here are some of them:
Diverse revenue streams: The marketplace operator earns revenue through commissions or fees charged to vendors for using the platform, which can be a significant source of income.
Minimal inventory risk: Since vendors manage their own inventory, the marketplace operator isn't burdened with the cost and risk of holding stock.
Low operating costs: The costs associated with maintaining and updating the platform can be shared among the vendors, making it a cost-effective model.
Attractiveness to customers: A diverse range of products from various vendors can attract a larger customer base, increasing the marketplace's overall appeal.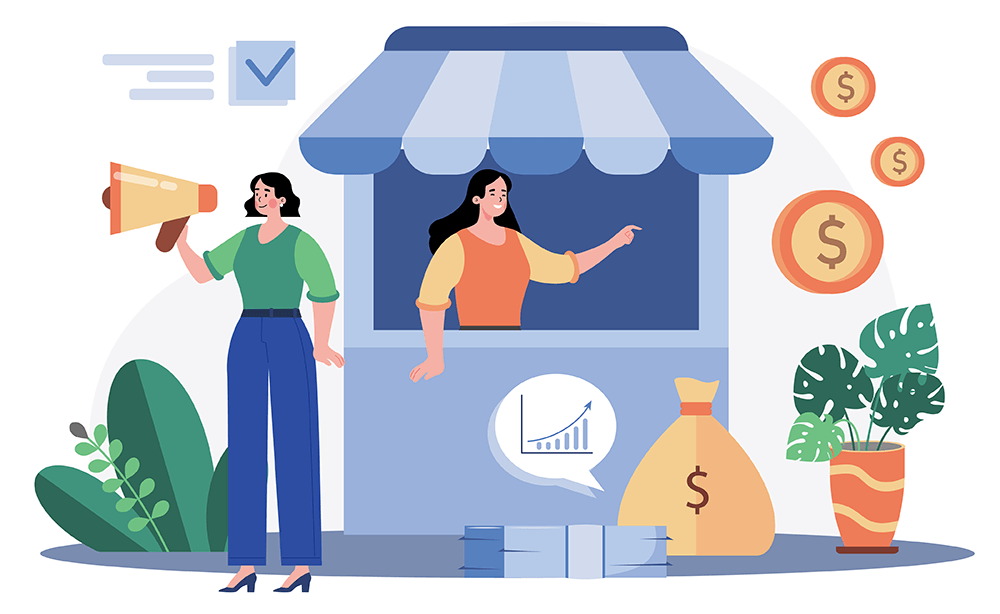 11 Factors To Consider When Choosing A Multi-Vendor Ecommerce Platform
So we've established that the online multi-seller marketplace can be lucrative for anyone hoping to start an ecommerce venture. However, to make things work, you must pick the right software for the job.
For this reason, be on the lookout for solutions to your specific needs. With that in mind, here are the eleven factors to consider when choosing a multi-vendor ecommerce platform.
1. Vendor management tools
Efficiently managing multiple vendors is at the heart of a successful multi-vendor ecommerce platform. Therefore, look for platforms that offer robust vendor management tools, such as streamlined onboarding processes, performance analytics, and easy communication channels.
At the end of the day, the ability to oversee vendor activities, track sales, and manage inventory will contribute to a smoother operation. Thankfully, modern marketplace solutions boast robust vendor management tools.
For example, the WooCommerce plugin WC Vendors allows you to keep track of your vendors' sales as well as control how much sales data said vendors can access. It even comes with a review system that can also serve as an excellent performance indicator.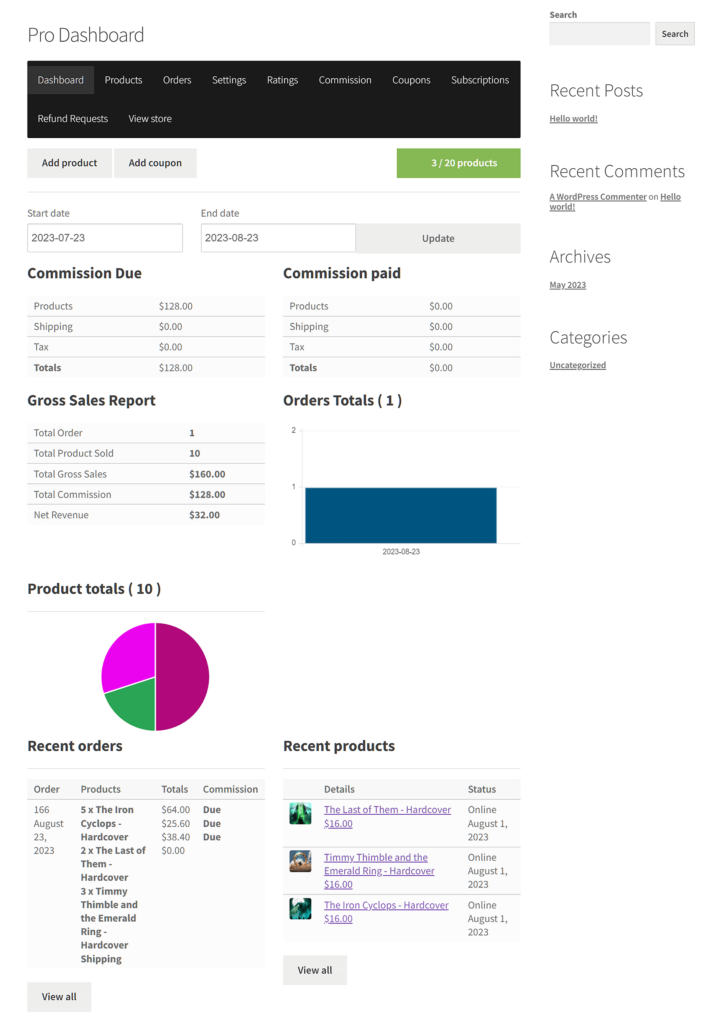 2. Customization and branding
Branding plays a pivotal role in attracting and retaining customers. Thus, your chosen platform should provide a high level of customization, allowing you to create a unique and visually appealing marketplace that aligns with your brand identity.
Customization options might include personalized storefronts for vendors, adjustable themes, and flexible layout designs.
Again, customizability is a feature that the best marketplace solutions provide. For instance, WC Vendors lets you choose your marketplace's colors, images, and text. In addition, you can grant your vendors the power to use their unique store icons, headers, store and product descriptions, and more.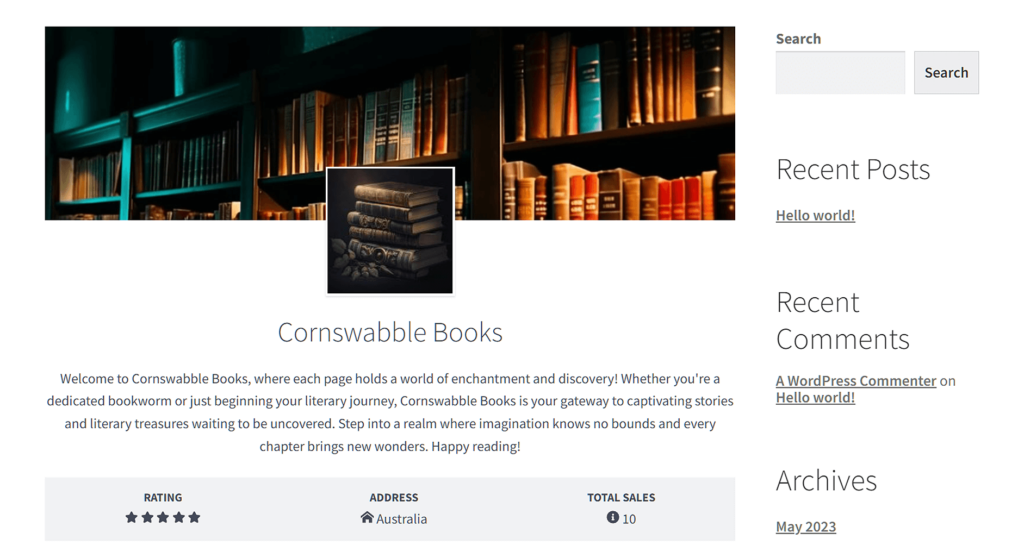 3. Commission structure
A commission refers to a percentage or fixed fee that the marketplace operator charges vendors for each successful sale they make through the platform. Basically, it serves as a reliable source of revenue for the marketplace owner in exchange for providing the platform, infrastructure, and customer base that vendors can access to sell their products or services.
For example, let's say a vendor sells a product for $100 on a multi-vendor ecommerce marketplace that awards sellers a commission percentage of 80%. When the sale is completed, the marketplace would deduct $20 as a commission, and the vendor would receive $80.
A transparent and flexible commission system can attract more vendors to your marketplace. For example, WC Vendors allows you to create various types of commissions. The most powerful among these include tiered commissions, which award additional benefits to vendors who make the most sales, thus encouraging optimal performance from your team.
4. Scalability and performance
One of the primary factors to consider when choosing a multi-vendor ecommerce platform is its scalability.
As your marketplace grows, you'll need a platform that can handle increased traffic, transactions, and product listings without compromising performance. Therefore, look for a platform that offers seamless scalability options, as this can accommodate the growth of your business without causing slowdowns or technical glitches.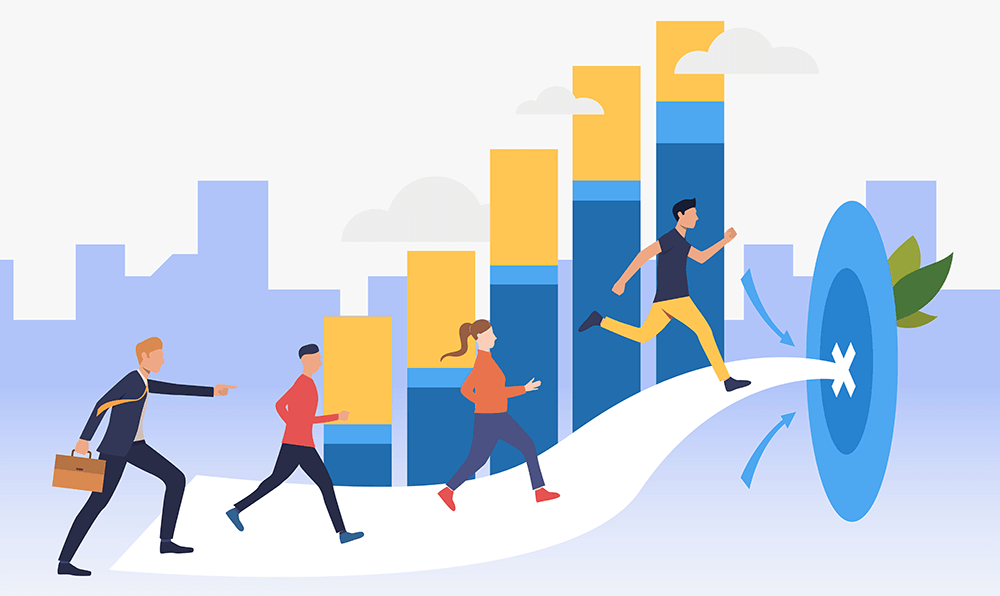 5. Search and navigation
A user-friendly search and navigation system is crucial for helping customers discover products easily.
For this reason, look for a multi-vendor ecommerce platform that offers advanced search filters, category management, and intuitive navigation menus. The smoother the shopping experience, the more likely customers are to make purchases and return for future transactions.
Once again, this is where top-rated marketplace solutions can help. Case in point, WC Vendors comes with an intuitive search functionality that makes it easy for shoppers to search for desired items. Moreover, it provides a marketplace that's simple to navigate, requiring users as few clicks as possible to arrive at their intended destinations.
6. Mobile responsiveness
A lot of online shopping today is done via mobile devices. According to a Statista report, in the initial quarter of 2023, about 74% of global retail site traffic originated from smartphones, leading to 63% of online shopping orders.
With the growing prominence of mobile devices as vehicles for online shopping, having a mobile-responsive platform is essential. Therefore, your chosen multi-vendor ecommerce platform should offer a seamless shopping experience across various devices and screen sizes.
Mobile-friendly interfaces and intuitive navigation enhance customer satisfaction and drive higher conversions. Thus, make sure your chosen platform lets you build a marketplace that customers can visit using their smartphones or tablets.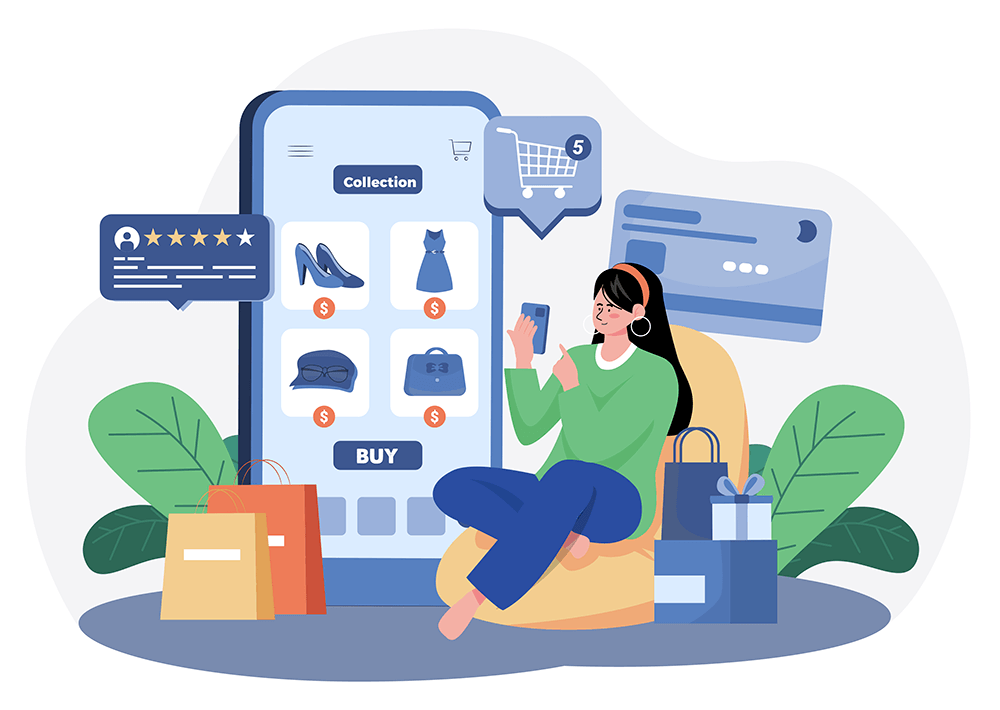 7. Payment gateways
Payment processing is a critical aspect of any ecommerce platform. And the more diverse your payment options, the more convenient it will be for customers to buy what you're selling and for you to pay your vendors.
The right multi-vendor ecommerce platform should support a variety of payment gateways and offer secure transaction options. In addition to boasting a wide range of payment methods, WC Vendors is fully integrated with Stripe Connect. Available in over 40 countries, this popular online payment processor allows you to process credit card payments and pay your vendor commissions automatically.
8. Security measures
Security is paramount in ecommerce, especially when dealing with multiple vendors and customers. Therefore, ensure that your chosen multi-vendor ecommerce platform follows best practices for data encryption, secure payment processing, and protection against fraudulent activities.
We already mentioned WC Vendors' Stripe Connect integration, which guarantees all payments made via the platform are protected.
In addition, it's a good idea to display trust badges and maintain compliance with industry standards, as these can boost customer confidence in your marketplace.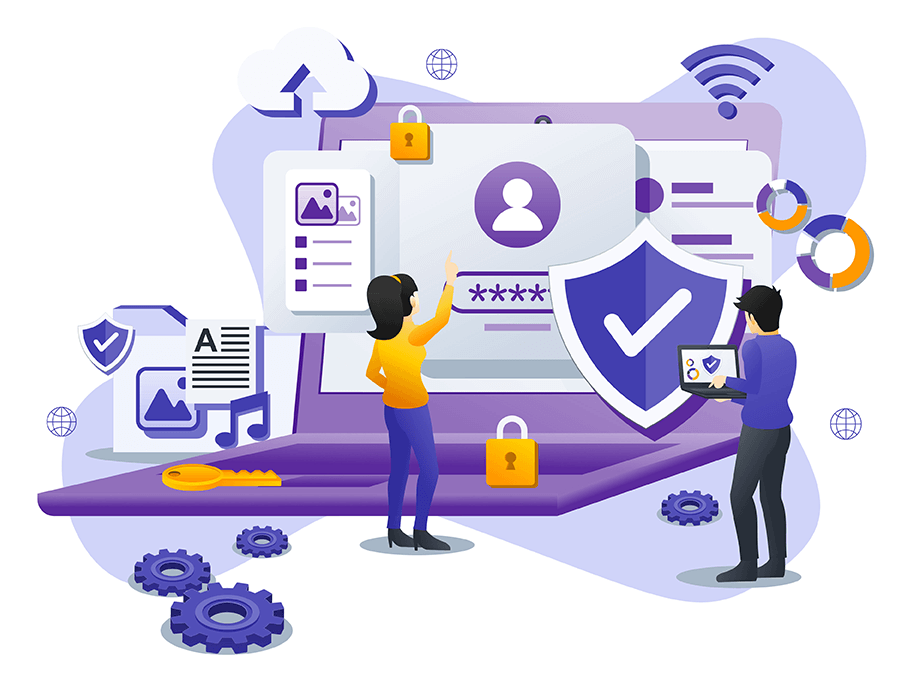 9. Integration and third-party apps
Consider the integration capabilities of the multi-vendor ecommerce platform of your choice. Ideally, it should effortlessly connect with a variety of third-party applications such as inventory management systems, accounting software, and marketing tools. Such integration can streamline operations and enhance the overall functionality of your marketplace.
WC Vendors integrates with versatile tools capable of elevating your marketplace's functionality. For example, thanks to its full integration with WooCommerce Subscriptions, you grant vendors the power to create and sell their own subscription products. You can even turn your platform into a subscription box service, guaranteeing steady income via recurring vendor payments.
Then there's WC Vendors WooCommerce Simple Auctions, which is ideal for those who wish to operate an auction marketplace like eBay, Gumtree, or Facebook Marketplace.
10. Customer support and documentation
When issues arise, responsive customer support can make a significant difference. Choose a platform that offers comprehensive documentation, tutorials, and a dedicated support team. Timely assistance in troubleshooting technical problems or addressing vendor concerns will contribute to a positive user experience.
WC Vendors offers extensive support via detailed documentation and tutorial videos as well as a support ticket system. Furthermore, the WC Vendors team is committed to resolving all customer concerns as quickly and thoroughly as possible.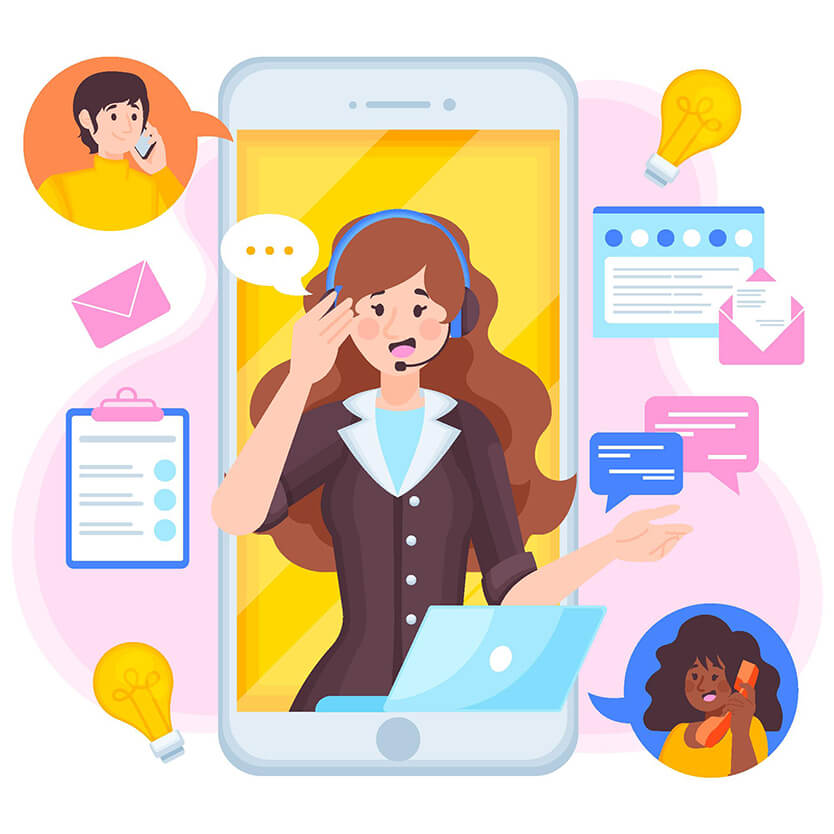 11. Pricing structure
Finally, evaluate the platform's pricing structure. Some platforms charge a monthly fee, while others take a percentage of each sale or offer a combination of both. Choose a pricing model that aligns with your business goals and projected revenue, ensuring that the costs are manageable as your marketplace expands.
WC Vendors offers three affordable plans for interested parties. The cheapest, Pro Plan, supplies you with all the tools you need to craft a marketplace capable of generating impressive profits. If you want to enjoy the platform's more advanced and powerful features, you can opt for the Growth Plan. Lastly, there's Business Plan, which boasts all the tools you need to compete with the biggest online marketplaces in the industry.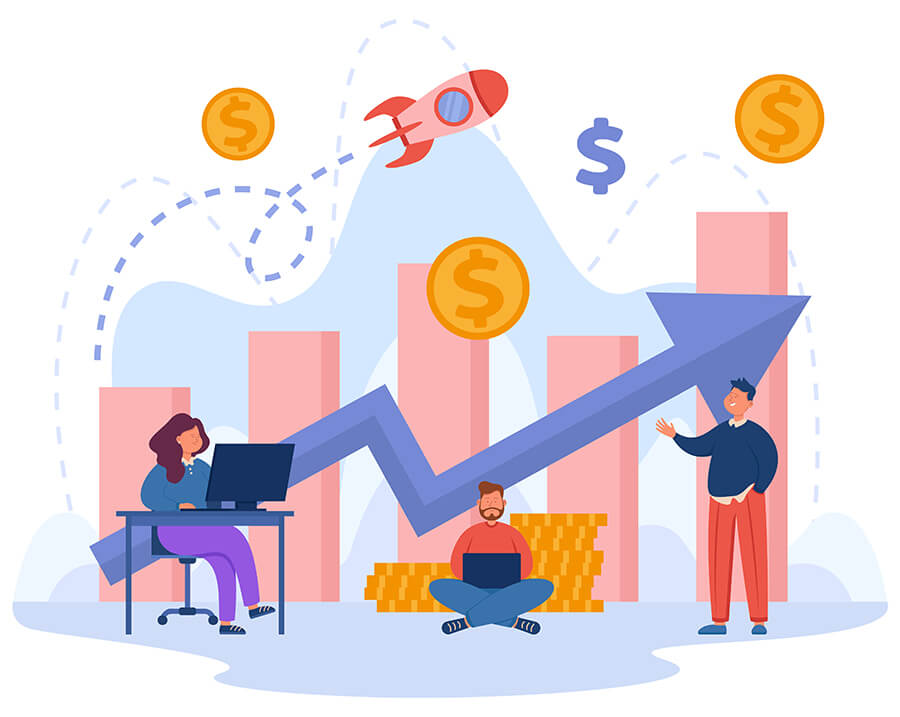 Conclusion
For your marketplace venture to succeed, you need to build and manage an online marketplace using the multi-vendor ecommerce platform that's most suitable for all your business needs.
Thus, when looking for such a platform, it's a good idea to consider the following factors:
Do you have any questions about how to select the right multi-vendor ecommerce platform for you? How about WC Vendors, the platform that empowers you to effortlessly create and manage your own online marketplace? Let us know in the comments!