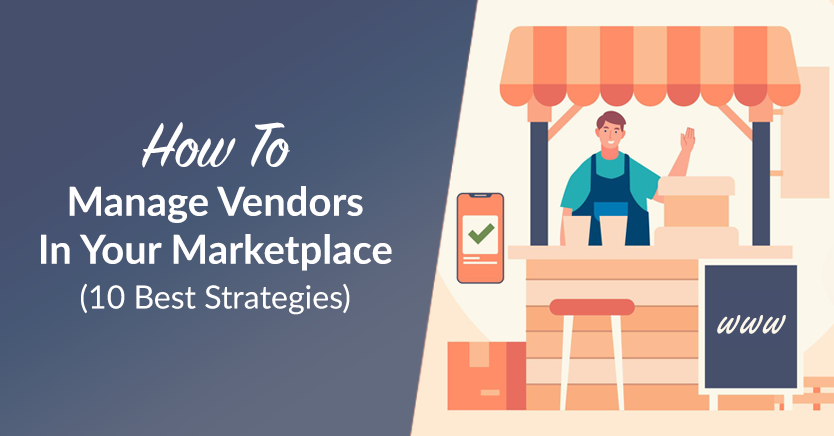 Running an online multi-vendor marketplace can be a lucrative business model. However, it also comes with its challenges. Case in point, as the owner of such a platform, one of the first things you must master is how to manage vendors.
Effective vendor management is key to the success of your business. After all, if you treat your vendors well, you can ensure smooth operations, satisfied customers, and profitable partnerships.
Today, we'll explore what vendor management is. Then, we'll discuss essential tips and strategies on how to manage vendors successfully to foster a thriving marketplace environment. So let's get started!
What Is Vendor Management?
Before we can understand how to manage vendors, we must first determine what vendor management is.
Vendor management refers to the processes and activities involved in effectively managing relationships between marketplace owners and their vendors. It encompasses various tasks designed to meet the needs of a business or organization.
Vendor management involves activities such as:
Vendor selection: Identifying and selecting suitable vendors based on criteria such as product quality, pricing, reliability, and reputation.
Contract negotiation: Negotiating terms, conditions, and pricing agreements with vendors. The aim is to establish mutually beneficial contracts with your business partners.
Vendor onboarding: Streamlining the onboarding process for new vendors. Basically, this includes verifying credentials, establishing communication channels, and providing necessary documentation.
Performance monitoring: Tracking and evaluating vendor performance based on key metrics such as product quality, delivery timelines, customer satisfaction, and adherence to contractual obligations.
Relationship building: Nurturing relationships with vendors through effective communication, regular updates, and addressing concerns promptly.
Dispute resolution: Managing conflicts that may arise between the vendor and the business. This ensures fair and prompt resolution of issues.
Contract renewals and terminations: Assessing vendor performance to determine whether to renew or terminate contracts based on agreed-upon terms and performance indicators.
Risk management: Assessing and mitigating potential risks associated with vendor relationships, such as supply chain disruptions, quality issues, or financial instability.
Strategic alignment: Aligning vendor activities with the overall business strategy and objectives. As a result, this ensures that vendor partnerships contribute to the organization's success.
Effective vendor management aims to establish strong, long-term relationships with vendors, optimize the supply chain, minimize risks, and drive operational efficiency. By maintaining a network of high-quality and trustworthy vendors, it ensures the smooth functioning of your online marketplace.
10 Best Ways To Manage Your Vendors
Now that we know what vendor management is all about, it's time to learn some strategies on how to manage vendors effectively.
To manage your vendors well, we highly recommend that you:
1. Select the right vendors
Choosing the right vendors is critical to the success of your multi-vendor marketplace. One of the reasons for this is that having sellers who are an ideal fit for your business helps ensure seamless and productive relationships.
When onboarding new sellers, prioritize those whose goals align with yours and who are known for their quality, reliability, and reputation. In addition, research and analyze their product offerings, reviews, and ratings. Once you've found vendors you'd like to recruit, approach them and use promotional strategies to convince them to join you.
2. Establish clear guidelines
A solid foundation for vendor management begins with well-defined guidelines and policies. Therefore, ensure that all vendors are aware of the rules and requirements they must follow while selling on your platform.
This means providing every vendor with clear and thorough product listing guidelines, pricing policies, shipping procedures, and customer service standards. Such guidelines not only prevent misunderstandings but also promote transparency and fair competition among vendors.
3. Employ effective communication
Maintaining open and effective communication channels with your vendors is vital. Thus, ensure all lines of communication are open – including phone, email, messenger apps, and the like.
Regularly update your vendors with any platform changes, marketing initiatives, or promotional opportunities. In addition, be receptive to their feedback and concerns. Ultimately, a two-way communication approach will create a sense of partnership and collaboration, leading to a more engaged vendor community.
4. Monitor performance metrics
A great way to manage vendors is to keep track of their performance metrics. This will let you assess their impact on your marketplace, thus allowing you to determine whether or not changes need to be made.
Monitor key performance indicators (KPIs) including sales volume, customer ratings, product return rates, and response times to customer inquiries. Then, utilize this data to identify top-performing vendors and support those who may be struggling with their performance.
Should a vendor fail to meet such KPIs, communicate with them, point out the areas where they're lacking, and work together to resolve shortcomings. If necessary, you can help them out by boosting your e-commerce traffic or using other promotional strategies.
5. Implement a review system
Customer reviews play a pivotal role in influencing purchasing decisions. Thus, implement a review system where customers can provide feedback on their buying experience and the products they receive.
Such feedback provided by customers helps potential buyers make informed decisions. In addition, it encourages vendors to maintain high-quality standards. After all, the more impressive their review scores, the more attractive they are to shoppers.
6. Offer support and resources
Provide your vendors with the necessary resources to excel on your platform. Basically, this means offering them educational materials, webinars, or workshops on topics such as product photography, marketing strategies, and customer engagement.
In addition, if you built your online marketplace using a tool such as WC Vendors, make sure to train them on how to use your platform. This way, they can take full advantage of its strengths for their benefit and yours.
By investing in your vendors' success, you empower them to offer exceptional products and services. As a result, you benefit your marketplace as a whole.
7. Deal with disputes professionally
Disputes are inevitable in any marketplace, but how you handle them is a crucial aspect of how to manage vendors effectively.
Make sure to establish a well-defined dispute resolution process in place to address conflicts between vendors and customers. Furthermore, be fair, objective, and prompt in resolving issues to maintain a positive reputation for your platform.
8. Encourage branding and differentiation
Encourage your vendors to establish their brand identity within your marketplace. Allowing them to customize their store pages, display their logos, and create unique product descriptions enhances their brand presence.
A diverse array of branded storefronts adds depth and appeal to your marketplace, attracting a wider customer base.
9. Focus on security and privacy
As an online marketplace owner, security and privacy are paramount. Therefore, take steps to safeguard vendor and customer data from potential threats.
This means investing in powerful software designed to protect your marketplace from malware, viruses, and other issues. In addition, it involves adhering to relevant data protection regulations.
Assure your vendors that their information is safe and secure on your platform. This will foster the trust and loyalty your business needs to succeed.
10. Stay ahead with technology
Keep your multi-vendor marketplace up-to-date with the latest technological advancements. This will ensure that your vendors always have the best tools they need to sell their products.
Furthermore, outplace the competition by continuously improving your platform's user interface, mobile-friendliness, and search functionality. It's a good idea to embrace automation where possible, as this can streamline processes for vendors, making it easier for them to do their job properly.
Not to mention customers love a marketplace that provides them with an amazing overall user experience!
Conclusion
Knowing how to manage vendors is key to the growth and success of your online multi-vendor marketplace. For this reason, it's to your best benefit to employ various strategies aimed at effective vendor management.
In summary, to manage your vendors well, make sure to:
Do you have any questions about how to manage vendors? Let us know in the comments section below!