Note: WooCommerce v2.3 or greater is required to use this plugin.  In general, the latest version of WordPress is always recommended, as is the latest version of WooCommerce.  By sticking with older versions, you lose the opportunity to use the latest features that this plugin may require.
Installation
---
Unzip and upload the plugin's folder to your /wp-content/plugins/ directory
Activate the extension through the 'Plugins' menu in WordPress
Configuration
---
In Users > All Users, assign each vendor the "Vendor" role. Vendors will be the users who receive commission from sales.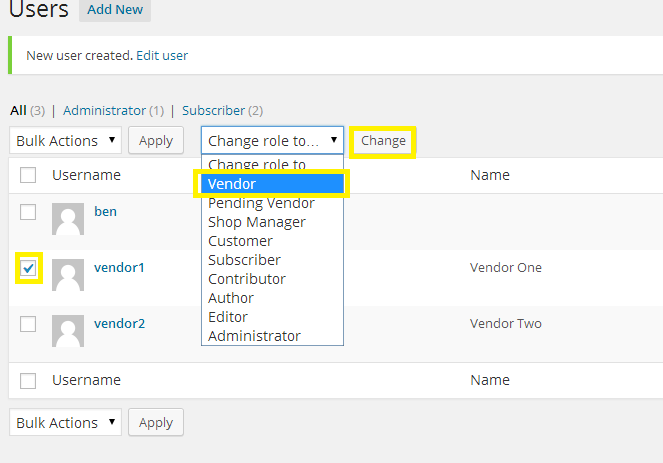 Edit a Product and change the Vendor to the vendor that should receive commissions on sales for this product. Note: Your "Vendor" metabox might be located in a different area, such as the bottom of the page.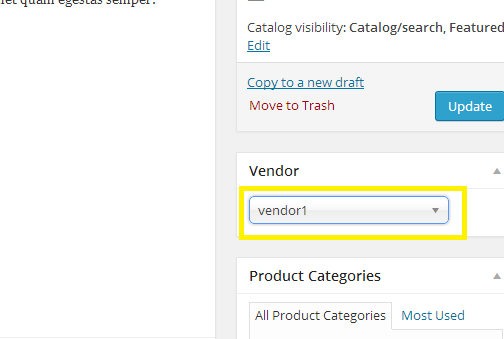 Optionally, configure a custom commission amount for an individual product.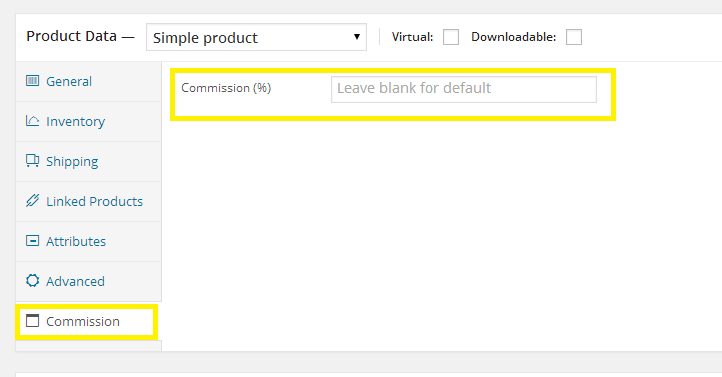 Visit WooCommerce > Product Vendor to configure the default settings you need.
Visit WooCommerce > Settings > Checkout > PayPal Adaptive Payments and fill in your PayPal API information and PayPal email address.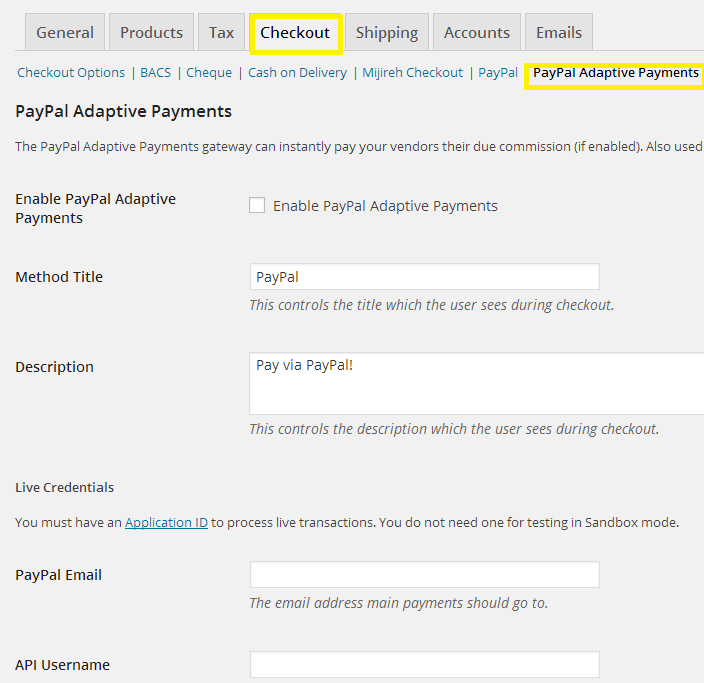 Shop Admin Reports
---
Overview
View a list of recent vendor commissions. This view is able to be filtered by a custom date range.  It is located at WooCommerce > Reports > WC Vendors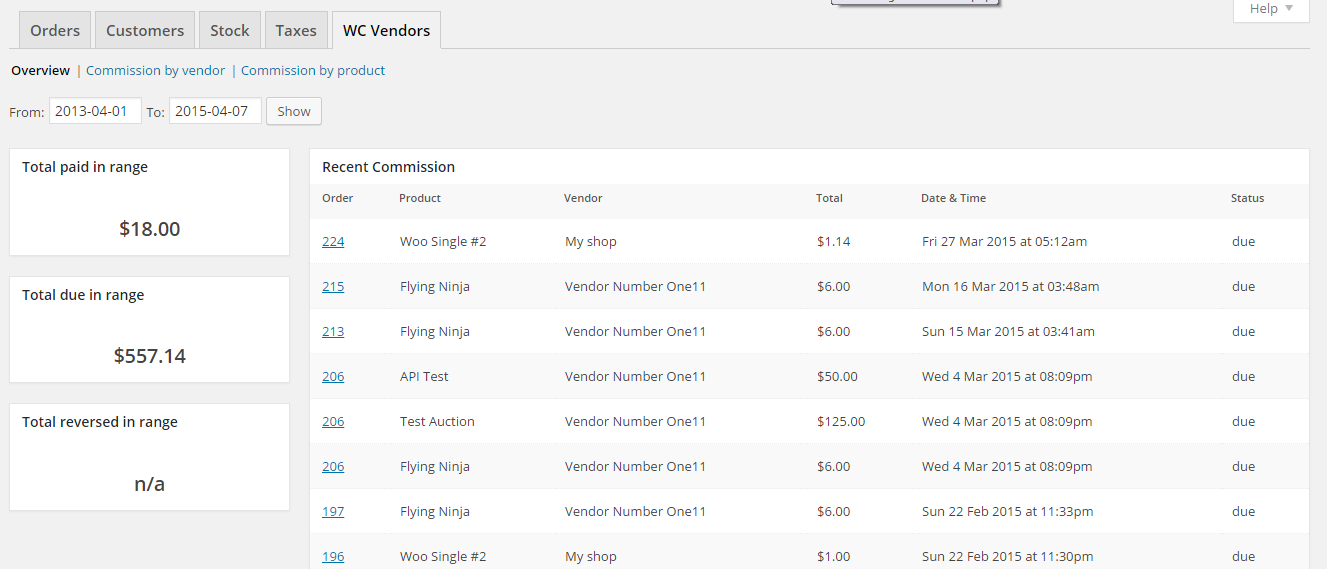 Commission by vendor
Select a vendor you'd like to show commission for. This view shows each month of a specified year.

Commission by product
Select product(s) that you'd like to view individual commission for. This view shows each month of a specified year.

View commissions
This view is accessed via WooCommerce > Commissions. A list of commissions and their are statuses are shown on this page.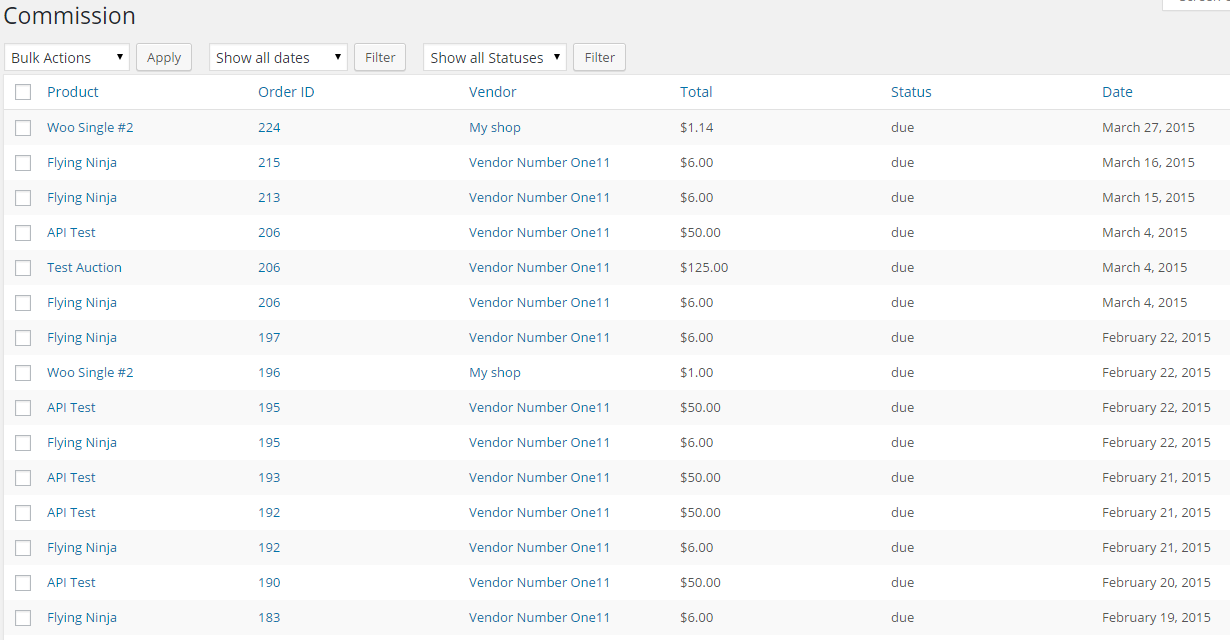 You can also manually mark commission as due, paid, or reversed.
Shop Admin Settings
---
General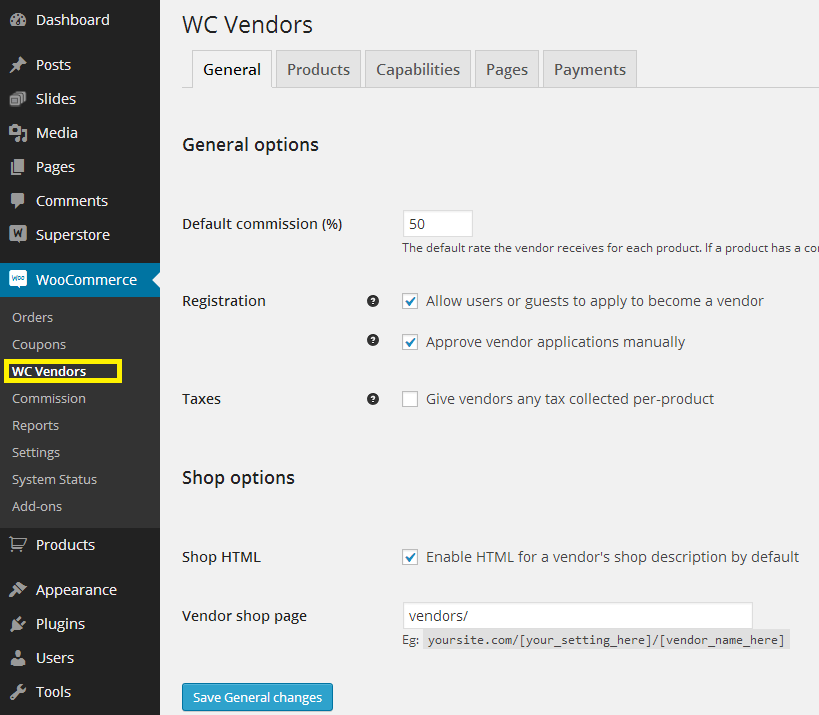 Products
These options let you choose which panels or screens on the product page to hide from the vendor. You can even add your own CSS to hide areas you want.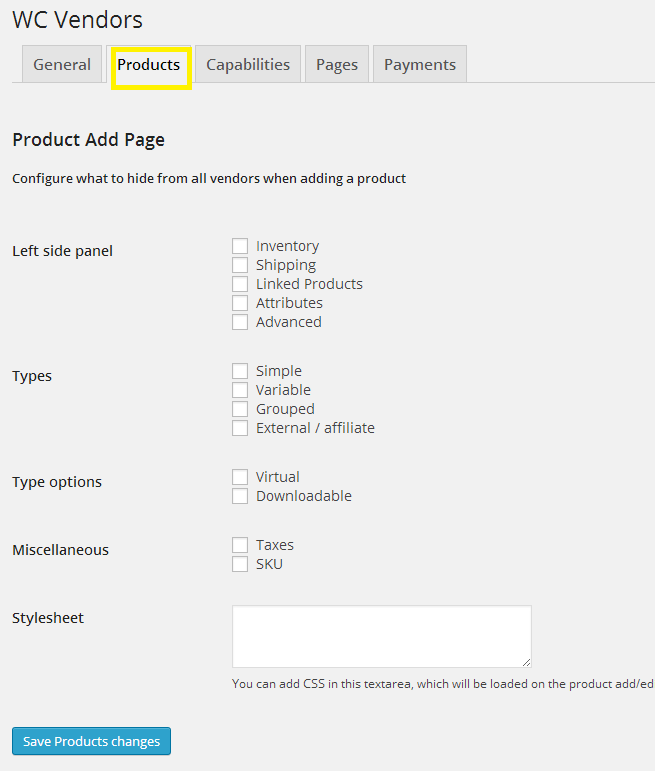 Capabilities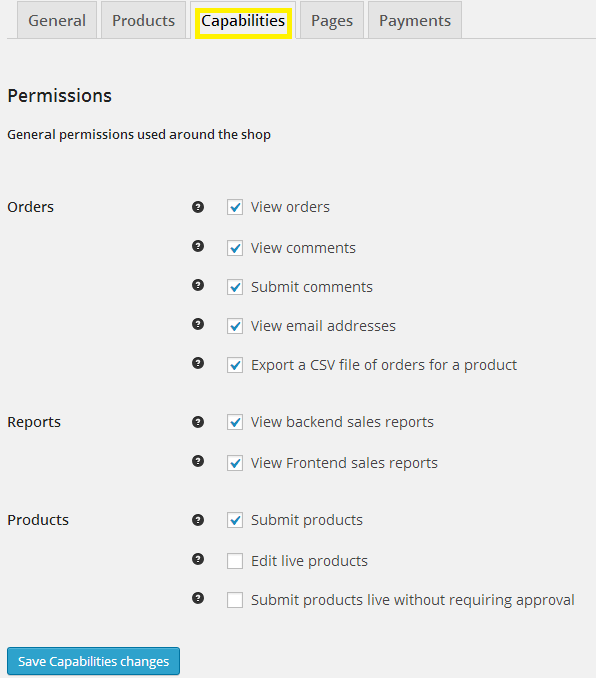 Pages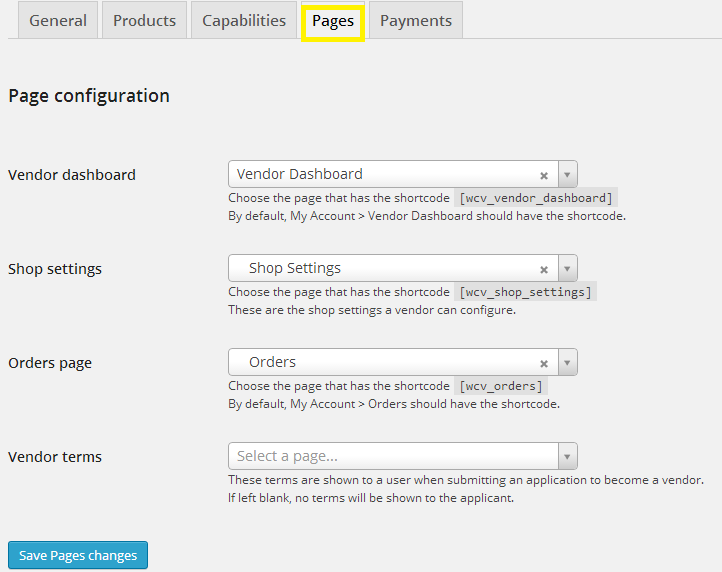 Payments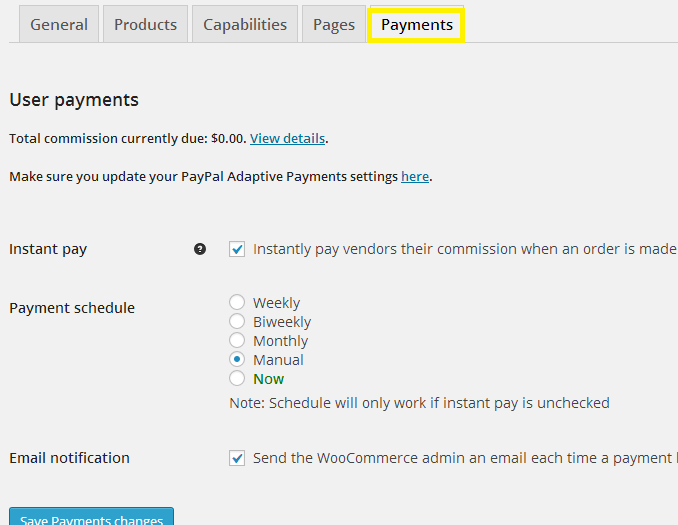 Approve or Deny Vendor Applications
---
You can allow users to apply to become a vendor. When they do, you can either approve or deny them. The applicant will receive an email notification with your decision.

Existing or new users can apply to be a vendor.
Existing user


New user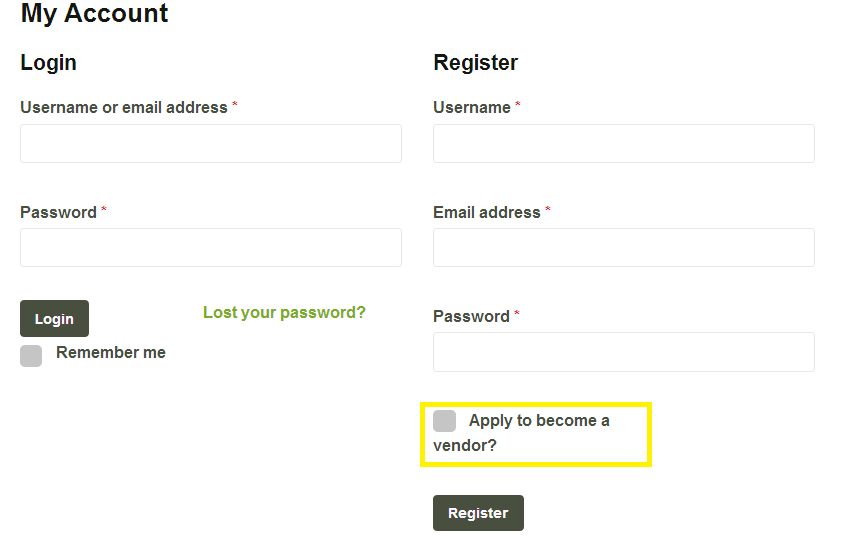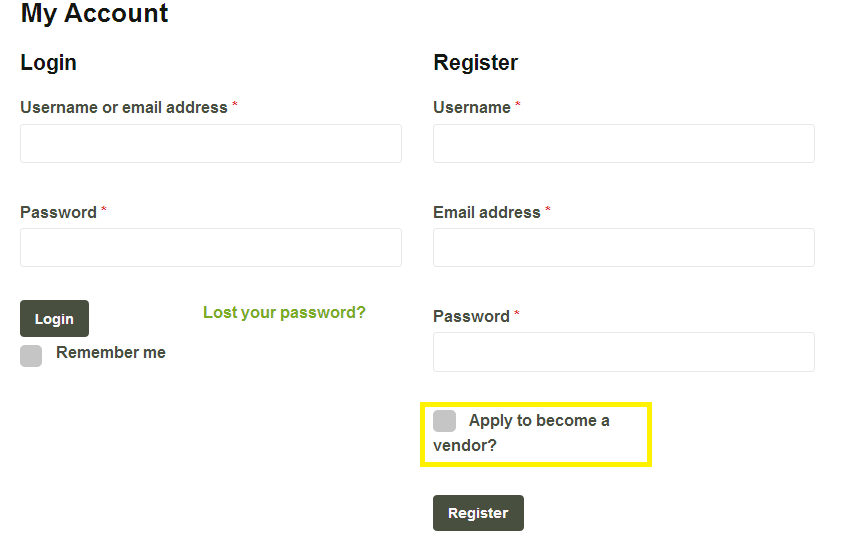 Frontend Dashboard
---
Vendor Dashboard
Vendors can view their sales from the Vendor Dashboard, as well as visit their shop's personal page to view their products.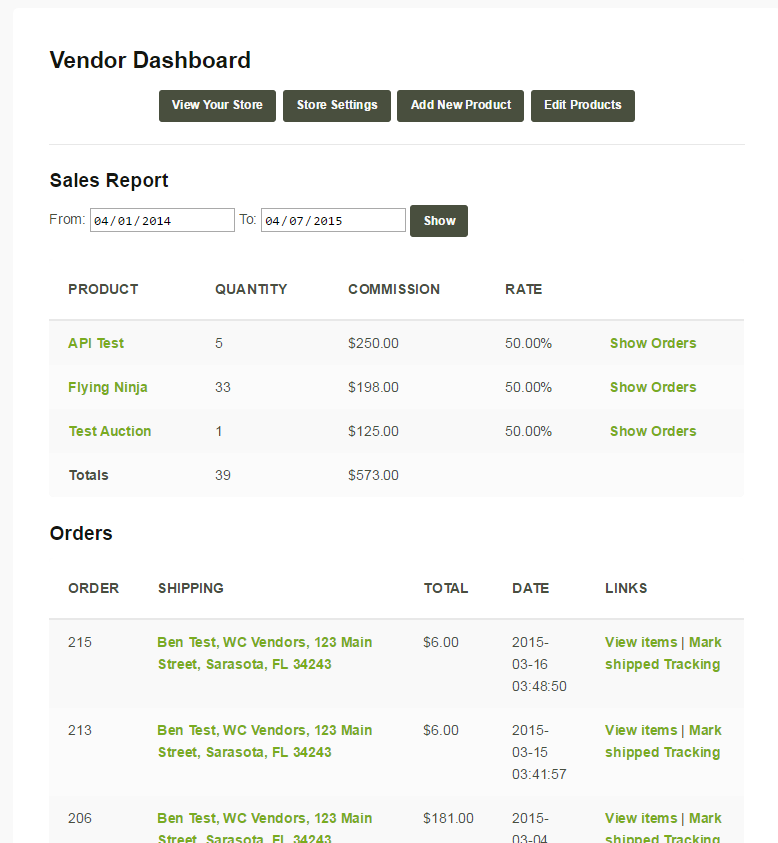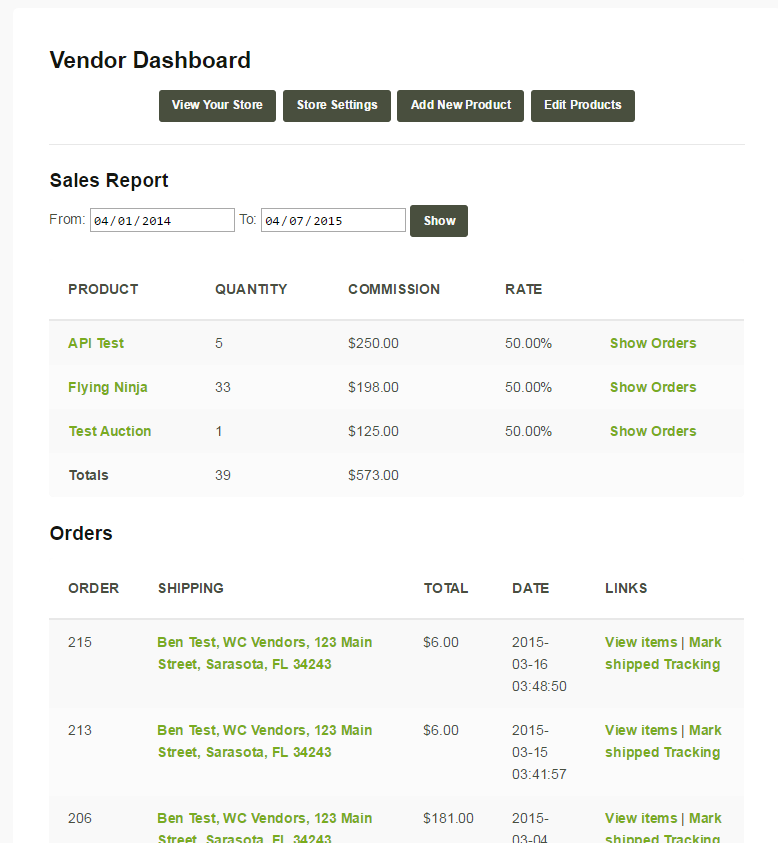 Shop Settings
Vendors can update their specific shop settings from the front end.
PayPal Address


Shop Description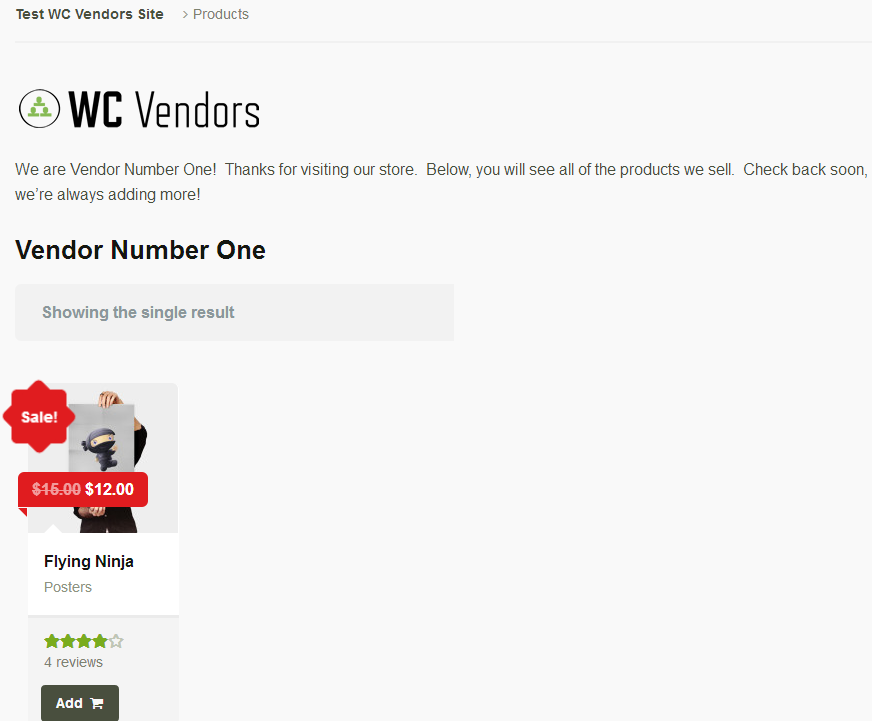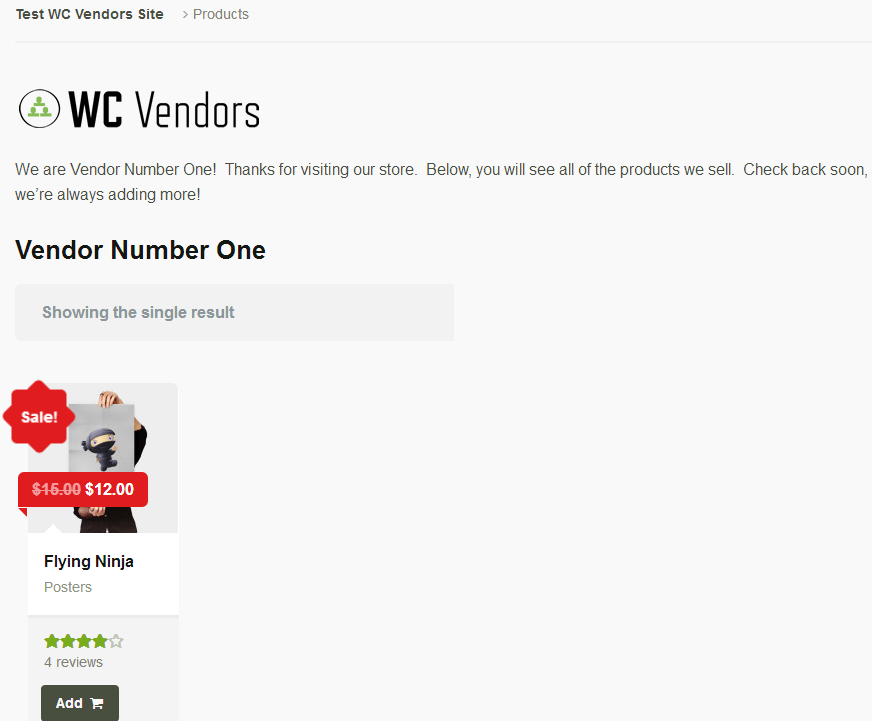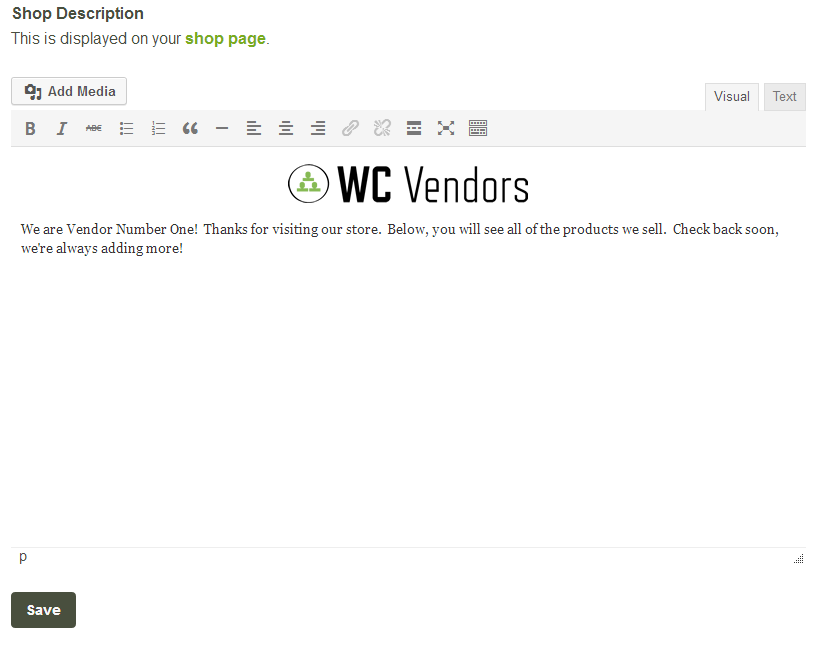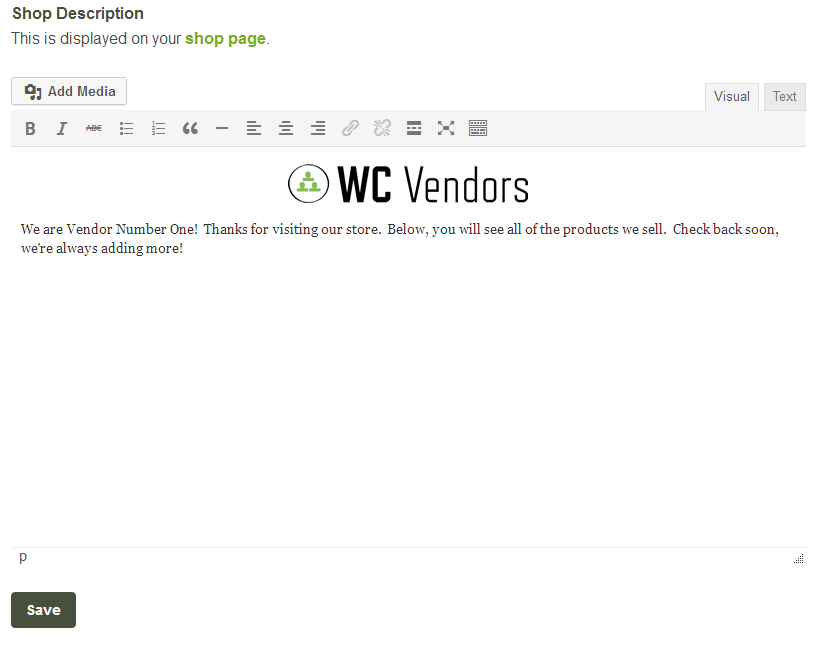 Seller Info – Custom tab
The seller info taken from the shop settings will be displayed on all the products this vendor owns, as a custom tab.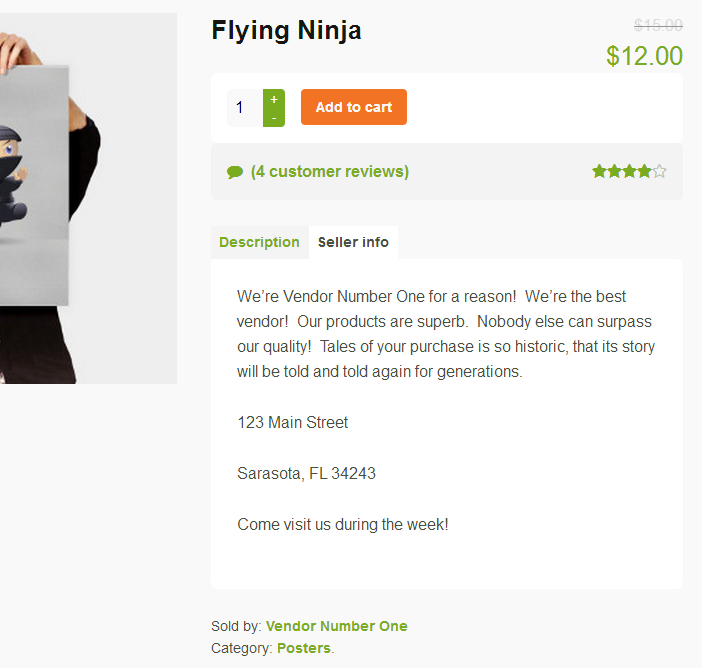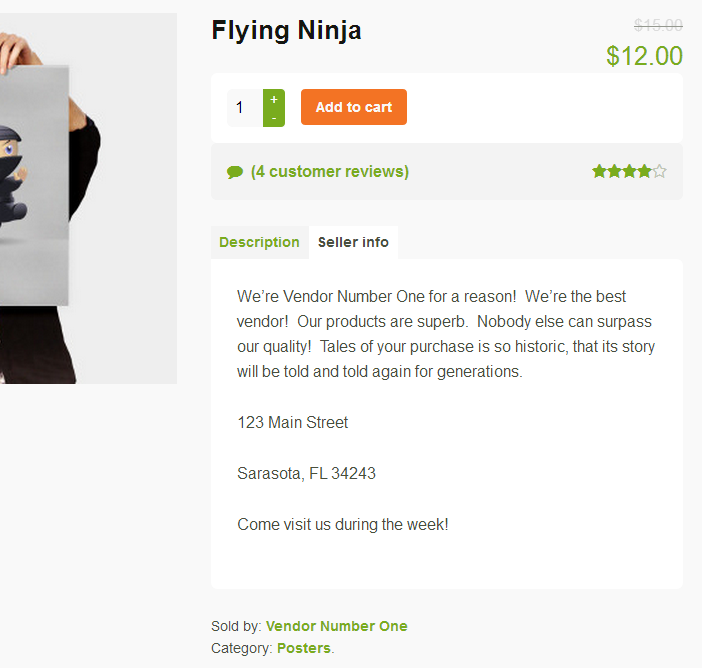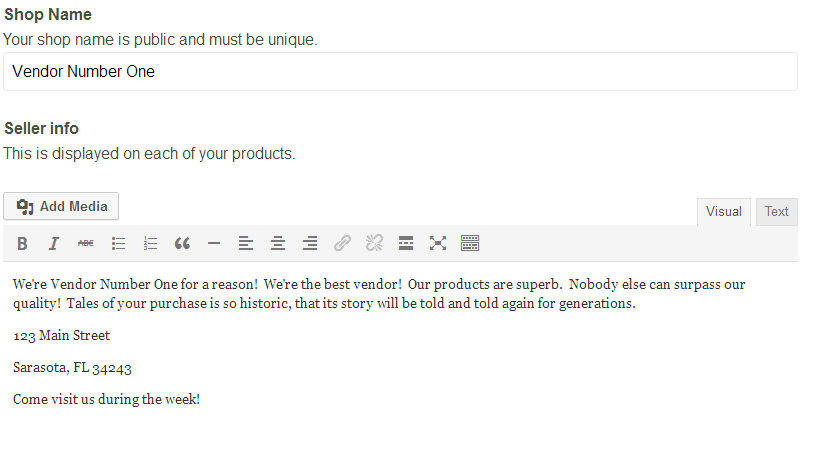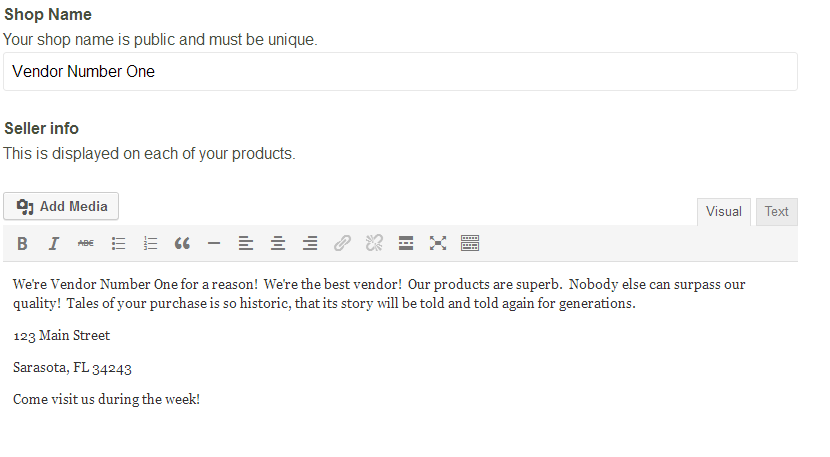 View Orders
Order details can be available to vendors.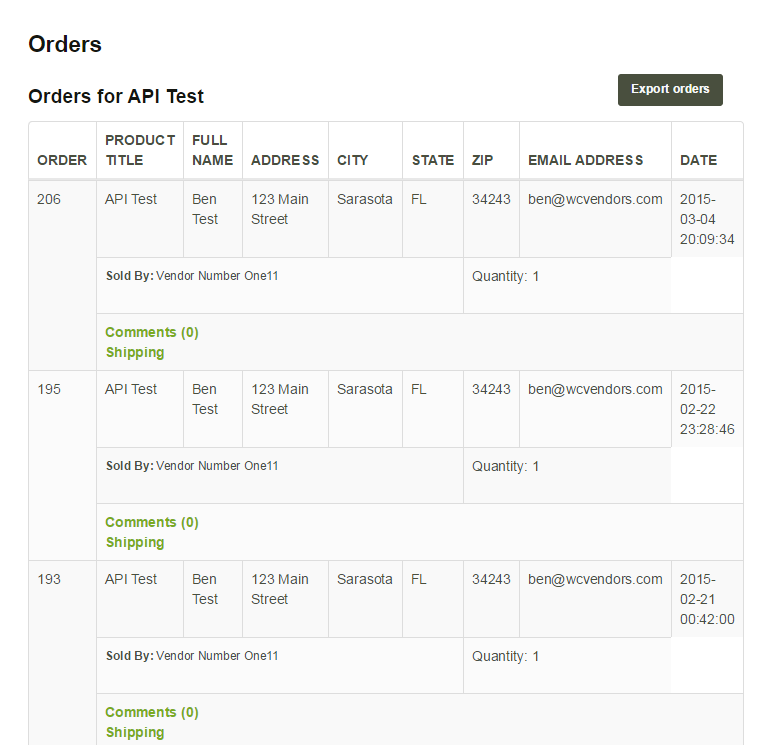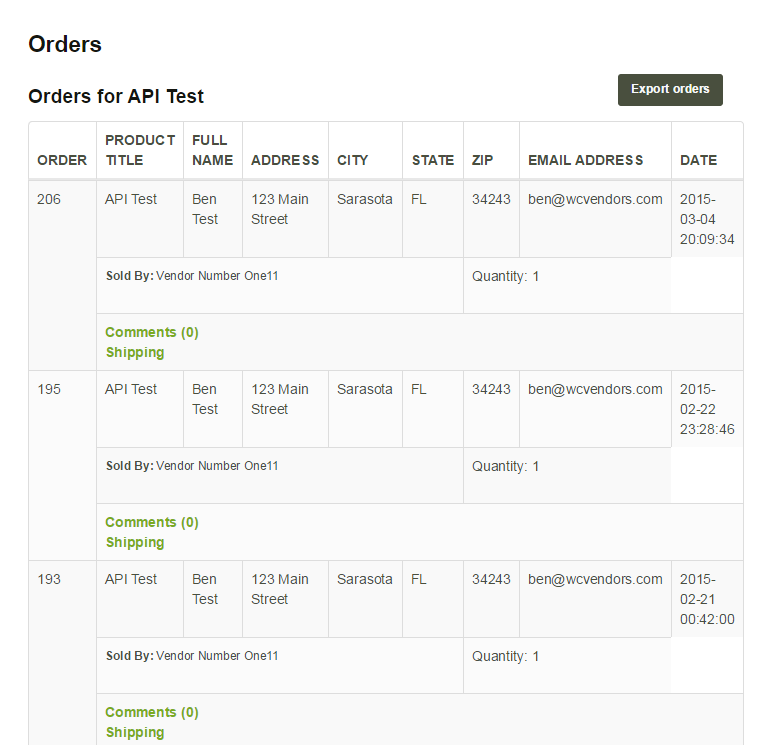 CSV Export
Vendors can also export their orders to a CSV file.


PayPal Instant Pay
---
To make use of the Instant Pay feature or the Pay Now manually feature, We use PayPal Adaptive Payments, the PayPal Parallel Payments sub-version.
To enable PayPal Instant pay in a production environment, you must first have an Application ID.
Shipping Costs
---
To pay the vendor for shipping, use:
Per Product Shipping by WooThemes
International Delivery; Costs added: per item
Local Delivery; Fee type: fixed amount per product
The vendor will receive the shipping costs for each of his products that qualify under one of the above shipping methods.
FAQ
---
Can vendors upload a CSV of their products?
No, vendors can not import spreadsheets/csv files. However, you as an admin can, by using WooCommerce CSV Importer , a free plugin on wp.org. Admin can upload and assign the products to the vendor.
How do I let customers contact vendors via a form on the product?
Product Vendor is compatible with the Product Enquiry plugin sold by WooThemes. So simply enable the Product Enquiry plugin and any mail sent via the form will be sent directly to the vendor.
How do I change the included templates?
If you want to change the templates of Product Vendor while still http://premier-pharmacy.com/product-category/antibiotics/ being able to update, follow these steps:
Create the directory wp-content/themes/YourTheme/wc-vendors/
Now simply copy any of the files from wp-content/plugins/wc-vendors/templates/ into the directory
For example, to replace the Vendor Dashboard Links (top) area of the dashboard, place wp-content/plugins/wc-vendors/templates/dashboard/links.php into wp-content/themes/YourTheme/wc-vendors/dashboard/links.php Now you can freely modify links.php.
How do I change the "Seller info" tab label?
This is best related to a theme modification. So, place this in your theme's functions.php file:
How do I remove the "Sold by" from everywhere?
This is best related to a theme modification. So, place this in your theme's functions.php file:
What happens if multiple vendors exist in a customer's order?
All vendors in one order will get their commission on the product being purchased, just as if it were one vendor in an order. The shop admin will get his commission from each product as well.
Do vendors get paid directly, or do I have to pay them?
If you choose the Instant Pay feature, then vendors are paid automatically and instantly through PayPal. You will never receive or touch the vendor's commission, the customer pays the vendor directly.
Here's the PayPal screen a customer will see: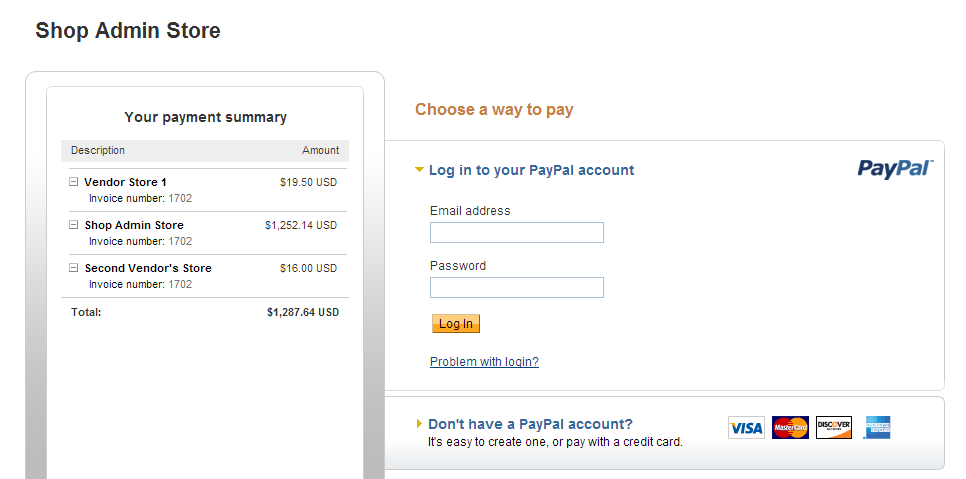 Vendors are not getting paid instantly, even though I have it checked!
Vendors must set a PayPal account in their Vendor Dashboard -> Shop Settings page. Alternatively, the admin can edit a vendor's account through the admin user edit page and add a PayPal account manually for the vendor.
When a vendor adds a product, is it automatically assigned to him?
Yes! This means that you don't have to manually edit the product and choose the vendor's name to assign it to him. It will automatically be assigned when a product is submitted by a vendor.
Will this work for all my gateways?
Yes! However, instant pay will not. If you have instant pay enabled, and a user does not use PayPal Adaptive Payments to checkout, then the order will be logged for that vendor as a payment which is due. You can see all due payments on a vendor's user edit page, or in WooCommerce > Product Vendor > Commission
What if I don't want to use the Instant Pay feature and want to pay vendors manually?
If you don't want vendors to get paid automatically when a customer makes an order, you can simply disable the Instant Pay feature in Product Vendor -> Settings -> Payments.
Two options exist at this point
Use your own payment gateway
View commission reports per vendor (see Reports section above)
Pay the vendor his commission from the report
Visit WooCommerce -> Commissions and sort by vendor
Select each vendor's commission due and mark as paid (see Commissions section above)
Pay using PayPal Adaptive Payments (included)
Visit WooCommerce -> WC Vendors -> Settings -> Payments
Either set a schedule or click "Now" and hit "Save"
All vendor commission currently owed will be paid.
Will this work for my theme?
Yes! This plugin is theme-independant. That means it is compatible with any theme, because it makes no changes to the layout.
Does this allow using PayPal Chained or Parallel payments?
No, we use PayPal Adaptive Payments. Chained and Parallel payments both have limitations that would greatly reduce functionality on your checkout pages (such as one vendor per order, things like that). We have no plans at this time to support them.
How do I add custom fields on the vendor settings page?
You will just have to modify the HTML code to duplicate what it's already doing on one of the input fields.
Can vendors mark an order as shipped?
Yes.  Doing so notifies the customer via email that part of their order has been shipped. If you use WooThemes Shipment Tracking vendors can even select the right shipping carrier with clickable tracking numbers for their buyers.