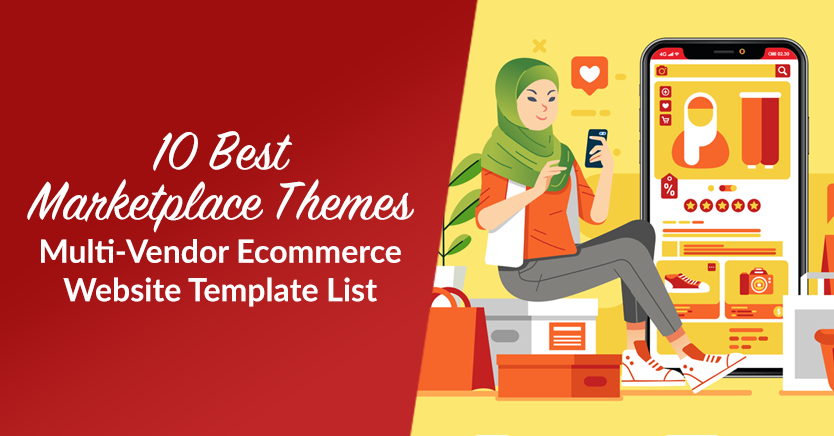 With tech behemoths like Amazon and eBay taking over the online business realm, the significance of multi-seller marketplaces can't be overstated. But if you're planning to build your own virtual shopping hub, you have to pick the multi-vendor ecommerce website template that's ideal for you.
The right look won't just draw vendors and customers alike to your platform. For one thing, it can also allow you to personalize your brand so that you can stand out amongst the competition. For another, it can make site navigation more convenient to give consumers the ultimate shopping experience.
Thankfully, many website themes that you can download are built with marketplaces in mind. And today, we'll discuss 10 of the best.
So read on!
What Is A Multi-Vendor Ecommerce Website Template?
A website template is a pre-designed and customizable web layout or design framework that serves as the foundation for creating a website.
As for a multi-vendor ecommerce website template, it's a website template that's specifically tailored to the needs of online multi-seller marketplaces. In other words, it streamlines the development process and provides a structured framework for building a marketplace.
The best templates work impeccably with popular marketplace solutions. For example, you should have no problem implementing them on a marketplace powered by WC Vendors, a powerful plugin that transforms ordinary online stores into multi-seller shopping centers.
The Importance Of Choosing The Right Template
Creating a multi-vendor ecommerce website is like constructing a digital marketplace that customers and vendors will visit regularly. Just as a physical store's ambiance and layout influence the shopping experience, the template you choose for your online marketplace plays a crucial role in shaping its success.
Think of a website template as the facade of your digital store – the first impression that visitors encounter. It sets the tone, communicates your brand identity, and determines how users interact with your marketplace. Thus, choosing the right template isn't merely about aesthetics; it's about creating a user-friendly environment that encourages trust, engagement, and ultimately, conversions.
The right multi-vendor ecommerce website template can transform an ordinary online store into a captivating and dynamic marketplace. In contrast, the wrong choice may deter both vendors and customers. Therefore, your selection here is pivotal, as it impacts your website's branding, user experience, and, ultimately, its profitability.
Criteria For Selection
Now that we've established the importance of templates, let's set the criteria for selecting the best multi-vendor ecommerce website templates.
Choosing a template isn't a one-size-fits-all endeavor; it should align with your unique business goals and niche. Here are the key factors we'll consider when evaluating and selecting the best templates:
Design: An appealing and modern design that aligns with your marketplace's branding and target audience.
Responsiveness: A template that offers a seamless and consistent user experience across devices, including desktops, tablets, and mobile phones.
Customization options: The ability to tailor the template to your specific needs, ensuring it reflects your marketplace's identity.
Vendor features: Integration with a marketplace solution, such as WC Vendors, for vendor management, product listing, order handling, and other vendor-specific functionalities.
Integration capabilities: Compatibility with essential plugins and integrations, ensuring smooth operations for your marketplace.
User experience: User-friendly navigation, clear product displays, and an intuitive shopping journey for customers.
Performance: Fast loading times and optimized performance for a smooth and enjoyable browsing experience.
With these criteria in mind, let's explore and recommend the best multi-vendor marketplace templates that align with these standards.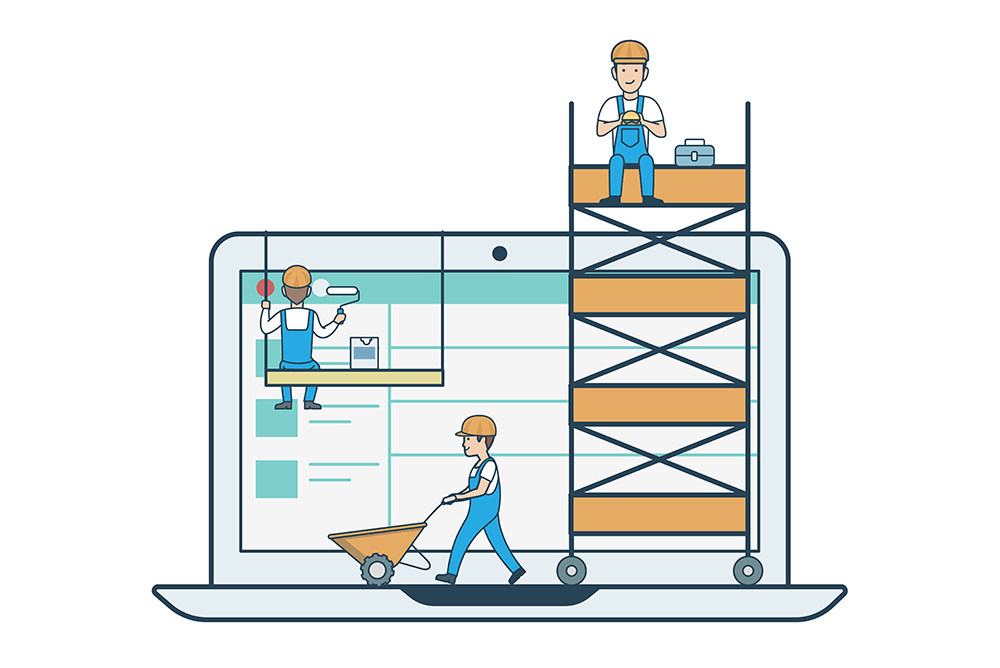 Our Updated Multi-Vendor Ecommerce Website Template List
Eager to find an appropriate theme for your multi-vendor marketplace? Consider the ten top-rated templates below!
1. eMarket
eMarket functions as a versatile Elementor-based WordPress theme designed for various online stores, including multi-vendor marketplaces. It offers over 22 customizable homepage demos catering to a broad array of product types, from electronics to furniture.
This multi-vendor ecommerce website template includes premium plugins like WPBakery Page Builder and a WooCommerce currency converter, enhancing its customization capabilities. And with product variation, add-to-cart, and live search functionality, eMarket ensures a memorable shopping experience.
Its other features include:
QuickView Pro
Countdown Popip
LiveChat Messenger Module support
Multiple Language support
Responsive layout for all devices
To top it off, this theme prioritizes speed optimization. Such a multitude of powerful features allows anyone to effortlessly build a multi-seller marketplace sure to generate enormous profits.
Pricing: $59
2. Martfury
The highly adaptable Martfury is designed for various online retail needs. Small wonder it's an ideal choice for multi-vendor marketplaces, electronics stores, furniture stores, clothing stores, and more!
Martfury comes with a slew of useful features. For example, it supports simple and variable products as well as external/affiliate products. It comes with built-in order tracking and advanced tax/shipping options. In addition, you can expect comprehensive store management tools, including a coupon system and store reports.
Other amazing features include:
Unlimited categories and sub-categories
Product deals and advanced live search functionality
Various product display features
Multiple pre-defined homepages and layouts
Responsive, SEO-ready, and translation-ready design
As a multi-vendor ecommerce website template, Marfury remains an extremely popular choice among WordPress users.
Pricing: $59
3. Dealsdot
Dealsdot empowers vendors to launch their e-stores effortlessly.
This fantastic multi-vendor ecommerce website template allows vendors to effortlessly register, set up shops, and even engage in affiliate marketing. It supports coupons and product promotions, letting visitors easily copy coupon codes and get redirected to relevant websites. Furthermore, you can use flash deals to entice visitors to save while shopping.
Its key features include:
WPBakery Visual Composer Page Builder
Revolution Slider
Multiple commission types, coupon features, and affiliate marketing
Responsive design with RTL support
SEO optimization for fast performance
To top it all off, Dealsdot ensures smooth operation with regular updates and compatibility fixes. All these benefits make it a versatile solution for entrepreneurs aiming to launch their own marketplace.
Pricing: $49
4. Botiga
The highly customizable Botiga exists for the creation of online marketplaces.
Boasting an attractive, neutral design, this multi-vendor ecommerce website template ensures seamless listing of various products. It lets you modify every aspect of your site in real time, from product card styles to header and footer layouts. Not to mention its lightweight design prioritizes performance, allowing customers to enjoy convenient and highly pleasurable shopping.
This template comes with many other features, such as:
Cart layouts
Checkout layouts
Wish list functionality
Header & footer builder
Blog layouts
One-click, ready-to-import starter sites
Like the other templates on this list, Botiga features flawless integration with WC Vendors.
Pricing: You can acquire Botiga for free. Its paid versions start at $69 per year.
5. iBid
If eBay counts as your idea of a great marketplace, then consider iBid – the go-to choice for creating dynamic auction websites.
With compatibility for both multi-vendor and single-vendor setups, this multi-vendor ecommerce website template offers unmatched versatility. You can even mix auctions and product sales, all powered by the trusted WooCommerce platform.
But that's not all; iBid also supports:
Reverse and normal auctions
Extensive auction settings
Unique features for fundraising and charity auctions
Vendor application, approval, and commission options
Various payment gateways
Plus, iBid enjoys continuous updates and optimization for mobile gadgets, making it the ideal solution for your auction website.
Pricing: $75
6. Wolmart
A feature-rich multi-vendor ecommerce website template, Wolmart is designed for creating WooCommerce-powered multi-vendor marketplaces.
Wolmart provides a user-friendly interface for creating marketplaces in various niches like electronics, fashion, sports, groceries, and more. It even boasts seamless integration with Visual Composer to streamline the building of pages.
Other notable features include:
WordPress Multisite (WPMU) compatibility
Mobile optimization
WPML support
Cross-browser compatibility
Wish list support
Popup builder
Additionally, Wolmart provides ongoing updates to maintain compatibility with the latest WordPress and WooCommerce versions, along with bug fixes and improvements. It works perfectly with various plugins and features more than 24 marketplace layouts. Such bonuses make it a versatile choice for building a multi-vendor ecommerce platform.
Pricing: $79
7. REHub
A fantastic WordPress template, REHub combines various online revenue-generating strategies in one, powerful package.
This multipurpose hybrid theme boasts many components that you can configure and use separately or combine into a single, feature-rich website. This way, it caters to a wide range of business models, such as multi-vendor marketplaces, wholesale stores, review sites, tutorial sites, and more.
Expect features including but not limited to:
Affiliate plugin support
Advanced WooCommerce integration
Conversion-boosting tools
Directory and review functions
Lightweight script
Wholesale grid
Of course, REHub comes equipped with the latest trends and advanced SEO tools, offering superior WordPress functionality. As such, this multi-vendor ecommerce website template provides the tools and flexibility to bring your vision to life.
Pricing: $59
8. ShopMe
With over 16 professional shop demos, ShopMe is a mobile-friendly WordPress theme boasting a rich variety of templates. As such, it lets you create different online stores – including multi-vendor marketplaces.
This flexible multi-vendor ecommerce website template offers a clean and attractive design with a powerful backend. Furthermore, it comes with a wealth of features such as:
Responsive and retina-ready design
Revolution and Layer sliders
Multi-language and multi-currency support
Various homepage layouts and header options
Theme options panel
Moreover, ShopMe includes unique features such as a Chat X plugin for real-time customer interaction and a pricing role plugin to set prices based on user roles. With customization options and various product display features, ShopMe serves as an excellent choice for creating a multi-vendor marketplace.
Pricing: $59
9. Digic
Boasting an impressive design and product alignment based on categories, Digic is suitable for technology-oriented ecommerce websites.
Powered by Elementor, Digic offers a multitude of customization options. It features widgets for displaying top-selling and trending products; a comprehensive search function; SEO-friendly blog layouts; over 12 shop design demos; and more than 24 shortcodes for Elementor. Did we mention that it's also mobile-friendly?
Other features include:
Revolution Slider
WPML multilingual support
WPC Smart Wishlist
Mega Menu
RTL support
One-click import demo
With such a powerful multi-vendor ecommerce website template, you can ensure that your electronics marketplace stands out and offers a gratifying shopping experience.
Pricing: $59
10. TopDeal
With over 10 demo designs and Elementor compatibility, TopDeal lets you effortlessly create a stunning marketplace – and you won't even have to do any coding!
TopDeal offers a modern design with responsive and mobile-ready homepages, unlimited color options, built-in Mega Menu, and stunning sliders. It boasts extraordinary features such as QuickView lightbox, image zoom, and more. And thanks to seamless compatibility with Elementor and other robust tools, you'll find customization a breeze.
Features include:
AJAX live search
One-click demo import
SEO optimization
WPML support
Mobile-specific designs
This multi-vendor ecommerce website template comes with dedicated support, and receives regular updates. All this makes it an excellent pick for anyone wishing to build an online marketplace.
Pricing: $69
Conclusion
The choice of a multi-vendor ecommerce website template becomes pivotal when establishing your virtual shopping hub. After all, the right template can produce various benefits, from attracting vendors to providing customers with an exceptional shopping journey.
Fortunately, there are numerous marketplace-focused website themes available for download. And in today's article, we explored the top 10 options:
Do you have any questions about our multi-vendor ecommerce website template list? If so, let us know in the comments below!