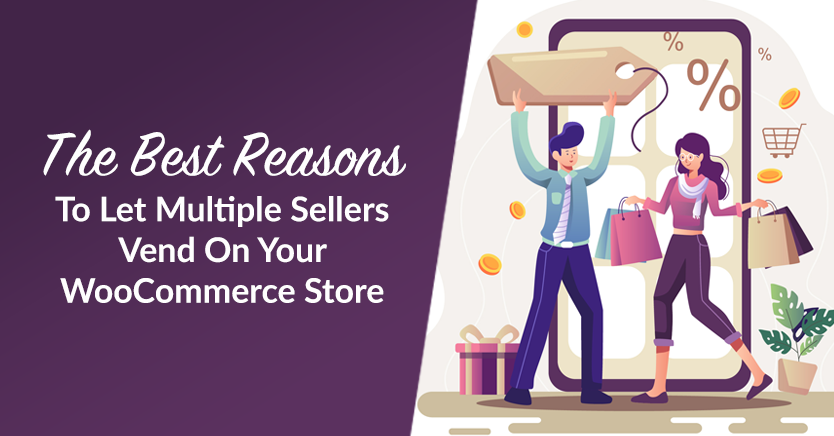 Why should you permit multiple sellers to use your online shop for vending their products? Simply put, you can generate significantly more income by having other businesses sell to your customers.
Sure, it may seem counterintuitive to let potential competitors take advantage of your platform this way. However, this is exactly the kind of business model that large retailers such as Amazon engage in. And guess what? It makes them billions of dollars of additional revenue every single year!
What may surprise you is how simple it is to set up a multi-vendor marketplace. All you have to do to add multi-vendor functionality to your WooCommerce store is install the WC Vendors WordPress plugin. The plugin is free to download and only takes a few minutes to customize. You can then profit from allowing others to sell products on your website.
Before we look at how WC Vendor works, let's look closer at what multi-vendor stores are and why shop owners should consider adding support for multiple sellers.
What Are Multi-Vendor Stores?
As the name suggests, a multi-vendor store is a type of website that allows multiple sellers to sell products to customers. If you look at the top e-commerce websites online, nearly all of them fall into this category.
These large e-commerce marketplaces are highly attractive to sellers. After all, they allow them to instantly sell their products to millions of customers without even owning a website. Furthermore, multi-vendor stores normally handle payment processing and common administrative tasks. This makes the job of selling products more convenient for them.
Unlocking Additional Revenue Streams
Ultimately, the goal of every online shop is to increase profits. E-commerce is a trillion-dollar industry that continues to grow every year, so there is always room to do that. However, because the industry is incredibly competitive, you should always seek other ways to increase revenues.
One way to boost profits is to allow third-party vendors to use your store to sell products directly to customers. But how does this business model benefit you, exactly?
Essentially, a multi-vendor store can generate additional income in a number of ways.
Commissions: You take a cut of every sale that third-party sellers make through your website.
Advertising: Sellers can purchase advertising spots on your store to promote their products.
Memberships: You can charge sellers a monthly fee for selling on your platform, thus generating a recurring flow of income.
In addition to generating extra revenue, allowing others to sell on your store can also greatly expand your reach. For example, a niche online shop may only offer customers 10 to 100 products. However, you can easily list thousands of products on your store if you enable multi-vendor functionality on your website. This can greatly increase incoming traffic, boost sales of your own products, improve your search engine presence, and attract new customers to your store.
In short, you potentially leave a lot of money on the table if you're the only one selling products on your store.
How To Add Support For Multiple Sellers
Today, WooCommerce remains the most popular online e-commerce platform. This powerful WordPress plugin is free to download. In addition, it can be easily customized and expanded using thousands of WordPress themes and plugins.
To add multi-vendor support to a WooCommerce-powered shop, all you have to do is install the free version of WC Vendors. This plugin complements WooCommerce perfectly by building on top of your existing shop's functionality.
Once you've activated WC Vendors, its Setup Wizard asks for basic information about your store, your commission settings, and what permissions vendors have. Moreover, the plugin automatically creates pages for vendor-related activities and orders. However, if you prefer, you can integrate these pages manually using the provided shortcodes.
Many online shops continue to use the free version of WC Vendors. However, if you want to unlock the plugin's full potential, we recommend upgrading to WC Vendors Pro.
Upgrading lets you offer multiple sellers a front-end vendor dashboard. Furthermore, it lets you access features for managing orders and coupons; unlocks flat rate and table shipping options; and provides you with an advanced commission system that grants you control over what vendors are charged per sale.
On top of all that, many premium plugin extensions are available for WC Vendors. For instance, there are plugins to add support for Stripe payments and membership options. In addition, you get to enjoy integration plugins for WooCommerce Simple Auctions, WooCommerce Subscriptions, and WooCommerce Bookings.
Check out the WC Vendors FREE vs. PRO Comparison page for a complete overview of what each version offers.
Conclusion
Adding support for multiple sellers on your WooCommerce website may be just what you need to enjoy greater profits.
However, before you start your own multi-vendor marketplace, you should familiarize yourself with the following concepts:
Remember, if you own a WooCommerce-powered store, WC Vendors can help you generate additional revenue and increase the number of products that are sold in your shop. If you can manage to attract just a few key companies to sell through your store, you can greatly increase your yearly profits.
Would you like to know more about the steps involved in launching an online multi-vendor marketplace? Then please check out the following articles:
If you have questions about how to allow multiple sellers to vend on your platform, let us know in the comments section below!